Supergirl Season 3: Looking at the Huge Changes from the Finale
Last night's Supergirl had huge changes for everyone on the show. About the only person who didn't go through a major personal change is Supergirl (Melissa Benoist) herself. When the show returns in the fall for season four, it will look very different in both the cast and what the characters will be doing. It's not quite on par with the level of chance Arrow had in it's finale, as the main character here is mostly unaffected, but its even bigger changes to the supporting cast. Spoilers Below.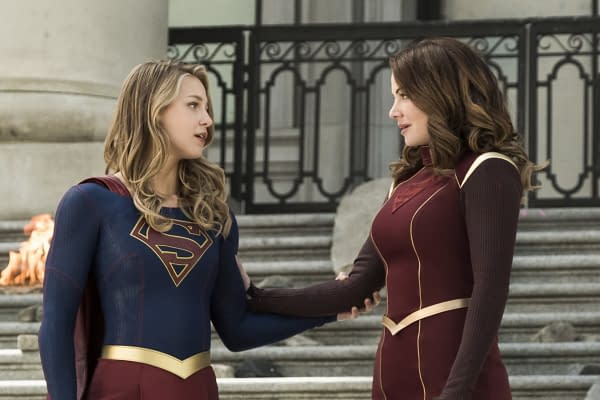 The short version, Mon-El (Chris Wood) and Winn (Jeremy Jordan) head off to save the future while Brainiac-5 (Jesse Rath) joins the DEO which is now run by Alex (Chyler Leigh) because J'onn (David Harewood) has gone walkabout and James (Mehcad Brooks) has come out as Guardian while his girlfriend Lena (Katie McGrath) is experimenting with Harunel / Black Kryptonite. Oh, and Alura (Erica Durance) went back to Argo City. Other than that, no real changes. TVLine talked with executive producers Jessica Queller and Robert Rovner about the changes.
Rovner said of Mon-El's exit:
The plan for Chris was always to have him on the show for two years. We've loved telling Mon-El's story, as well as the story we've told for him and Kara. We hope the fans felt that it was a satisfying conclusion.
But it may not be the last we see of him:
We love working with Chris, so we'd love to have Mon-El back someday if the story takes us there and if Chris is available.
With Mon-El gone and Brainiac-5 here, will they follow the romantic connection between him and Supergirl in the comics?
We did that a little bit when he first arrived. I think he'll always have affection for Supergirl, but you'll have to stay tuned.
Is this the last we'll see of Sam / Reign:
We hope not. We love Odette. She was amazing in this dual role, playing different characters. We fell in love with her as Sam and we were terrified of her as Reign. If it works out, we'd love to have her back for a few episodes next season.
And the changes they have in mind for J'onn J'onzz:
We thought it was important for his character to take in the teachings his father was trying to impart on him. Our Worldkiller story took us off-world a lot, but what's great about this show is that we get to tell stories about what's happening in the world and use National City to reflect that. We want to explore J'onn being on the streets among the people so we can continue to tell those stories.
And that is just some of the changes in store for the new season, which will air Sundays at 8 PM this fall on the CW.