'Supergirl' Season 4, Episode 15 "O Brother, Where Art Thou?": Cryer's Lex Is the Serum the Series Needed [SPOILER REVIEW]
Welcome back to Bleeding Cool's continuing coverage of the CW's Supergirl season 4. This episode had it all… the resolution to the James Olsen shooting, the introduction of Lex Luthor, J'onn deciding whether to shite or get off the pot, Nia and Brainy's first kiss, even Supergirl dropping a "damn it" while repairing a broken dam threatening the city.
Could this have been the single best episode of Supergirl to date?
Supergirl s04e15 "O Brother, Where Art Thou?": JON CRYER GUEST STARS AS ICONIC DC COMICS' VILLAIN LEX LUTHOR —Secretly furloughed from prison due to failing health, Lex Luthor (guest star Jon Cryer) visits his sister, Lena (Katie McGrath), to seek her help finding a cure. Savvy as ever, Lena is suspicious of Lex's motives but when she's faced with a life and death situation, she must decide how she truly feels about her brother. Meanwhile, Supergirl (Melissa Benoist) and J'onn (David Harewood) face off against Manchester Black (guest star David Ajala). James' sister Kelly (guest star Azie Tesfai) comes to town. Tawnia Mckiernan directed the episode written by Derek Simon & Nicki Holcomb.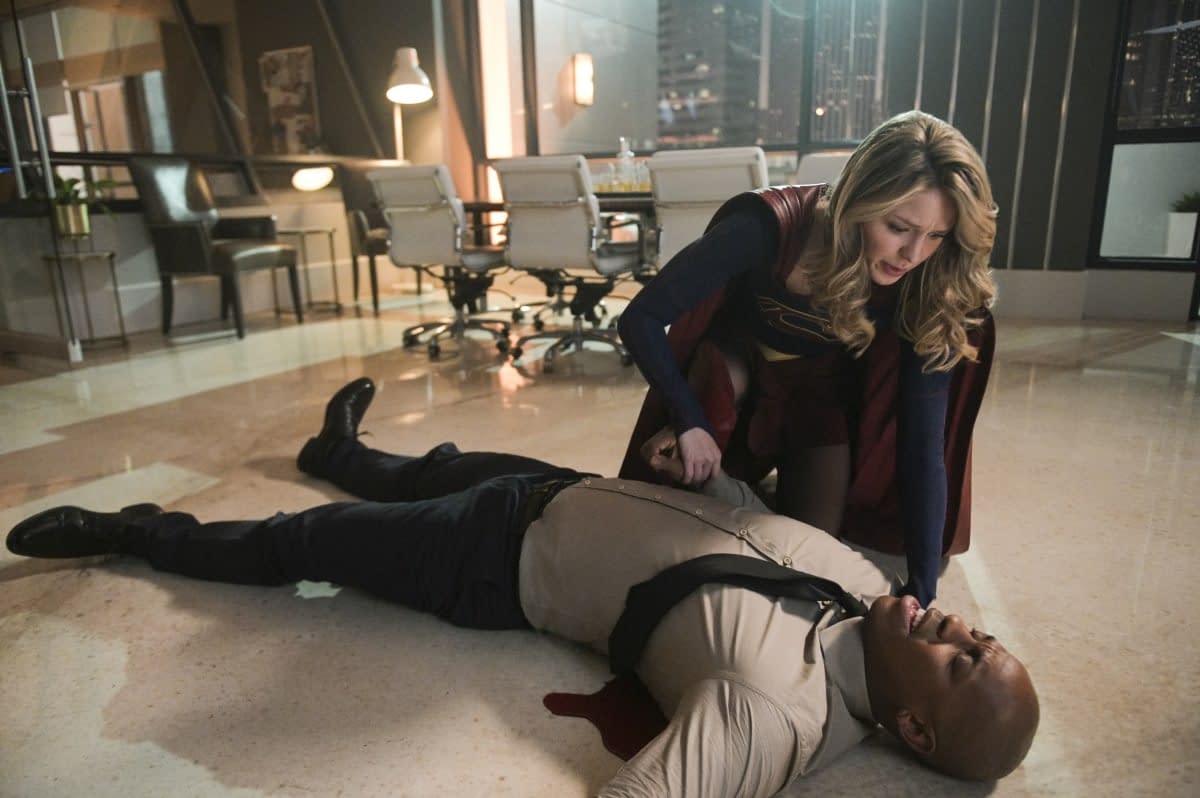 Everything that transpired in this episode made sense in how and why it played out like it did. The events in the episode directly spun out of James being shot in the back in his CatCo office at the end of the previous episode. Add to that the extra layer of more than three and a half seasons of story and character development for our cast, and this was a well constructed episode. The story was tight and expertly told. The new additions to the cast – James's sister Kelly and Lena's brother Lex – were fantastic foils for Alex and Lena to play off of.
Lex is dying of cancer and suffered a stroke in prison. Somehow, he's allowed a visit to the Luthor manor, where he cajoles, praises, and manipulates Lena into finishing the serum that she has been working on and hesitant to test on humans at the DEO. James in the hospital and in mortal danger provides Lena with the incentive to nail down the serum… conveniently timed to Lex's visit.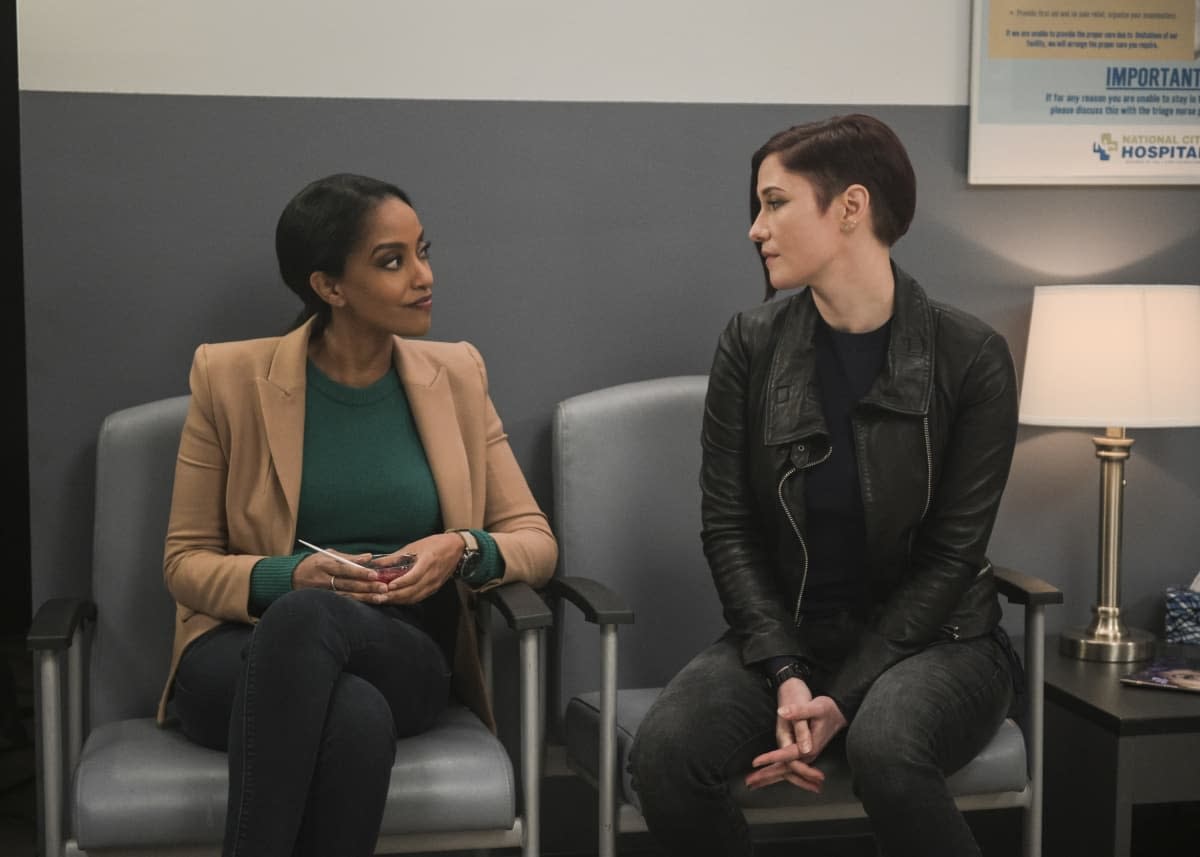 Alex sees no good outcome for James, who has been placed in a medically induced coma but still has internal bleeding causing him to code in front of Alex and Kelly. Kelly opts for James going back in for surgery, in spite of Alex pleading with her to give Lena a few more hours (while James continues to bleed out) to perfect the serum. Both are trying to do what's best for James, and neither begrudges the other for that. Both options have potentially fatal risks associated with them. No good options.
Alex is pissed at Kara for not being at the hospital as James is dying. That's bad enough, but Kara lied to Alex about going back to CatCo to make sure things are going smoothly in James's absence. Alex knows because she called CatCo to chew out Kara for not being at the hospital and they said she hadn't been in the office all day. At some point, Alex's memory has to come back and all the lies Kara has told her these past few episodes will have consequences… right?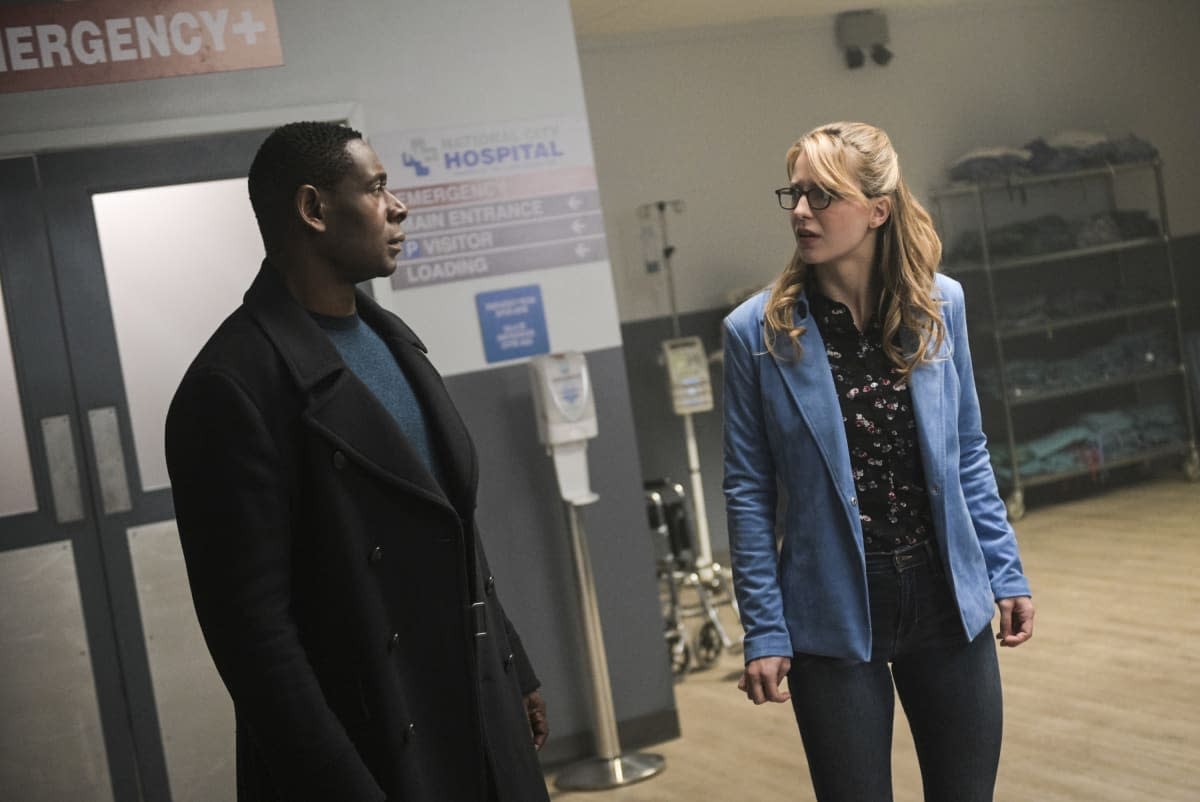 Kara is busy helping J'onn try to locate Manchester Black. When J'onn tapped into Black's mind, it opened J'onn's mind to Black as well. Black has the staff of the vengeful Martian god H'ronmeer and plans to use it to win the fight against the human racists. J'onn continues to struggle with being a man of peace – like his father wanted – and being the manhunter that J'onn is.
Things come to a head when James is in surgery. Black attacks the hydroelectric dam that powers the city. J'onn and Kara go to confront him. In the operating room, the power goes out, the generators don't kick in, and James flatlines, prompting Kelly to agree to let Lena try the serum in order to save James's life.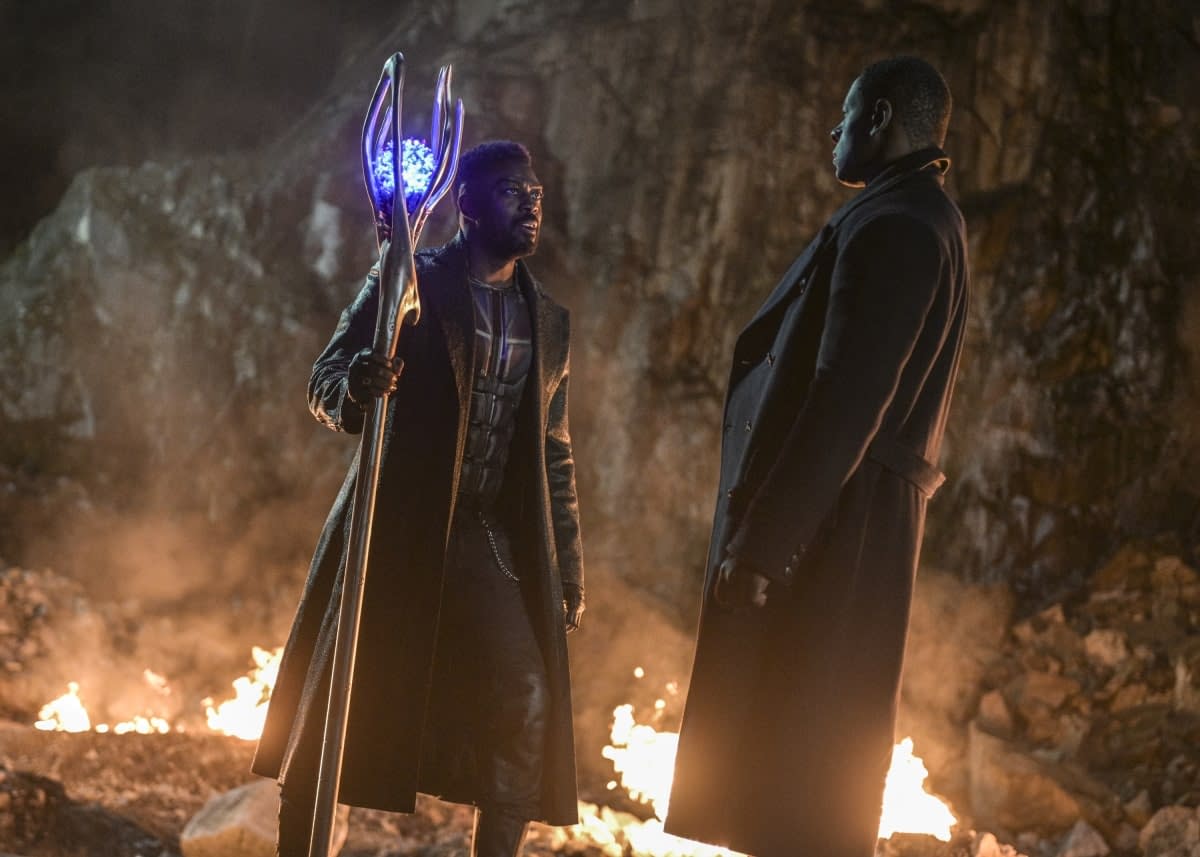 Black tears apart the dam, forcing Kara outside to repair the "dam"-age (she even slips in a "damn it" during the scene, which made me choke on my drink a little). Inside the dam, Black tries to convince J'onn that if he doesn't join with Black and the Elite, then J'onn will lose everyone he loves. Again. Just like he did on Mars. J'onn not only refuses, but snaps at Black's use of his dead family. Taking the staff from Black, J'onn uses it to kill Black and take back Brainy's missing Legion flight ring.
So much for the path of peace…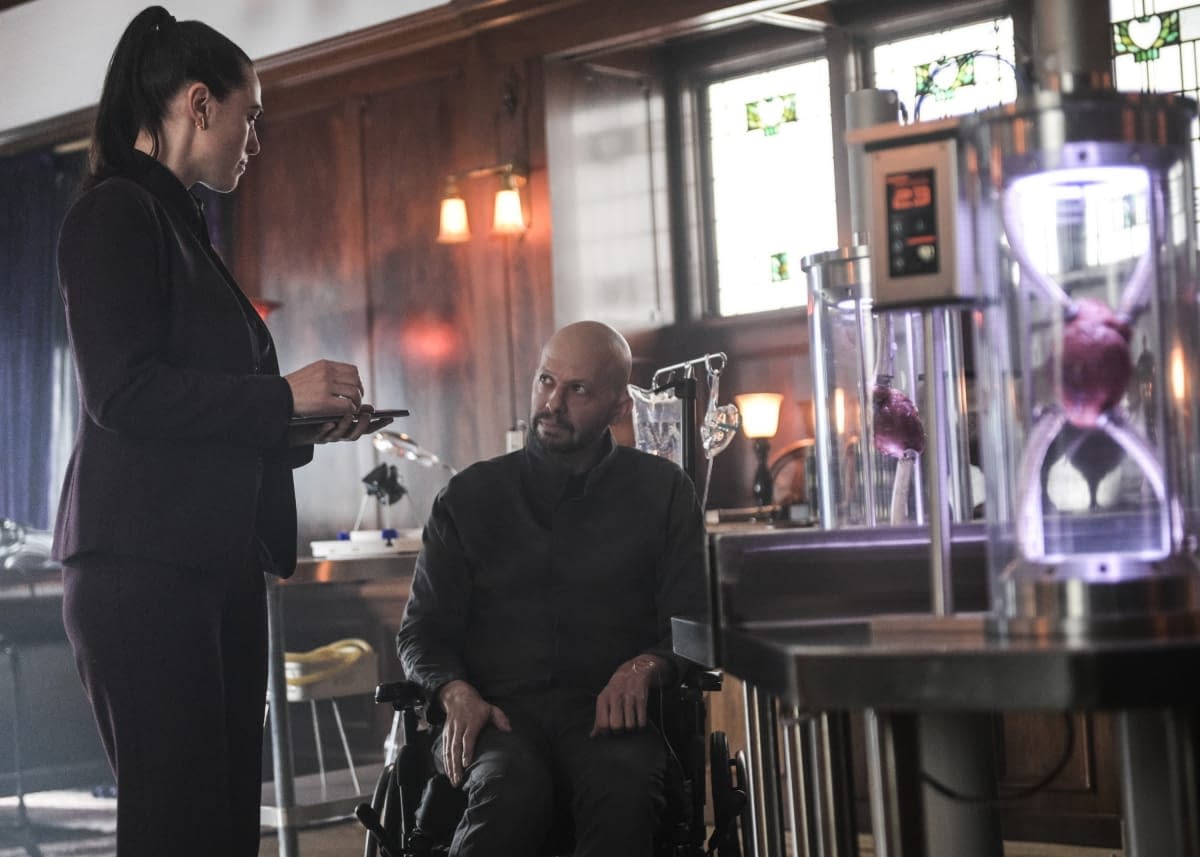 Lena, having perfected the serum with Lex, clears the operating room and gives James the injection. The serum works and James is revived and healed. Now that James is out of immediate danger, Lena gets a little breathing rom and space to put all the pieces together. Lex used the attack at the dam to kill the power to the hospital, putting lives at risk, in order to force Lena to perform her first human trial of the serum. Lex says that yes, he orchestrated both the power outage and the shooting. Lena says that she'll never administer the serum to Lex, who informs her that he had it administered 10 minutes ago.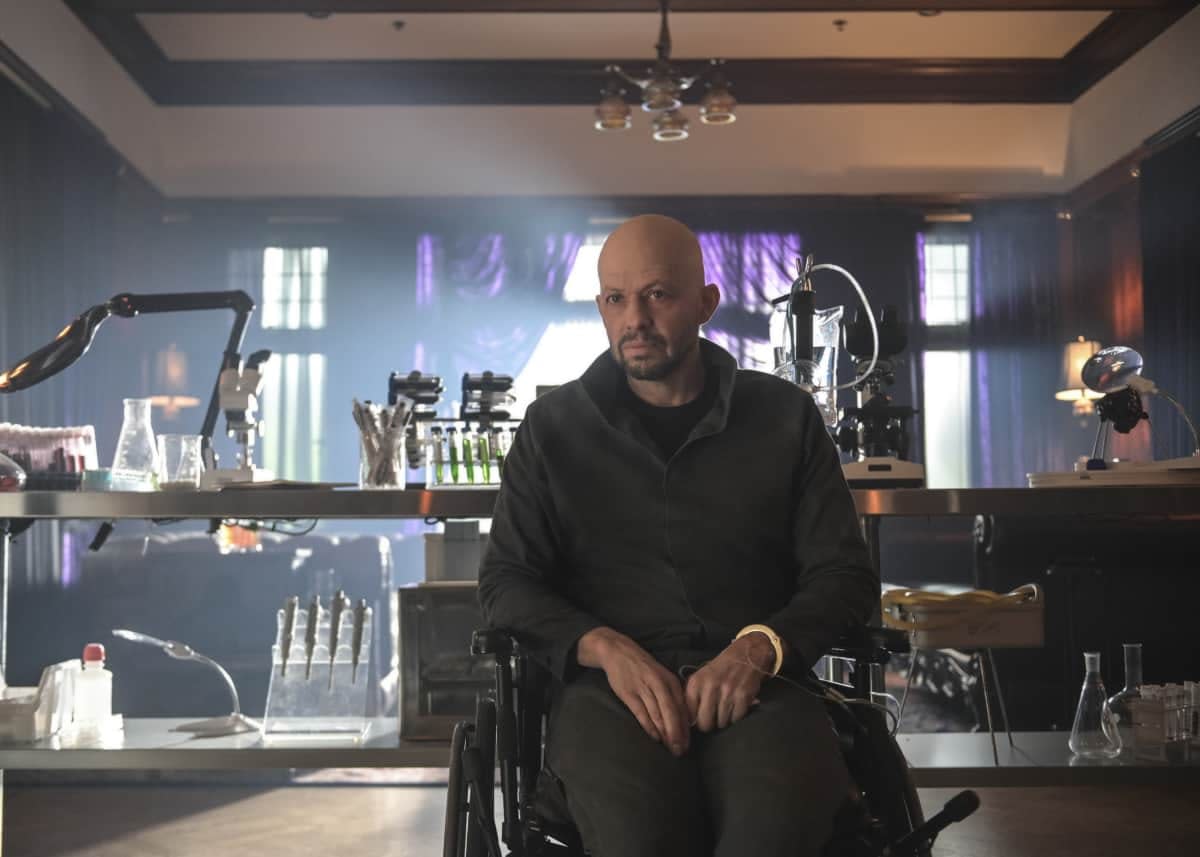 Here we have Lex at his best. Not only did he orchestrate everything that happened to ensure that he received the serum that would save his life, but he takes a joyful glee in being "right". Watching Lex conduct the manor's security systems in order to kill his guards was a twisted delight.
Speaking of twists… Eve working for Lex all along was (chef's kiss) "mwah"! I'll admit that I had my doubts when it was announced that Jon Cryer would be portraying Lex (in spite of his previous Luthor family experience) but I fully, unashamedly, and happily stand corrected. This evil, almost playfully and slightly campy impish mastermind in the episode's closing scene is the Lex I had hoped for but didn't dare believe we would get.
The tightness of the storytelling, the relationships between the characters, the action, the twists and turns, but most importantly the pure fun on display against life-threatening stakes in this episode cause me to proclaim that this might be the best episode of Supergirl to date. I certainly can't think of one better right now. Can you?
Supergirl airs Sundays at 8 p.m. ET/ 7 p.m. CT on CW, so make sure to join us next week for our look at next episode "The House of L":
Supergirl s04e16 "The House of L": LEX LUTHOR CONTINUES TO WREAK HAVOC — In the wake of Lex Luthor's (guest star Jon Cryer) return, the show flashes back to what he's been doing for the last two years and how his secret machinations and plans have affected Supergirl (Melissa Benoist) and Lena (Katie McGrath). Carl Seaton directed the episode written by Dana Horgan & Eric Carrasco.
CW's Supergirl stars Melissa Benoist as Kara Danvers/Supergirl, Chyler Leigh as Alex Danvers, Mehcad Brooks as James Olsen/Guardian, David Harewood as Hank Henshaw/J'onn J'onzz, Katie McGrath as Lena Luthor, Jesse Rath as Brainiac-5, Sam Witwer as Ben Lockwood/Agent Liberty, Nicole Maines as Nia Nal/Dreamer, and April Parker Jones as Colonel Lauren Haley. Greg Berlanti, Jessica Queller, Robert Rovner, and Sarah Schecter serve as executive producers.