"Supernatural" Fans Will Want To Possess Culture Fly's Box Of Surprises
It's confession time, SPN Family. I'm addicted to Supernatural: Join the Hunt merchandise and I have been for quite some time. You'd think this would be a phase I'd outgrow, but my collection of graphic tees, Funko Pop! Figures, and the like continues. Chuck knows how much I've spent on individual items over the years. So I was excited to discover CultureFly's subscription package. Fans receive a box full of surprising merch on a quarterly or annual basis (prices start at $44.99 per box). After opening the Summer 2019 box, I can assure you, there's a lot of bang for your buck. Each box holds a variety of goods to cherish and utilize – apparel, accessories, collectibles, stationery, homeware, and decor. I love almost everything in this Summer 2019 Box!
Apparel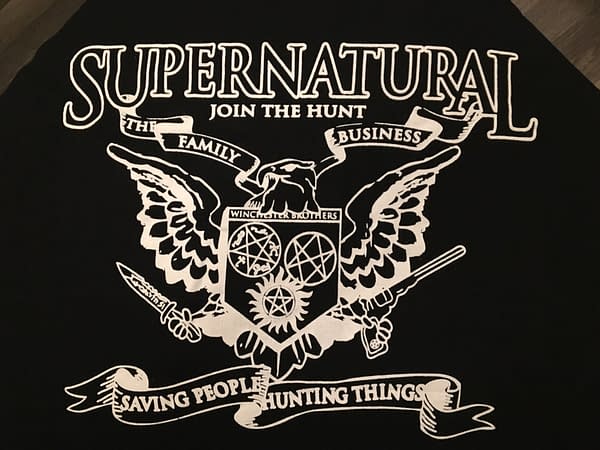 The soft, comfy black T-shirt fits true to size and showcases this badass crest. A bald eagle holding onto the demon knife and Colt perfectly captures Supernatural and Americana. It won't be hard wearing this shirt with pride.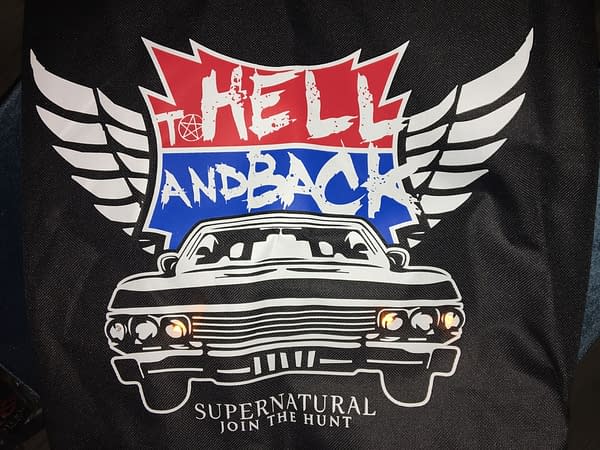 I'm going to enjoy shopping so much more now that I have this sizeable tote. How cool are these LED lights?!? Baby loves getting attention *wink*
Homeware
Drink up all the Winchester yumminess offered in a slick tumbler featuring the brothers' statuesque silhouettes. WARNING: Like fairies, this tumbler is not microwave safe.
We'll never lose our "dang keys" with this cool Impala key chain. Pretty appropriate for your car key too. And no, my hand isn't that huge – its a baby Baby charm…in case you want a more subtle way to wear your SPN love. Adorbs!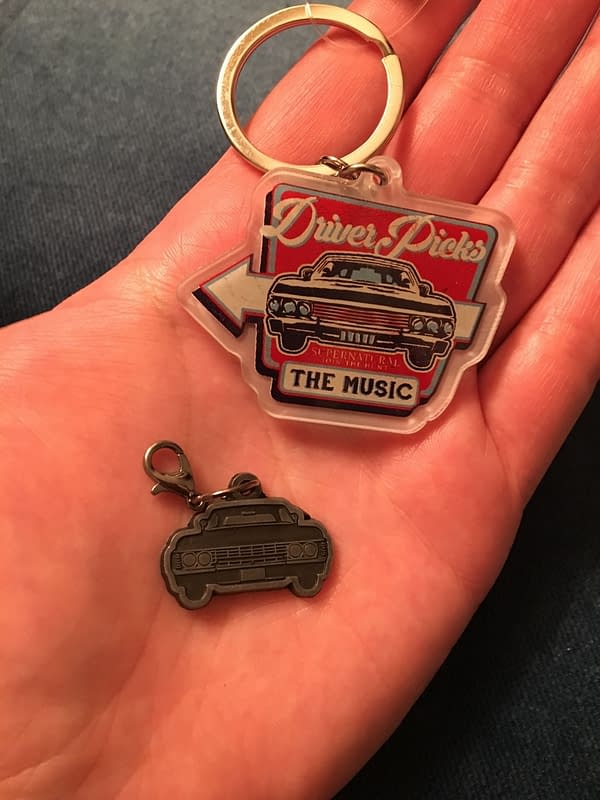 Decor
I never thought a picture frame could be kickass, but skid-marks, the Impala and an image of the boys having one of their moving carversations tugs on all of our heart-strings. The rubber texture gives the skid-marks extra authenticity. We even have a bonus photo from the Season 4 CW cast photoshoot – you know, the one where the boys look extra serious.
Collectibles
Honestly, the only item I don't care for in the box is the creepy-ass Dean plush. It may feel soft and cuddly, but I sure as hell don't want to snuggle with face. At least it is small enough to easily keep out of sight. Who can I call when that thing haunts me???
The Fall 2019 Supernatural Box in on sale now! Be sure to subscribe before they sell out.