"Supernatural": Final Season "Farewell Tour" Has Begun – Yes, There Will Be Tears [VIDEO]
The final season of The CW's Supernatural hasn't even begun yet and it is already making me cry more than every single heartbreaking episode of NBC's This Is Us strung together. As cast members and showrunners embark on their farewell tour, they've been very open and candid about how the series ending is impacting them . Every last moment is documented on social media, as Jensen Ackles, Jared Padalecki, Misha Collins, and company acknowledge the importance of ending a series that means so much to so many.
Final First Day
This truly is the end of an era, so I'm glad everyone involved with the ground-breaking series is treating the final season with the kind of tender loving care that Supernatural deserves.
Hope For More
From The CW's Mark Pedowitz, addressing the humble fanbase – #SPNFamily love runs deep"
"As a fan, you have created immense enjoyment in my personal life…you have made my time and many at The CW's a blessing. 15 years is a remarkable achievement. One that can never be taken away from you. One that can never be taken away from The CW….you will always have a home here. You will always have a fan in me."

– Pedowitz
Executive producers Robert Singer, Andrew Drabb, Eugenie Ross-Leming and Brad Buckner promise there will be a sense of closure when the series ends. They won't leave us with the kind of brutal cliffhanger we've come to expect from the season finale. The last 20 episodes are said to be the weightiest of the show's run, and understandably so – but that's still a lofty claim considering they've delivered some doozies over the years.
Ross-Leming clarifies, "Each episode is a piece of the ending" that "carries a piece of its finality with it" – or as Collins puts it, "every day is a new last."
*holds back tears*
The Man Tears Keep Flowing
Remember when we'd have to wait for the Apocalypse to get a hug from the Winchester brothers? How about those "good old days" when only a loved one's death rattled Dean enough to shed a single tear?
Well, start talking "final season" and now the flood gates get blown wide open:
Not sure how we're going to survive this season, SPN Family. Better start hydrating now…
The epic journey of the Winchester brothers comes to a close as SUPERNATURAL enters its final season. Sam (Jared Padalecki) and Dean (Jensen Ackles) and the angel Castiel (Misha Collins) have conquered monsters, demons, Heaven and Hell, and in the show's 14th season, the Winchesters grappled with the Archangel Michael possessing Dean. In a valiant act, Sam and Dean's surrogate son Jack (Alexander Calvert) destroyed his soul to redeem his adoptive father. But this proved to be a fatal error, leading to the accidental death of Mary Winchester. The 14th season also featured the return of John Winchester (Jeffrey Dean Morgan) for the show's historic 300th episode.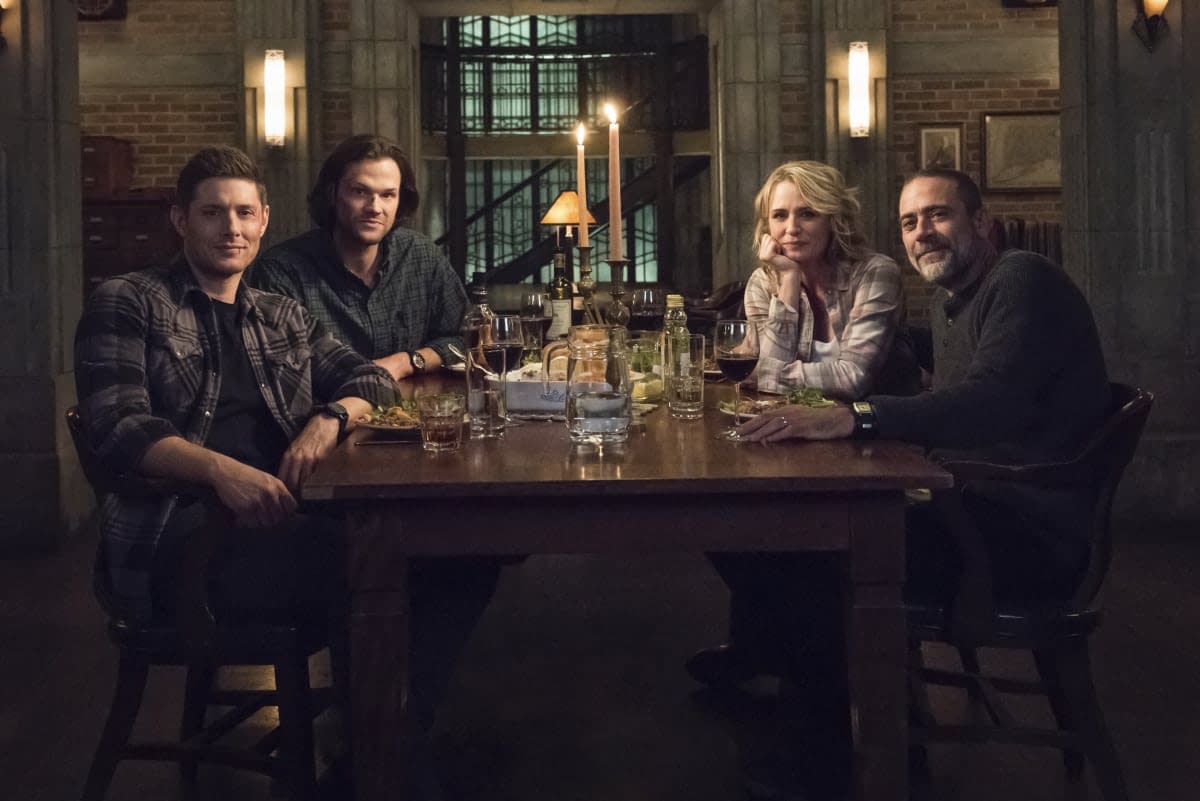 Now, heading into their 15th season, Sam and Dean find themselves facing a threat beyond anything they've ever grappled with… anything they've ever imagined: God himself.