'Supernatural' Season 14, Episode 19 "Jack in the Box": Great Pun, Not-So-Great Plan [SPOILER REVIEW]
The Winchester Brothers may have unleashed Hell…again. Jack (Alexander Calvert) makes misguided attempts to get back into Sam (Jared Padalecki) and Dean's (Jensen Ackles) good graces. Just when he thinks all is forgiven, the overly trusting Nephilim realizes he's been betrayed by the ones he loves most. What happens when "Jack in the Box" goes *POP!*? We're about to find out in our review of the CW's Supernatural…
https://youtu.be/djzlK0CqYIU
How Do You Talk To An Angel?
Duma (Erica Cerra) has appointed herself the boss of Heaven. (Yes, I do feel sacrilegious typing a lot of this stuff. I love Supernatural but do angels really have to be total dicks?) Castiel (Misha Collins) is wary of the situation, but Jack is his main priority so he remains focused on the task at hand.
That is, until both of his concerns merge into one big hot mess.
Jack becomes Heaven's new angel-maker and believes his actions will please the boys. He recruits devout Christians who give their consent to become angels, but they don't really understand what they are signing up for. Castiel is livid when he uncovers Duma's scheme to make Jack their new Chuck (Rob Benedict). While Cass ganks Duma, the Winchesters' prayers are answered.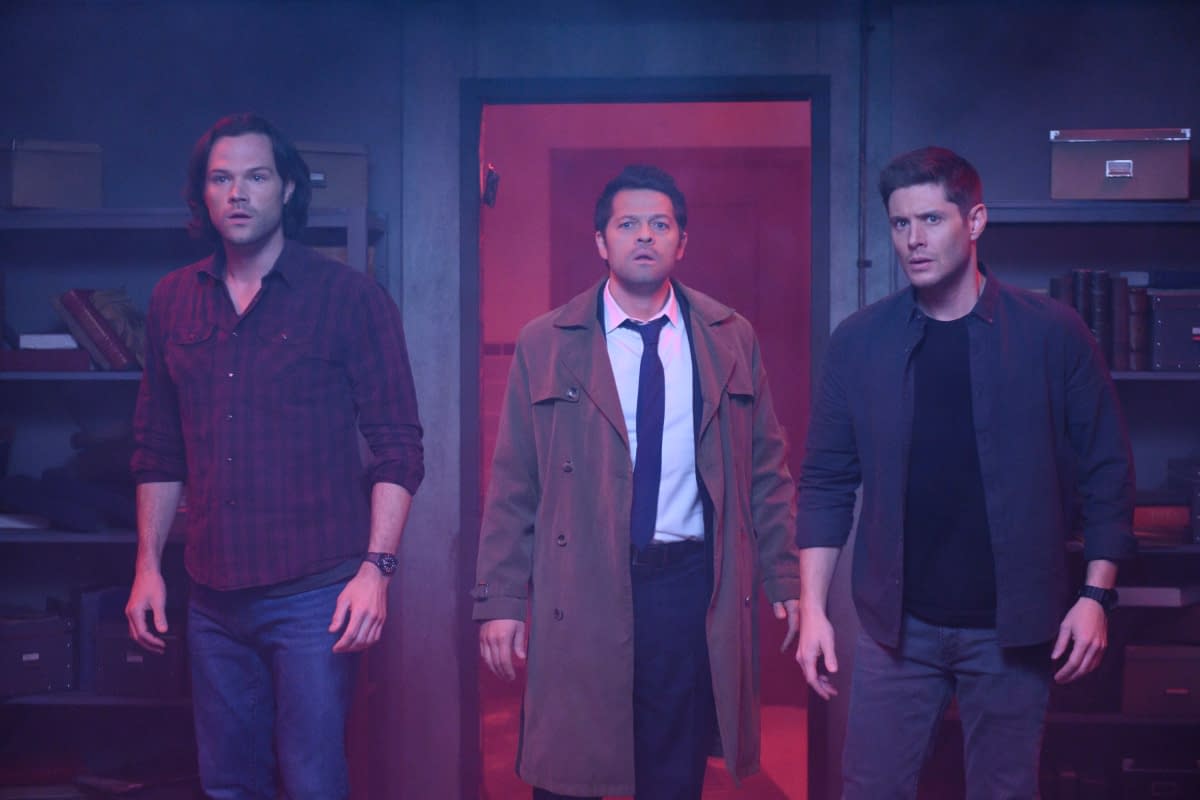 Dean can think of only one way to protect the world from all mighty Jack: they have to trap him in the box he made for Michael. Although Jack has done some horrible things, it still feels like cruel and unusual punishment to bury him alive – but even Sam can't think of a better solution.
It is funny to see how the brothers' dynamic with Jack keeps changing. At first, Dean simply wanted to kill Satan's spawn, but then they bonded. He became the idolized big bro and even wanted to soften the blow when Jack got his powers back. Sam always had a soft spot for Jack, but he also wanted to be honest with the kid at every stage of his development. Now, Sam has to put on the show of a lifetime and convince Jack that getting into the box is the right thing to do.
Chuck give these boys patience because Jack isn't even apologizing for the "accident" with Mary (Samantha Smith). This reunion (of sorts) is beyond awkward. Seriously, Jack?! It is Mary's fault for mothering him and he just wanted her to stop for a second. Stop what? Existing?!?
The boys are grieving their mom for the second time. The pain is raw. Of course, they each have their own ways of expressing it. Sam is a sharer and wants to talk about their feelings, but Dean prefers to drive off and have a solid man-cry in private. They are heartbroken and enraged, so the last thing they want to hear from Jack is a bunch of lame-ass justifications.
After that line of bull, Dean and Sam are more than happy to stuff Jack in that archangel box. They'll have a way to fix his soul soon enough, he just has to hang tight in that claustrophobic box for an uncertain amount of time. It's for his own good. Bear with…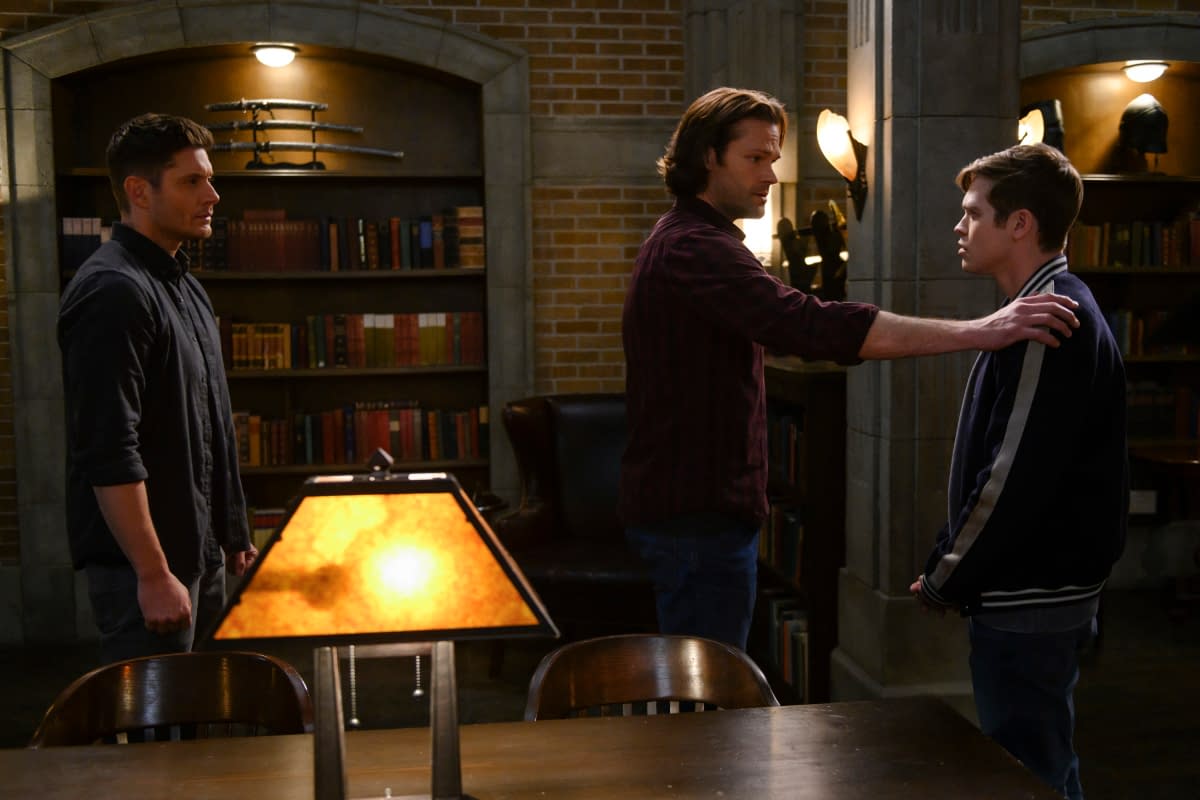 Running with the Devil
Lucifer (Mark Pellegrino) has been whispering in Jack's ear this whole time. His hallucinogenic appearance is the most concrete evidence of Jack's soullessness. Without a conscience, Jack eats up every malicious word Luci feeds him.
Duma provides a seemingly honorable distraction for a brief while. Jack even gets to sit in Chuck's throne and answer prayers. To his warped credit, the kid tried doing the "right thing" – and this is how the Winchesters repay his kind and apologetic gestures.
Given the number of times Sam and Dean have discussed Jack's unparalleled powers, they should've known better than to think the box could contain him. They didn't think things through well enough and they aren't in the position to play a long con. Their insincere acceptance barely lasted long enough to cage the kid – and now the boys lost the only chance they had.
Jack blindly trusted his brothers and relied on the love they have for one another. Even without a soul, Jack cared for his family and wanted to make them happy. But this act of betrayal broke that bond.
Now, there's Hell to pay…
Jack…?!? Shit.
Castiel seems to be the only person left who truly has the best intentions for Jack. We know how much he sacrificed to save the boy's life. He flies over to warn the boys only to discover that they're manipulating him the same way Duma did. I don't know if Jack will even be open to trusting Cass after the stunt Sam and Dean pulled.
The season finale is going to be intense!
https://youtu.be/DZ6P1QQH64c
Supernatural season 14, episode 20 "Moriah": Sam, Dean and Castiel are thrown into an epic battle. Meanwhile, Jack becomes disenchanted with all the lies, and an old friend from the past shows up.
Supernatural airs Thursdays at 8 p.m. EST on the CW.