'Supernatural' Season 14 Finale 'Moriah' Review: What the Chuck Just Happened?!? [SPOILERS]
The 14th – and now penultimate – season of the CW's Supernatural has been poignantly nostalgic, echoing the past with moving moments of deja vu. Season-ender "Moriah" delivered all the hallmarks of a classic finale: moody Winchester heart-to-hearts, intrepid self-sacrifice, a difference of opinions, blasts from the past, heavy losses and a nerve-wracking cliffhanger.
All of which leaves us asking:
What the Chuck just happened?!?
Jack (Alexander Calvert) busts out of the box, shames the Winchesters for deceiving him and takes off. As they stand in the wake of Jack's destruction, Castiel (Misha Collins) chastises Sam (Jared Padalecki) and Dean (Jensen Ackles) for trapping Jack in the box. Surely, there must be a better way. After all, the kid is family.
Meanwhile, Jack is sick of all the lies. He hears everyone spewing bull and wants it to stop. Like we saw with Mary (Samantha Smith), anything Jack thinks translates into action. All he does is shout "Stop lying" and the world plunges into chaos. People's deepest secrets are revealed and petty brawls break out.
Fun Fact: Sam's favorite singer isn't really Elvis, it's Celine Dion (shoutout to "My Heart Will Go On."). Dean is a classic rock geek. He should just own it at this point. Moving on…
The boys use facial recognition software to track Jack. It is a good, yet unnecessary plan. As it turns out, the Winchesters have a pinch-hitter who is ready to come off the bench. That's right – Chuck (Rob Benedict) is back. He's answering Castiel's prayer from a a few episodes ago and has surfaced to address the whole Jack problem. Sadly, Chuck's solution is rather ungodly.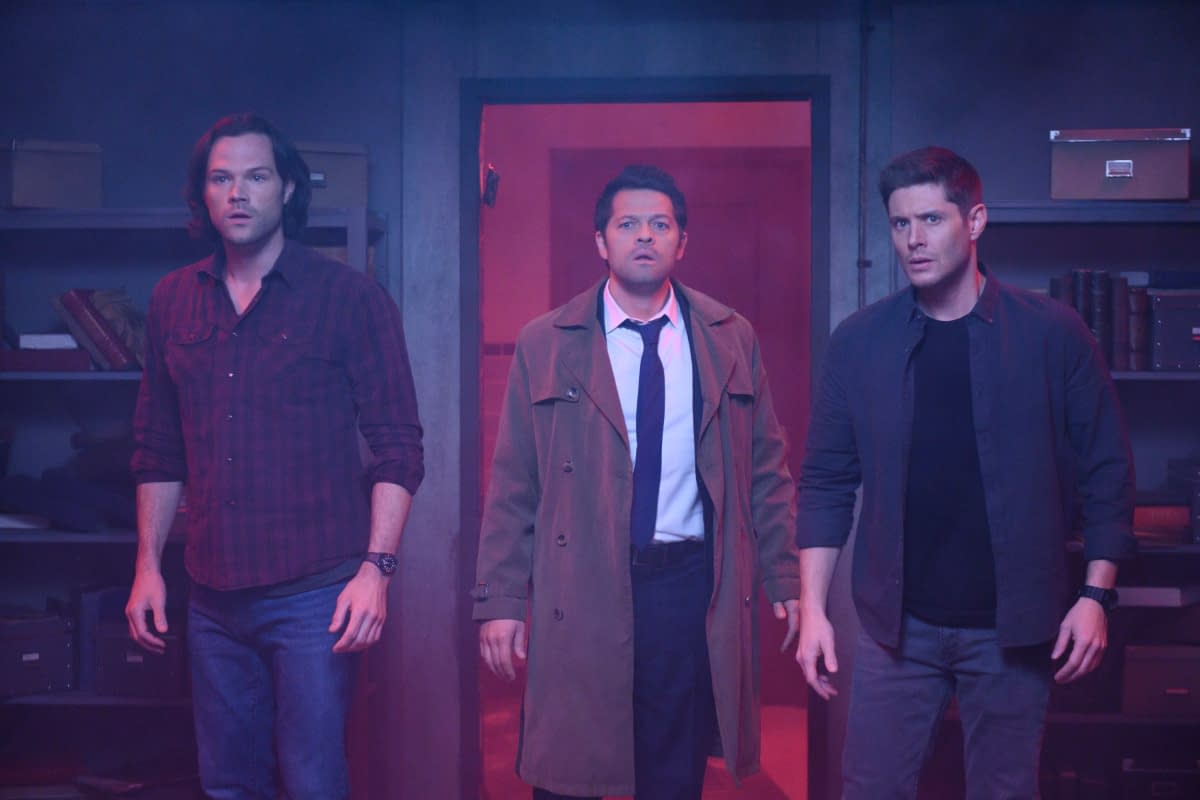 Like I've said before, it feels blasphemous to discuss Chuck and angels with such negative connotation. I hate that and wish they played a more positive role on the show. Honestly, it makes me cringe, but I keep reminding myself to separate faith from fiction. I may not agree with Supernatural's interpretation of Heaven and God. But that won't stop me from seeing this through with the Winchesters. Time to dive into the good, the bad and the ugly.
Chuck has created a gun that surpasses the Colt. This weapon can kill anything, including Jack. But there's a catch – the shooter dies along with the target. Of course, Dean takes this responsibility upon himself. Sam, rightfully, has had enough loss in his life and is sick of going through this self-sacrificial cycle. Yeah, I hear ya, Sammy. The same old song…or is it?
Castiel refuses to idly sit by, which leads to a heartbreaking conversation with Jack. Despite his soullessness, he has an acute sense of self and remnants of a conscience. He's on the cusp of killing his grandma, but learned from his mistake with Mary and manages to stop himself. He knows Cass loves him, but he can't reciprocate the feeling. He's empty and it's frustrating. The kid is making progress in his warped way. They can't just waste him!
Back at the bunker, Sam has an unsettling chat with Chuck and asks the big questions. Yes, there is a multiverse full of alternate Sam and Deans. (I assume one of those worlds contains superheroes. *cough* gives us an Arrowverse-SPN crossover for their final seasons *cough*) But this Winchester clan is his favorite show to watch. Sam is livid at the thought of being pawns.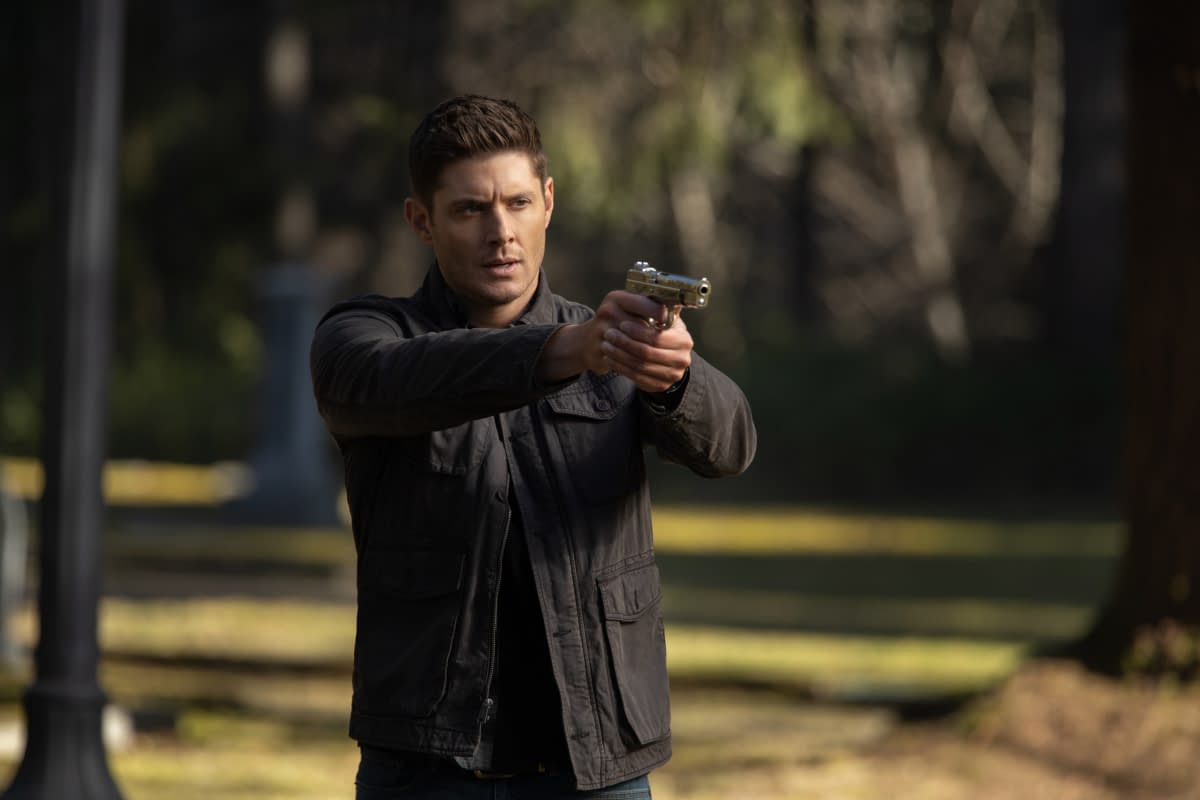 Every Apocalypse, tragic loss and epic battle has all been for Chuck's amusement. Sam refuses to do Chuck's dirty work for him, but he's too late. Dean has already left with the gun. Gulp!
This is the showdown we've been fearing. Dean takes aim at Jack. Cass wants to stop him, but the kids blows him to the sidelines. Our hearts race as Sam runs towards Dean. Jack kneels to accept his fate. He tried to be good, but it just isn't working. He knows this has to be done.
Oh come on! Even Soulless Sam didn't have this kind of heart. Dean better not pull that trigger. Dammit, stop squeezing the trigger Dean!!! After 14 seasons of heartbreak, I don't think my nerves can handle any more. …Phew!
Team Free Will prevails! What a relief. Jack lives! Wait…What the Chuck?!? He killed the kid anyway. Nooooo!
The shockers keep coming. Sam shoots Chuck only to get hit by the ricocheted bullet. Now that the Winchesters are done playing his game, Chuck literally unleashes Hell.
We feel a sense of "All Hell Breaks Loose" deja vu as souls from Hell rise to Earth. It isn't entirely clear, but I think – or hope – these are the souls of monsters ganked by the Winchesters over the years. It would make for a poetic ending to bring the story circle. The boys go back to basics as they arm themselves with iron rods.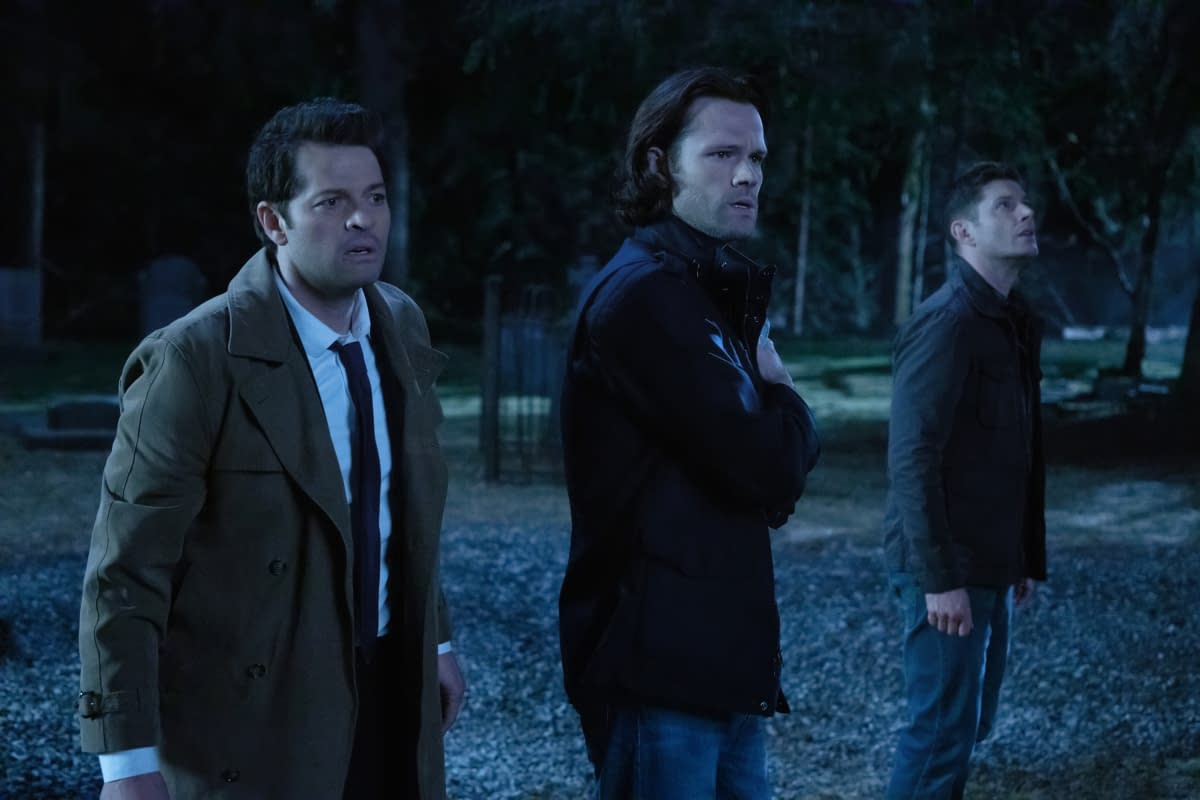 Elsewhere, Jack encounters Lucifer's silver soul and Billie the Reaper (Lisa Berry) – er, new Death – in the Empty. Yay! Jack lives. What a relief. Although now I'm worried about his father's influence. This will surely lead to major drama. What does Death have planned?
As the lights go out on Supernatural's penultimate season, a circle of evil souls engulfs Sam, Dean, and Castiel. *chills*
Hot damn! I'm not sure what to make of this all. I never thought they'd actually make Chuck a big bad. The Winchesters have had their beef over the years, but this takes things to a whole new level. It doesn't get any greater than taking on "God."
I really do hope the release of Hell's souls leads to the return of fan-favorites next season. There were some really great guest stars that would be awesome to see again. If this season felt nostalgic, I can only imagine the callbacks that await us in the Fall. This will be a really bittersweet hiatus as we await the beginning of the end.