"Supernatural" Season 15: Bleeding Cool's SDCC 2019 Live-Blog
Let's be honest. Every year, Comic-Con International: San Diego (SDCC) continues to grow – and what was once the pantheon for all things comics has become the place to be if you're a film or television series looking to make traction with an eager geek fanbase looking to rest their eyeballs on something worthy. Then there are the "con veterans," returning once again to show their love and appreciation for the fan support – or in some instances, giving attendees a final chance to say goodbye… as is the case with The CW's Supernatural.
With a Bleeding Cool team doing it's very best to cover as much of the SDCC experience as possible for you, we're giving you a chance to join-in on our coverage live. Over the next four days, we'll be hosting live-blogs for a number of the buzz-worthy panels at play – today, it's a deep-dive into what the show's creators have in store for the long-running series final season:
https://www.youtube.com/watch?v=4-2Y7PjewYQ
Supernatural Special Video Presentation and Q&A
Sunday July 21, 2019 / 10:30 a.m. – 11:30 a.m. / Hall H
See series stars Jared Padalecki, Jensen Ackles, Misha Collins, and Alexander Calvert, along with executive producers Robert Singer, Andrew Dabb, Eugenie Ross-Leming, Brad Buckner, and Robert Berens, for their final appearance in Hall H, as they answer questions about the shocking events in last season's intense finale, as well as what's in store for the 15th and final season of this long-running series. Fans will also be treated to an exclusive video presentation featuring series highlights as well as the show's cast and producer Q&A. The 15th season of Supernatural will return to The CW on Thursdays this fall in its 8 p.m. ET/7 p.m. CT time slot. The series is produced by Kripke Enterprises Inc. in association with Warner Bros. Television.

Though news of the series' was announced in March, fans of the long-running horror-drama series are still coming to terms with the decision and looking for answers. Padalecki and Ackles did their part to get viewers through the stages of the series-grieving process back in April, taking the stage at VegasCon 2019 to explain that the decision to end the series was a "community decision" and was not influenced by the network or the studio.
Check out the moment for yourselves in the video below, starting around the 28:35 mark:
"It wasn't an easy decision. It was months and months, if not years, of discussion between he and I, between the rest of the cast, between the crew, between our writers, between our producers, between the studio, between the network. Nobody wanted to see this show fizzle out.

I think that it was everyone wanting to do the biggest service to the show that we could by going out strong. It just seemed like the writing was kind of on the wall as to when that was happening. Everybody kind of felt that it was coming soon, and so it was just taking that leap of faith of going like, 'Well guys, let's get out the paint and paint that finish line because what we've accomplished is unlike any other.'"

– Jensen Ackles
Here's a look back at the original Instagram announcement from Padalecki, Ackles, and Misha Collins; followed by a personal post from Collins: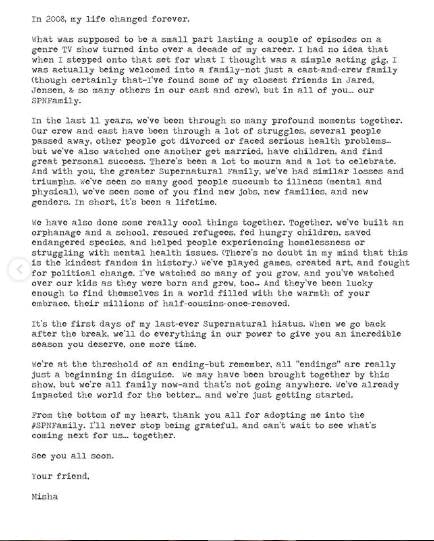 Supernatural executive producers Robert Singer and Andrew Dabb also shared their thoughts after the announcement was officially made:
"Firstly, we would like to thank all the people who have been involved with the show both in front of and behind the camera. For us it has been an experience of a lifetime. The support we have had from both Warner Bros Television and The CW has been incredible. We'd like to give special thanks to Jensen, Jared and Misha for making this journey so special. It is now most important to us to give these characters that we love the send off they deserve." The CW's Supernatural stars Padalecki as Sam Winchester, Ackles as Dean Winchester, Collins as Castiel, Mark Pellegrino as Nick, and Alexander Calvert as Jack. Executive producers include Singer, Dabb, Phil Sgriccia, Jeremy Carver, Eugenie Ross-Leming, and Brad Buckner.