"The Circle" Episodes 5 & 6: So This Is What Jonestown Would Look Like If They Had Emojis… [SPOILER REVIEW]
A little nauseated by some of the players' antics in the fifth and sixth episodes of Netflix's The Circle. Please, oh please, can someone block newcomer Adam, who gets an opportunity to have a romantic evening with a few players, and probably should have brought a manual on how to flirt… "whoever arouses me"?!?
Seriously? Throw up emoji…
While Adam, the middle-aged catfish repulses the female contestants, I foresee if this was some sick Russian Roulette game, most of the players would probably take an opportunity to hope for a loaded shot. Rebecca continues to drown deeper in to her good girl like persona, you are a guy, maybe that should be posted somewhere on a wall, before feminine galore takes over completely, are his pants actually getting tighter?
Shooby, Mr. Anti-Social Media caught up in all the likes, and the kindness of Rebecca although he claims there is no romantic interest there. The influencers ponder an opportunity to be strategic and eliminate the player who poses the most threat, but instead comradery perseveres, and they incorrectly vote off a Catfish after some group chat cattiness. This is a competition right?
Here are some highlights from episodes 5 and 6:
Episode 5
Newcomer Adam, a 40-year-old married man posing as a hot young beach lover gets an opportunity to hold a 3-person group chat, and then selecting who to have a romantic evening with, this was so gross to watch.
Selecting a female audience, with questions about arousal and craziest sex encounters, Sammy especially is sick to her stomach while Rebecca lays on the "good girl" antics a little too hard.
Adam chooses Rebecca and sends her a big teddy bear with a romantic message, here is where catfish Rebecca really needs to remind her/I mean himself that she's really a guy and no one can see him swooning in his room.
In the end Rebecca is not raunchy enough for Adam and he moves on to Miranda who flirts with everyone, not adding to her popularity.
ALERT: "#this" game. Players must upload a new photo of themselves with a #, while all other players anonymously get to #back.
Mercedes doesn't get any love, and is #Catfish.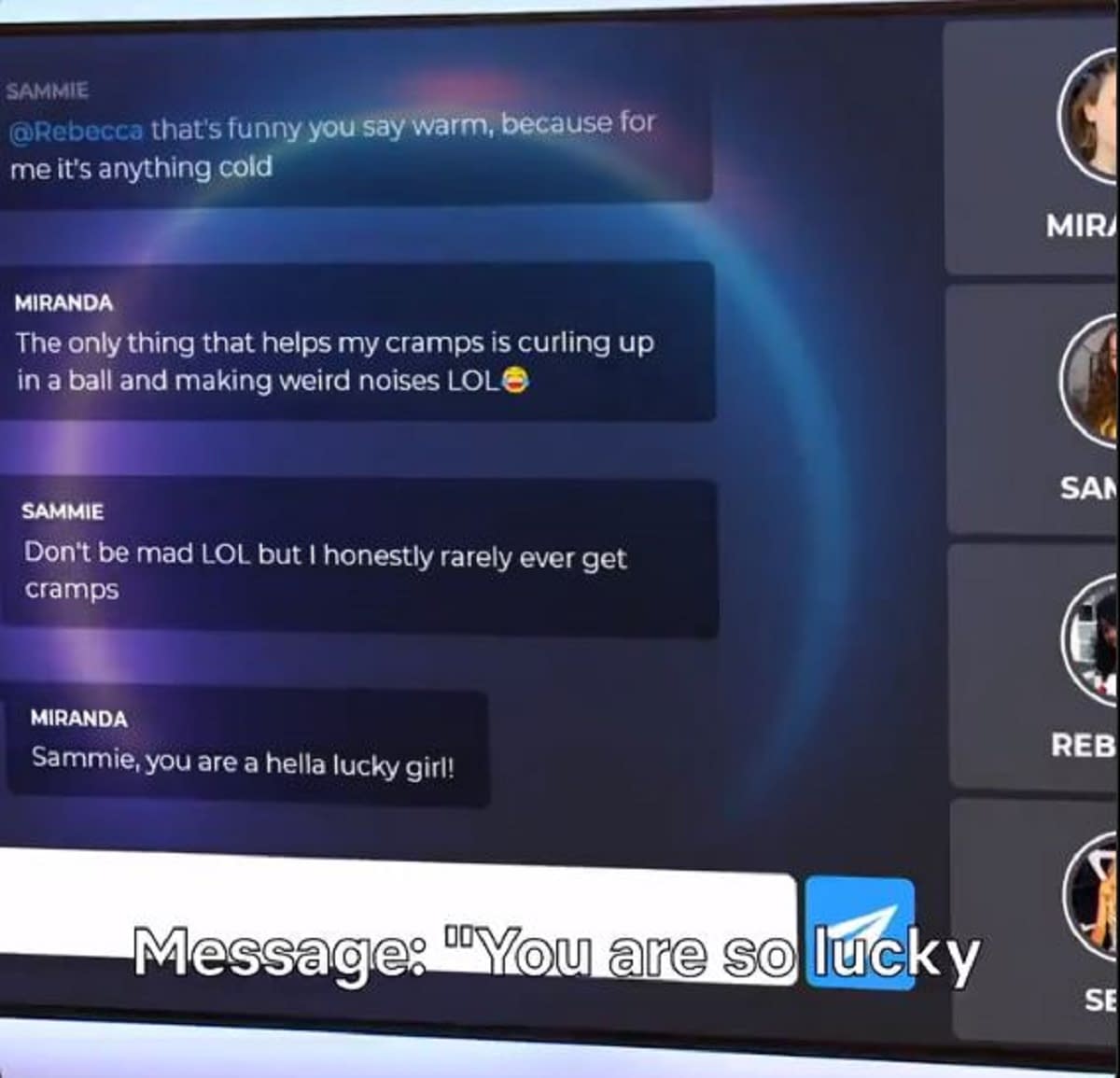 Episode 6
ALERT: Ratings, falling to the #7 slot is Mercedes for her believed to be Catfish status, with Shooby (again) and Sammy holding the #1 and #2 spots.
Joey hopes to be visited by the member who is eliminated because he's lonely – aww
With what appears to be a consensus to send the most liked player home, the influencers scratch that idea and instead eliminate the least liked player Mercedes
Mercedes goes to visit Chris and they have a lovely heart to heart.
Miranda and Sammy compete to get Joey to send them an eggplant emoji – Miranda lays it on pretty thick and gets multiple sexual references, winning the challenge.
A lot of the players are getting lonely, looking forward with excitement each time an ALERT flashes on screen initiating some type of activity. This has freakishly become a cult like obsession, while they all eagerly wait for its omnipotent instructions. The players dress up for occasions even though the other players can't actually see them. It borderlines on sad – give these people at least some audio time with other members, a 3 min blocked skype call, something. As two new players walk the halls of The Circle prison, bringing the count now up to 9, what can we expect?