"The Circle" Episodes 7 & 8: I Think They Just "Shyamalan'd" Us… [SPOILER REVIEW]
"Oh Sh*t!" is the only way to describe the latest two episodes of The Circle – and yes I'll own up to screaming obscenities out of shock at my TV. Give it up to Netflix for keeping the viewers on their toes. We are introduced to two new players with a twist, crazy alerts, and a catfish outing herself…WHAT?!? Unusual alliances are formed, and new players bond instantly, continuing to show that it is that "come as you are' attitude that gets likes, not bullshit and flirtatious antics.
(Before we go any further… you can catch up on my reviews of the first 6 eps here, here, and here)
Consistency goes out the window when even the influencers have to play by new rules selecting who to eliminate without a single thread of communication. Not surprisingly the person sent home never really displayed the ability to naturally bond with the team or any single team member, with the exception of Joey for obvious reasons. Networking 101, people naturally bond with those they can find similarities to, que new team member Ed (and his mother?) and Sammy who attended the same university and lived one town apart – instant alliance. It also doesn't hurt that Ed is hot and an adventure seeker.
It seems that the contestants are more caught up in maintaining their sanity while in isolation, bonding, getting to know each other, and building relationships, and most of them have forgotten that this is a game. Strategy is the most important thing, as evident in the missed opportunities during eliminations – the members chosen for elimination should be the most liked because they pose a threat, not the ones suspected by all of being catfish. Reminder, there is $100,000 at stake.
Here are some highlights from Episodes 7 and 8:
Episode 7
Two new team members are introduced: Sean a catfish social media mogul who promotes plus size models while pretending to be her gorgeous, slim friend and Bill who works in the auto industry, is hot, and wants to naturally be everyone's BFF.
Instantly and ALERT comes through shocking the team members that two new contestants have joined, and will be hosting "Trivia Night"
As Sean and Bill select their teams on the basis of profiles alone, the team members try to figure out who they are
Sean's team made up of: Sammy, Adam, Miranda and Joey take the win and get awarded with a video from home – emotions ensue.
ALERT: Ratings, the players with the exception of the newcomers must rate each other with influencer choosing who to block.
At the bottom placing 6th and 7th are Miranda and Adam, with the #1 slot going to Joey being followed by Shooby. Not surprising in the least, by far the most easily likable players
ALERT: yep, again – why so soon? The influencers cannot communicate about their decision and must publicly in the group chat post their two pics of players to save – CRAZY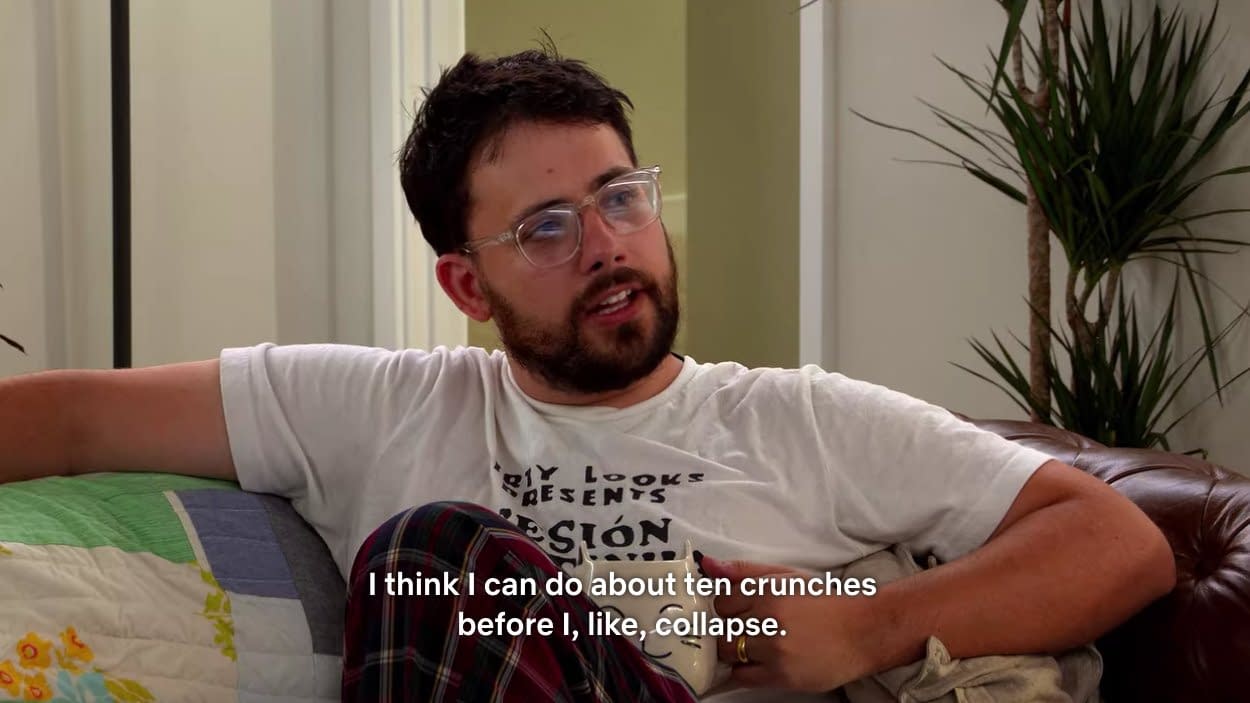 Episode 8
Miranda is sent home, I'm ok with that, although I really wished it was Adam because I truly can't stand looking at him, or listening to him ponder how to be a hot guy, it's just sick and unnatural.
Miranda goes to see Joey, they make out, and all is right with the world – gossip is spilled the following day.
New Player: ED and his mother – yep, Ed brought his mother Tammy to help him out and keep him in check from going too heavy as a ladies man.
Ed is instantly liked – comes off as easy going, personable, he is attractive without being too threatening, will definitely get top ratings.
Ed and Sammy bond instantly over living near each other and having links to the same university.
ALERT: "Paint a portrait of another player" – I love these activities they make the players do to keep them from going insane and possibly suicidal.
The players have some laughs and get a clear picture of who their besties are, Adam, painted by Bill in a negative light.
Sean struggles with her Catfish person and decides to confide in Chris, then inviting the girls in the group chat……"the real photo of me is….." Stay tuned for next week's The Circle!
With so many new alerts, rule changes, and cliffhangers, next week's round of The Circle is sure to be filled with a lot of CRAZY. There will have to be some massive elimination round where 3 to 4 team members are cut at the same time. As more newcomers continue to enter The Circle, will all the old timers be eliminated – or will they remain being the welcoming committee watching the newbies being cut one body at a time? Will Shooby continue to hold on to the top two slots, my prediction is Ed or Bill will creep up to the top of the ranks, with Sammy remaining one of the most liked as well.
Another predication? ALERT will somehow make it in to today's mainstream lingo.