Posted in: HBO, TV | Tagged: Bella Ramsey, craig mazin, HBO, Keivonn Woodard, Lamar Johnson, Melanie Lynskey, Pedro Pascal, the last of us
---
The Last of Us: Lamar Johnson, Keivonn Woodard on Henry & Sam Story
Lamar Johnson and Keivonn Woodard discuss Henry & Sam's dynamic in HBO's The Last of Us and how they approached the game's iconic moments.
---
One of the biggest appeals of The Last of Us franchise is its supporting characters Joel (Pedro Pascal and Ellie (Bella Ramsey) meet along the way. It's something creators Craig Mazin and Naughty Dog visionary Neil Druckmann try to do in the HBO TV series adaptation expanding the duo's world around as they try to survive the Cordyceps pandemic. Among those they meet are Henry and Sam, voiced respectively in the game by Brandon Scott and Nadji Jeter and played by Lamar Johnson and Keivonn Woodard in the series. Johnson and Woodard spoke with Deadline Hollywood about their time filming the series and the differences between the original PlayStation characters and their incarnations. The following contains major spoilers for the episode "Endure and Survive."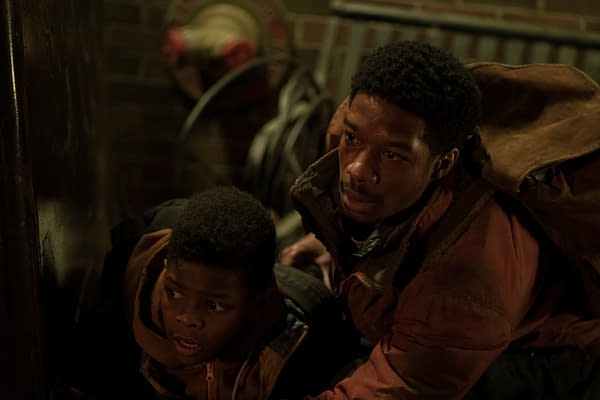 The Last of Us: Dynamic Between Henry & Sam
One of the major changes is Woodard's Sam is deaf to reflect on the actor himself. Both communicate via American Sign Language, while Sam also carries a Magic Slate for outsiders who don't know ASL. "I found out when I booked the role that they'd be incorporating Keivonn and ASL. And for me, I didn't know any sign before getting to set, so it was sort of a crash course, but I had a director of ASL along with interpreters that helped me wrap my head around sign language in our scenes," Johnson said. "And I think that sign created a lot more depth to our relationship because communication is not only through words but also through body language. And I think it truly bonded us because we had to communicate through feeling, and I think people felt that in our performance."
Johnson also credits the show for adding nuance to the brothers. "It was easy to connect with Keivonn because he's such a great kid. He's so talented, and we both really connected and committed ourselves to these roles," he said. "And we had a really great team of people behind us, and we supported each other. So, when I saw a lot of the changes [to Henry and Sam's story], especially with Sam being deaf, I was really happy because I felt that it added a beautiful layer of intimacy between Henry and Sam and their connection."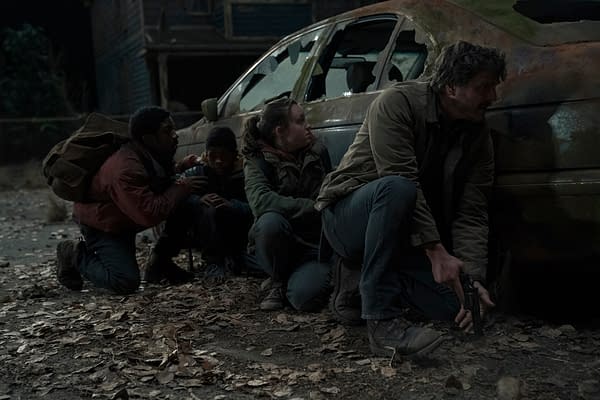 Henry and Sam's introduction to Joel and Ellie was far less violent than it was in the PlayStation game that found Henry ambushing Joel at an apartment as the latter two were attempting to flee local Kansas City militia on their tail. The fight stops with Sam wielding a gun and Ellie de-escalating the situation. On the HBO series, Henry and Sam get the jump on Joel and Ellie in their sleep as Ellie wakes Joel up to their new visitors. Another major change in Henry's story is that he's on the run after being accused by anti-FEDRA militia leader Kathleen (Melanie Lynskey) of killing her brother, making apprehending and executing him her number one priority. The game had Henry and Sam as lone survivors who got separated from their presumed dead group.
"It informed me about Henry's love for Sam because he's willing to make hard decisions to keep him safe. He is his sole care provider and protector," Johnson said of Henry's decisions that caused their predicament. "So it just really shows you the length and how far Henry would go to keep Sam safe, even if that means giving up a life to save his own. That's what it revealed to me. And do I understand that? Yes. They live in a very harsh world, and Sam is Henry's purpose. It's his will to live. And if he didn't have him, he wouldn't have the will to live. So, do I agree with protecting and trying your absolute best to protect and save the one thing you have left in this world that you love and care for? Yeah, it's a tough one, but I think I understand where he's coming from, and I think Joel does too."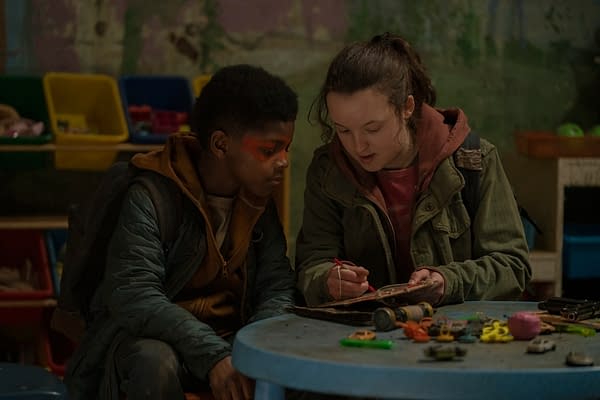 When it came to the inspiration behind the superhero figure Sam draws, "My father passed away and someone told me that it's really important that I be strong," Woodard said. "And as a Black person, it is important. I use that memory to look inside myself and motivate myself to be brave, even if there are frustrations or struggles. I do my best to be brave. Also, Miles Morales is my favorite superhero." Another dramatic difference in the game was how Joel, Ellie, Henry, and Sam escaped to the suburbs only to be ambushed by a sniper. The game isolates the pursuit to a small militia unit that ends up chasing them while an infected horde comes after, whereas the HBO series had the event taking place at night with Kathleen's forces catching up and a seismic event triggered a much more massive horde that overruns the militia while four make their escape.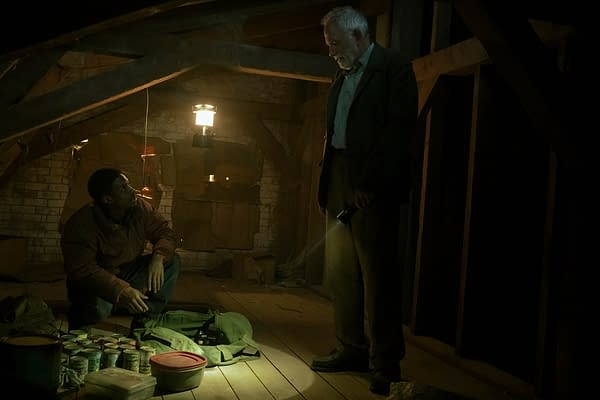 "It was pretty intense; everything was [practical]. The entire cul-de-sac was built; all the houses when the infected came out of the ground were real," Johnson said. "It was all stunt men and stunt women with this crazy makeup on and everything like that. It was an intense day, but it was actually a lot of fun just because me, personally, I'm a fan to see the amount of work and dedication from the makeup team and special effects team that they put into. I think there are probably… I couldn't even tell you how many clickers were there that day, but there were some people that were in from the… I mean, we're shooting nights at that point in time, so we're shooting until very early in the morning, maybe would wrap around maybe 5:00, 6:00 AM. But some people would literally get there in the morning or the afternoon, early afternoon, all the way up until it takes a while to get all these prosthetics and all these different things onto your body. And it was great to be there with Pedro [Pascal] and Bella [Ramsey]. It was a fun time, intense too, but fun."
"With all of the creatures and clickers, I got to meet them beforehand; that way, I got an idea of what they looked like, so I wasn't as scared of them," Woodard added. "It was really good working with them and with Lamar, Pedro, and Bella. I had a lot of fun, especially with the clickers. It all went really well." For more, including how Johnson and Woodard's reacted to filming Henry and Sam's tragic end, you can check out the rest of the interview here. Johnson also took the opportunity on separate social media posts to thank actors Ramsey, Lynskey, and (original Tommy actor from the PlayStation games) Jeffrey Pierce, who played Kathleen's right-hand man Perry, and creators Mazin and Druckmann. The Last of Us airs Sundays on HBO.
---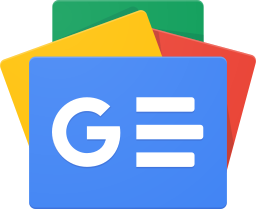 Stay up-to-date and support the site by following Bleeding Cool on Google News today!