Last night's episode of The Magicians introduced us to Poppy Kline, a graduate of Brakebills and an expert in Dragons. She is played by fan-favorite actress Felicia Day (Supernatural, The Guild, Dr. Horrible's Sing-Along Blog). And while the character is surprisingly up and peppy all the time, Day describes her as, "geeky, loves dragons, loves knowledge and will do whatever it takes to advance her knowledge and her own agenda." The video below contains spoilers for the episode, Do You Like Teeth?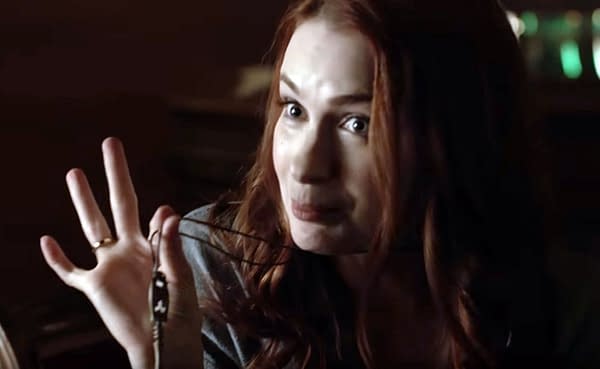 With Poppy comes one of the keys and it is what she describes as a depression monster. Since the first episode of the series Quentin Coldwater (Jason Ralph) has been dealing with depression on and off. The series started with him in a hospital that he checked himself into because of depression. Magic made him feel better about a lot of things, but magic is gone. In this episode Quentin has to confront his depression again and it's something the cast and crew know very well. Ralph explains in the video that he would butt heads with the director on how some things about depression should be portrayed on screen.
But the episode didn't solely focus on them. Julia (Stella Maeve) and Alice (Olivia Taylor Dudley) had to help Dean Fogg (Rick Worthy) get his sight back, something he is not good without. And Eliot (Hale Appleman) and Margo (Summer Bishil) come up with a plan that involves fairy eggs… not sure that was such a good one.
The Magicians airs Wednesdays at 10 PM on Syfy.
Enjoyed this article? Share it!