The Masked Singer has taken television – and quite possibly the planet – by storm, and and the second season of FOX's mega-huge success story hasn't even started yet!
The network made sure to play up the surprise hit during this past weekend's Emmy Awards – and while fans had a lot of The Masked Singer "eye candy" to eat up, it was the introduction of a new "contestant" that had fans bugging out:
That's right, Ladybug joins this season's insect collection. I must admit, that costume dazzles. I have a feeling she will be a fan favorite.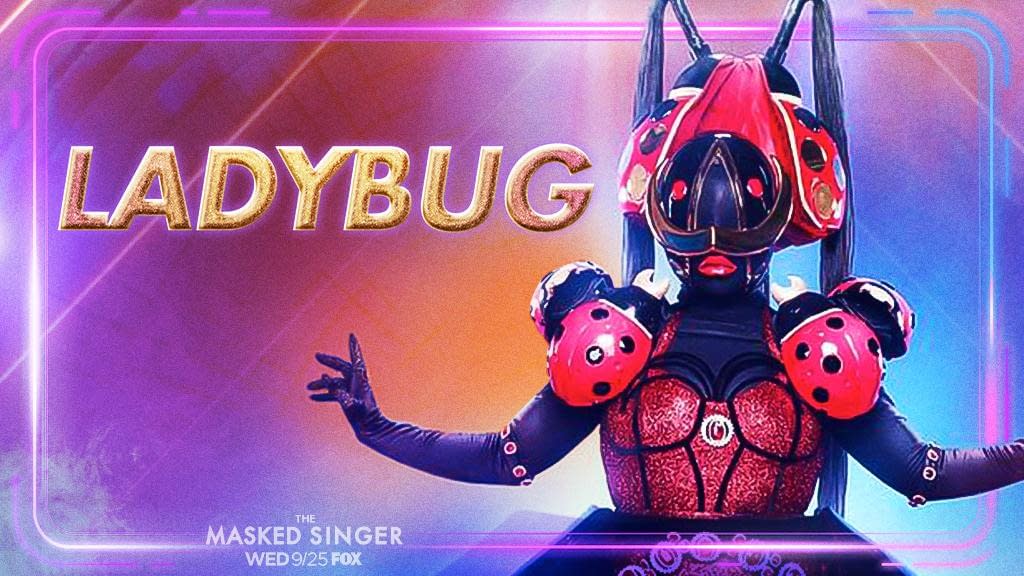 In addition to Ladybug's red carpet reveal, last week's illuminating "Sneak Peek Special" gave fans a leg up on the clues for most of this season's contestants. I'm not quite ready to start placing bets, but these will definitely come in handy as we start sizing up performances. Besides, I'm still reeling over the fact that two of my wishlist costumes are featured this season: Penguin and Flamingo!
So here's a look at the clues we've picked up on so far – with an occasional "early thought":
Rottweiler Clues
Chain… abs… signature hip-hop look… perfectionist… hmmm…
I know I said I'm not ready to guess, but I'm getting LL Cool J vibes.
Panda Clues
Fast and Furriest… victory will taste sweet… bamboo preparation (hint at food prep)… loves challenges (like a reality competition show?)… hmmm…
This has to be a TV Chef! The question is…which one???
One person we know it definitely won't be?
https://twitter.com/MaskedSingerFOX/status/1176297582340915200?s=20
Thingamajig Clues
Roughly 7ft tall… glasses… bad teeth… spectacle… big deal… kingdom… puzzle… celebrates with Chewbacca… hmmm…
Leopard Clues
Sounds British… Secret Service… spotted with the President… move mountains… hidden figure… hmmm…
Penguin Clues
Fearless… cold as ice… get hair done… fans in background… laugh: "hehehehe"… hmmm…
Skeleton Clues
Candles… crew… Heaven… custom mic… bling… boxing ring intro vibes… hmmm…
Ice Cream Clues
Mansion… live for half of February (the 14th?)… hmmm…
Honestly, I don't even care what the clues say. I want this to be Vanilla Ice so badly!!!
Flamingo Clues
Pretty in pink… loves mascara… fiery and fierce… rock… blown away… hmmm…
Flower Clues
Blossom… pedal to the metal… branch out… hmmm…
Fox Clues
Sneaky… underestimated… clever… eat anything… superhero… glowing eye… hmmm…
Black Widow Clues
Circus like music… acrobatic crawler… tricks up sleeve… tarot cards… magic… leave us hanging… hmmm…
Eagle Clues
Saluting… signature rock star outfit – red bandanna and sun medallion… motorcycle… Eagle's body temperature… hmmm…
The costume clues give me two very different vibes – Bret Michaels or Toby Keith. Sounds more like Bret, but the Americana is very Toby.
Butterfly Clues
Flying high… shake up… pray… bump… Eye On You… hmmm…
My gut says this is Dionne Warwick, mostly because of the pray clue. She was the first to sing "I Say A Little Prayer For You."
Egg Clues
Red curtain… stand-up performer(?)… work hard for first and last vowels of the alphabet ("A" and "Y")… hmmm…
Tree Clues
Delicious performances… 1950's… precious cargo… gift of joy… cartoons(?)… hmmm…
So those are the clues and some of my initial thoughts/predictions, "Masketeers"! Let us know if we missed any clues or hints – and share your hunches, too!
The Masked Singer returns with a two-hour season premiere on Wednesday, September 25, at 8 p.m. ET / 7 p.m. CT.