The Rookie Season 5 Episode 13 Sneak Preview: It's Tim to The Rescue
In this preview for ABC's The Rookie S05E13 "Daddy Cop," Tim & Celina check in on Celina's mother in the midst of a heatwave & blackout.
---
Before we take a look at the latest preview for this week's S05E13 "Daddy Cop," we just wanted to take a second to commend the marketing team behind ABC's Nathan Fillion-starring The Rookie because they've been doing some quality work getting previews and behind-the-scenes looks out there to the fans. So with that in mind, this week sees Lucy (Melissa O'Neil) rallying the troops to help get Tim (Eric Winter) into a better job than the one he has now (one he took to maintain his Chenford relationship). Hampering all of that and more is a nasty combination of a heatwave and a blackout, one that finds Tim and Celina (Lisseth Chavez) heading out to check on Celina's mom- who's curious about Tim's relationship status.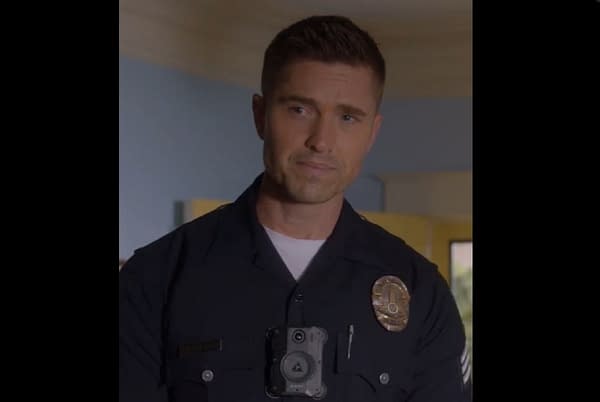 Here's a look ahead at what's to come this week, followed by a look back at previously-released preview and a look ahead to next week:
The Rookie Season 5 Episodes 13 & 14 Previews
The Rookie Season 5 Episode 13 "Daddy Cop": Written by Fredrick Kotto and directed by Anne Renton, the January 17th episode takes place in the midst of a heatwave & a citywide blackout, where Officer John Nolan (Fillion) and Aaron (Tru Valentino) follow increasingly large leads after they discover criminals hiding at the station. While on duty, Officer Chen (O'Neil) makes an alarming discovery after being called to a scene where a pungent smell has wreaked havoc. Meanwhile, Lucy and Harper (Mekia Cox) scheme to get Tim (Winter) out of his new job and into a more exciting position. Now, here's a look at the preview images released for "Daddy Cop," followed by the episode promo and a look ahead to S05E14 "Death Sentence":
The Rookie Season 5 Episode 14 "Death Sentence": Officer John Nolan and Bailey (Jenna Dewan) are on the hunt for a mystery gunman after a shooting hits a little too close to home. Meanwhile, Aaron struggles to live within his means and joins Lucy to help Tamara (Dylan Conrique) when the mother of a child she babysits goes missing. Elsewhere, Wesley (Shawn Ashmore) suspects that a judge is taking bribes after he excludes valuable eyewitness testimony from a case. Written by Diana Mendez Boucher and directed by Faye Brenner.