We cannot get over how exciting this news is- we're gonna be getting a tv series based on The Sandlot from original film director David Mickey Evans, AND the original cast is returning! Perhaps you'll recall that brief blip that we were gonna be getting a The Sandlot prequel something, but that apparently morphed into a continuation story instead.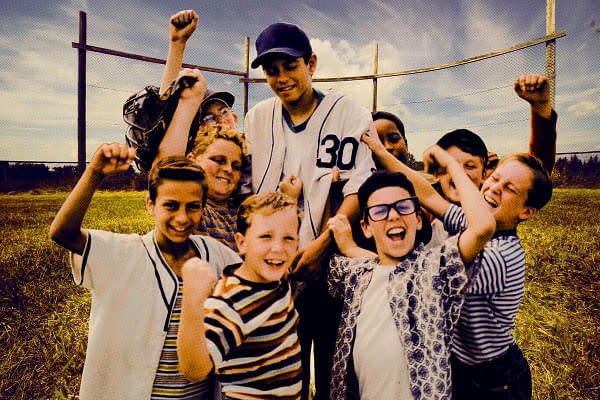 Evans recently stopped by the The Rain Delay podcast, and pitched the sequel curveball. (SlashFilm says the announcement of the tv series is around the 78:23 mark, btw.)
Apparently the series already has a home at an unnamed streaming service, and Evans confirmed that the original gang of Benjamin "Benny" Franklin Rodriguez (Mike Vitar), Hamilton "Ham" Porter (Patrick Renna), Michael "Squints" Palledorous (Chauncey Leopardi), Timmy Timmons (Victor DiMattia), Alan "Yeah-Yeah" McClennan (Marty York), Tommy "Repeat" Timmons (Shane Obedzinski), Bertram Grover Weeks (Grant Gelt), and Kenny DeNunez (Brandon Quintin Adams) are on board to return.
The story will take place in 1984, and the characters will be adults, with kids of their own. Yes, we're super-hoping for an in-depth breakdown as to JUST how "into the 60s" Bertram got. Obviously he got out of it, if he's around in the 80s.
No word about Karen Allen, but we'll actually be seeing her later today and will ask.
We'll let you know what else we hear about The Sandlot tv series.
Enjoyed this article? Share it!