"The Simpsons" Season 30 Was Actually Really Great. Here's Why the "Cool Kids" Are Wrong [OPINION]
It's easy to dismiss FOX's long-running animated series The Simpsons. The venerable animated show certainly isn't the ratings juggernaut it once was, or producing brilliant satire in the same way it was in its 4th or 5th seasons, but who is expecting it to? However, while pop culture's "cool kids gaze" has moved to Rick and Morty or Bob's Burgers, Homer, Marge, Bart, Lisa, Maggie and the rest of Springfield quietly made one of the best seasons of animated television of the year. Yet, almost no one noticed – except for me.
I noticed.
In today's media landscape, you know what's easy? Detached cynicism. Here's a little secret: if all we wanted was clicks and eyeballs, I would spit out an outlandish opinion decrying a sacred cow, preferably something from your childhood that you cherish. I could punch out 500 words telling you why "Marge vs the Monorail" was overrated and boring. We'd crap all over it, and then you'd get mad. You'd leave a nasty comment.
You'd hate-share it on social media and say how terrible and wrong we are. Because it's easy to make someone mad, or make them afraid.
It's hard to be genuine. It's hard to be sincere. It's even harder to be funny.
So we have the 30th season of The Simpsons. Somehow, they got even funnier in this season and still no one noticed. Exhibit A? Not even in the actual season, this tweet welcoming The Simpsons to the Disney family of intellectual property is everything Season 30 is about.
Over a half dozen times the characters on the show mention the pending Disney merger and make offhand comments about it. While it's unclear how those jokes will age, they met the zeitgeist of 2018/2019.
And just so you don't think I'm being uncritical of an aging show to puff up its bona fides, I will also say that one of the things that seems to separate the humor of today's Simpsons from the "classic" seasons is how timely and topical the humor can be. This is, no doubt, thanks to the increase in speed of the animation process. Early seasons of The Simpsons took over a year from script to screen, so they could never be topical but had to be more broadly satirical. This is also why episodes about a city buying a monorail or Prohibition coming back to Springfield still work just as well today as 25 years ago.
But today's Simpsons are able to be edgy in a way they weren't. And while this allows them to take a lot of sharp jabs at Trump or other current events, most of their ire, or at least its most consistent target, is television itself, as well as the entertainment industry at large.
"The Simpsons" Season 30: Making the Case
Take Episode 2, "Heartbreak Hotel," in which Marge and Homer try out for a Survivor/Amazing Race type show hosted by Tad Tuckerbag (Rhys Darby). My general rule is that any show or movie is better for having Darby in it, and this is no exception.
The episode's heart, however, comes in skewering reality TV tropes and also an extended sequence – entirely in black and white – which parodies Who's Afraid of Virginia Woolf. There's also an extended musical number about living up the luxuries of a mid-level hotel. It's peak Simpsons, but it aired, not in 1995, but last year.
Then there's Episode 18, "Bart vs. Itchy and Scratchy." Yes, even the title evokes Golden Age Simpsons, and also prepares us for exactly what the episode is about. When Krusty creates a gender-swapped Itchy and Scratchy cartoon, the world turns upside down and boys decide they must hate it. Girls, of course, love it. When Lisa releases a video of Bart laughing at girl-Itchy and Scratchy, he is shunned by all the other boys at school, leading him to fall in with a girl gang who call themselves "Bossy Riot" (guest stars Awkwafina, Nicole Byer, and Chelsea Peretti).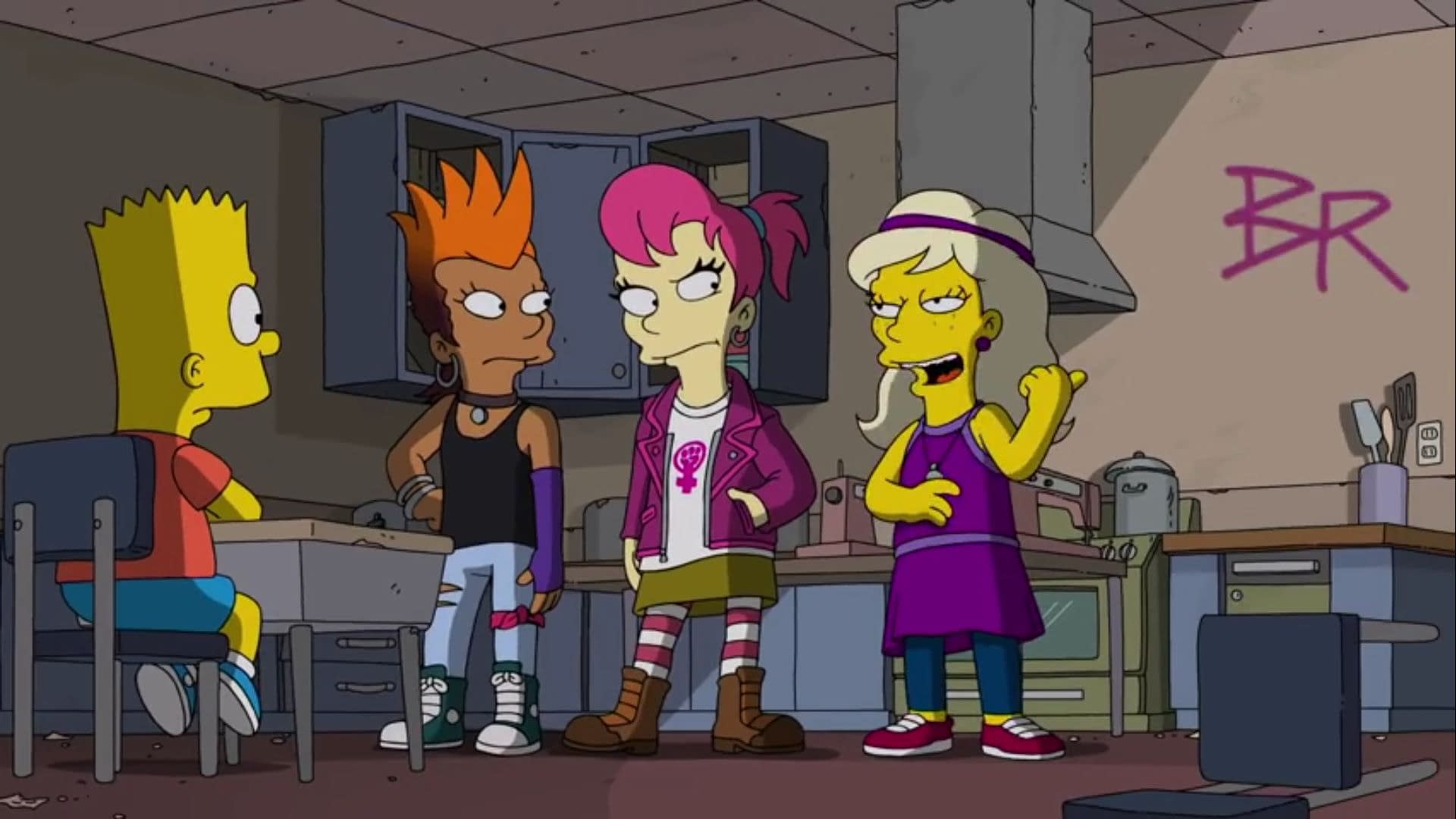 The boys form an opposing gang (led by Milhouse?) called the Boys Rights Association, or BRA. (They're very supportive.) Both Bart and Lisa confront some truths about feminism and direct action protests, especially as they have to work together to save the original master recordings of every Itchy and Scratchy ever from Bossy Riot. Because that's what really matters at the end of it all: cartoons.
This is such a great commentary on our gender politics, to what extent it's pandering, to what extent it's political, and to what extent it's empowering. Overall, it's a really fair satire in that it plays no sides and takes no prisoners, while still skewering traditional idea of patriarchy and male gaze in media.
Of couse, there is the single greatest satire of our modern TV state, Episode 8, "Krusty the Clown." Billy Eichner cameos as a loud-mouthed 5th grader named, of course, Billy (like they wrote the role for him) who takes over the school newspaper and turns them into a clickbait factory.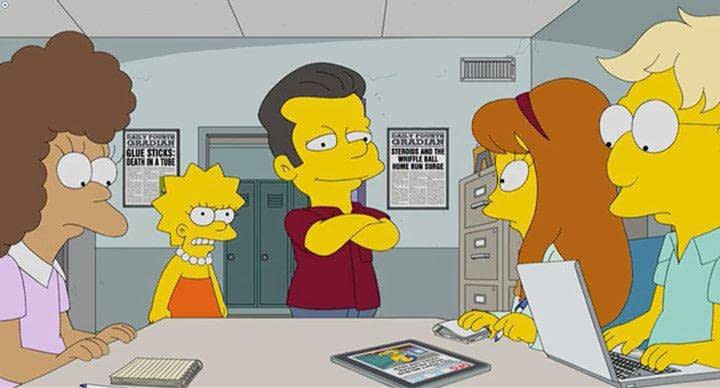 Lisa's natural precociousness and moral outrage prevent her from reviewing Krusty's show, so she enlists the person most likely to write at a 4th grade level in the house: Homer. He quickly rockets to stardom, eventually being poached by a Buzzfeed-style site to recap shows for them instead.
His bad reviews of Krusty's show turns into a feud between the clown and the erstwhile critic, eventually leading to Krusty confronting Homer in one of the funniest sequences on The Simpsons in years. During a dramatic car chase between the Simpson family car and Krusty's Tesla (which he dubs "the perfect, silent killing machine"), @HomerIsWatching tweets out, "Krusty is trying to kill me. If he does, it will be the first time he's killed in years."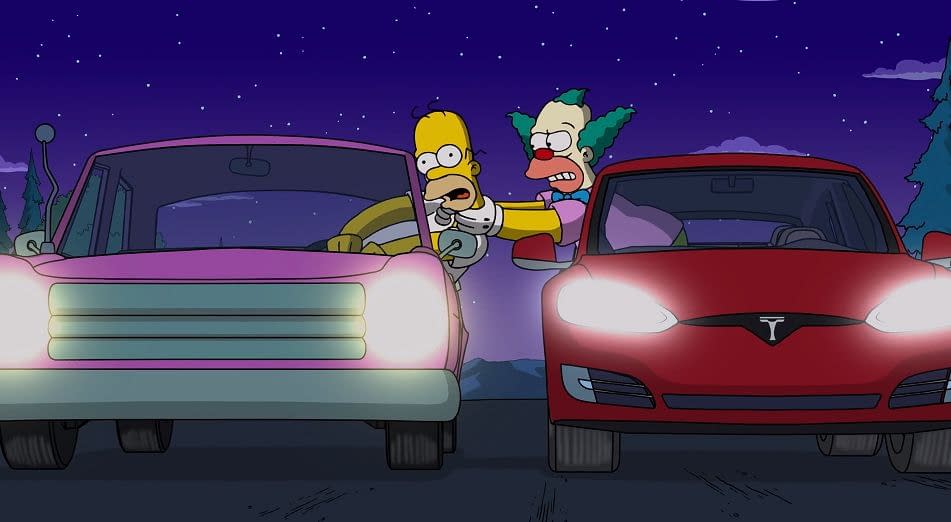 As Krusty turns on autopilot and strangles Homer, he demands:
"Like! my! show!"

"Why? Is it Season 4 again?"
The Simpsons knows exactly what it's doing. It knows that joke was aimed both at itself, and the fandom, but also on schlubs like me who take it upon ourselves to review the tv shows we love. As the kids would say, I feel personally attacked by this relatable content.
Oh, and this is all in the first 8 minutes. After being wanted for his attempted murder of Homer, Krusty runs away and joins the circus. This A-storyline goes on just fine and is actually pretty funny, but in classic Simpsons fashion, the B-storyline is where the humor really shines, as Homer goes on to expose a vast conspiracy about the Age of Peak TV: most of these shows don't actually exist. No one has ever watched them, but they exist only so giant corporations can say they have all these shows. Again, relatable – there's too many shows and no way to watch them all, so for all you know, Narcos isn't actually real. Or Suits.
In fact, in a beautiful easter egg, on a list of "fake" shows that don't actually exist, one of the names that scrolls by is The Simpsons. In many ways, for most people, The Simpsons hasn't existed for years and "news" that it reached its 650th episode this year or was renewed for a record-breaking two more seasons may as well be "fake news." If a TV show airs in a forest and no one sees or hears it, does it affect the pop culture zeitgeist?
The episode also affected me personally. For weeks after, I wondered as I wrote my weekly reviews of Supergirl, The Flash, Black Lightning, and others if I was just chumming the water with clickbait, or offering something better. I tried to be better than Billy, better than Homer. Not sure if I always succeeded, but it's out there for y'all to judge.
Aside from precious, precious television, The Simpsons 30th season also went after a bunch of other major pieces of the entertainment industry. The season opens with "Bart's Not Dead," an episode where Bart has a near-death experience, then lies about seeing Jesus and the afterlife, which nets Homer a writing and directing gig in adapting Bart's inspo-tainment for a group of Christian movie producers. "So, as Christian movie producers, you give all the profits to charity, right?" (HA!) This episode also features Emily Deschanel and Gal Gadot playing Marge and Lisa in the movie adaptation, and their audition provide some of the best laughs of the episode.
In Episode 17, "E My Sports," Bart becomes a professional E-sports player and goes to the international tournament in Seoul. In Episode 14, "The Clown Stays in the Picture," we flash back to young Marge and Homer as newlyweds who work as production assistants on Krusty's totally-not-at-all-like-Zardoz-or-Dune-or-Krull science fiction movie.
Then there's just basic Simpson family hijinks. Homer joyrides in Comic Book Guy's car, damages it, and makes a mitigation video to say why he shouldn't go to jail in "101 Mitigations." Marge gets mistaken for a drag queen but uses it to her advantage to sell Tupperware in "Werking Girl" (guest starring RuPaul and Scott Thompson!). Lisa accidentally becomes a citizen of Canada in "D'oh Canada," and Homer insults Upstate New York with his song about how terrible it all is. And in the season finale, Burns cuts his employees' health care plan, so Marge starts selling crystals and other new age items, leading to a feud with a fellow purveyor (guest starring Jenny Slate and Werner Herzog).
All of these are hilarious. All are worth your time. They might not be as good as Season 4-6, but they can tangle with the seasons in the low teens.
"The Simpsons" Season 30: Final Thoughts
That isn't to say there aren't some clunkers in there. The annual "Treehouse of Horror" felt tired. Another similar anthology type episode with three stories about people getting into heaven was also a little forced.
But overall, the season had much more good than "bad,"and, it had near parity for female writers, with them contributing 10 of the season's 23 episodes (and the majority of the great episodes outlined above. . . *ahhem*). This also included an episode written by Yeardley Smith, the voice of Lisa, "Girl's in the Band" in which Lisa joins the Capital City Orchestra under the baton of an abusive conductor (JK Simmons) that sort of ends up riffing off of Simmons' performance in Whiplash. When it's being Whiplash, it's meh. The subplots involving Bart and an incredibly jealous Mr. Largo, however, are hilarious.
All of this is to say that when you're searching for a show to binge or catch up on this summer, this most recent season of The Simpsons is worth your time. Fix yourself a cool beverage, splay yourself on the couch, and prepare to be at least more entertained than most network sitcoms. Or at least, turn off your brain at least to Homer levels and enjoy it on his level.