Posted in: TV | Tagged: chinese science fiction, Liu Cixin, TenCent, The Three-Body Problem
---
The Three-Body Problem Ep. 17 Review: Science Grandma's Haunted House
In episode 17 of The Three-Body Problem, Science Grandma turns out to be more than she seemed. She might be "Bond Villain" levels of epic!
---
Everything changes in episode seventeen of The Three-Body Problem. We already read the book, so we saw it coming, but it was still fun to see how the show handles it, and there are quite a few changes from the book that make the show better. It has more action than Liu Cixin's book.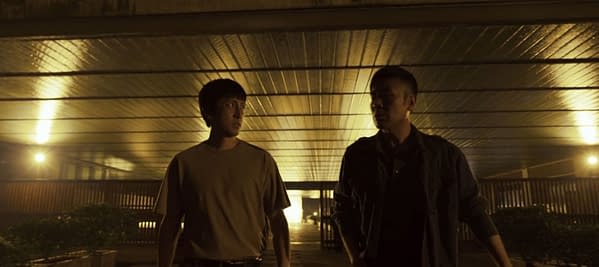 One More Clue for The Three-Body Problem
The episode opens with Shi Qiang (Yu He Wei) badgering General Chang for the classified files on Ye Wen Jie, aka Science Grandma (Chen Jia), especially when he and Wang Miao are about to chase her and Shen Yu Fei to Qijiatun, a remote town just outside of Hai City, General Chang is shocked, since Qijiatun is the site of Red Coast base, the top-secret observatory that operated during the height of the Cold War. This revelation could have come at the end of the last episode for a bit more punch, but the gratification is delayed again. Shi Qiang is more convinced than ever that Science Grandma is the key to The Three-Body Problem. At least Shi Qiang and Wang Miao (Edward Zhang) bickering on a long train ride are amusing.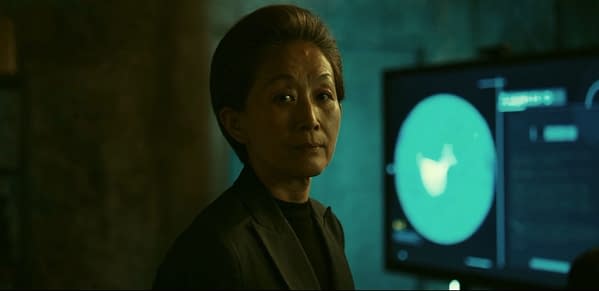 Wait, Science Grandma has Henchmen?
On the train to Hai City, Shen Yu Fei (Li Xiao Ran) finds herself hunted by a hitman sent by Pan Han and the Adventist faction. In a Hitchcockian sequence not in the book (because in the book, she's already dead), she's saved by a bodyguard/assassin named Chen Xue (a character not in the book and played by Vian Wang, who normally appeared in fluffy romances), sent by the Commander. She meets the Commander, who turns out to be Science Grandma. They head to Red Coast, which is now a receiving station not run by the Army but led by Science Grandma herself, Ye Wen Jie (Chen Jia).
The technicians report they're receiving no signals. Science Grandma gets a phone call from Wang Miao that he's coming to see her, so she orders the techs to dismantle and remove all the equipment. By the time Wang Miao arrives, the place is stripped clean and abandoned, with no sign there was a new monitoring station, just her standing in the ruins.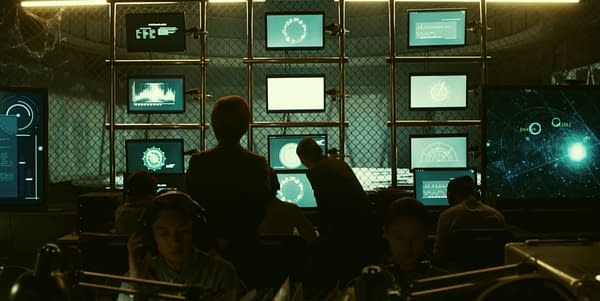 Why is Pan Han (Johnny Zhang) just sitting in an empty auditorium? He's not watching a movie or listening to a podcast. That just makes him weird, like an automaton. Is he just sitting around thinking about the Three-Body Problem? Everybody seems to be. In the book, he's described as a guy who dresses in plain secondhand clothes. In the show, he wears designer threads and looks like a "techbro" who would give a TED Talk where he guilt-trips everyone for destroying the environment. The show seems to like making him sinister and creepy as opposed to having no personality at all as he is in the book. Anyway, he's surprised to get a call from Science Grandma on Shen Yu Fei's phone. She comes off as Mom telling the kids to stop fighting and tells him she needs to have a meeting with a guy named Evans. Science Grandma is making all these Bond villains moves. Pan Han looks scared just at the sound of her voice.
Noooo, Science Grandma. Say it isn't so. You were so nice.
Shi Qiang and Wang Miao arrive in Qijiatun two steps behind her. First, they find transport police investigating the dead hitman on the train with only a hint that Science Grandma and Shu Yu Fei were on it when it happened. Shi Qiang goes off to check out the Red Ginseng factor while a farmer takes Wang Miao to Red Coast on a tractor. They both find that a foreign investor has been bankrolling the Red Ginseng factor as a sustainable business that's providing employment to the community. And some white guy has shown up to help plant trees. Care to bet this Evans is the foreigner bankrolling the red ginseng factory and possibly a lot more?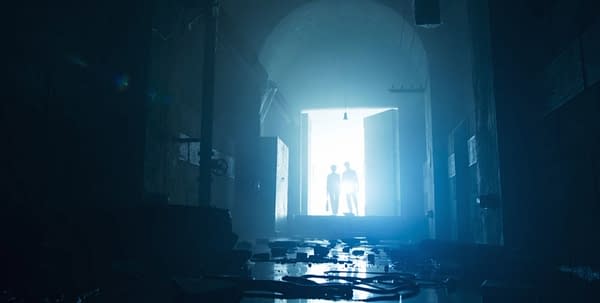 A Haunted House of the Cold War
The Red Coast base is now a ruin. All the equipment has been stripped, and it's overgrown with moss and plants. Ye Wen Jie looks like she's revisiting ghosts, like she herself is a ghost. Wang Miao doesn't know she's recreated Red Coast here. She looks like the last ghost haunting the place as she gives Wang Miao a tour.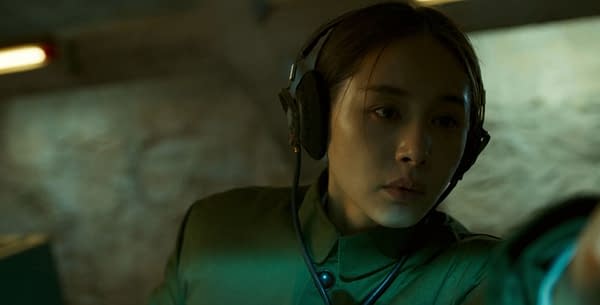 Back to the 1970s… as Political Commissar Lei Zhi Cheng transfers Ye Wen jie (Wang Zi Wen) out of Transmission to the Monitoring station. Her job now is to track the signals of satellites and enemy spacecraft and satellites. Yang Wei Ning objects to her getting a key position because it would mean she would have to spend the rest of her life at Red Coast. She doesn't mind but he does. Sometime later, she would be the first to receive an errant signal on the monitors, and that's where The Three-Body Problem will truly begin.
But this is where we end the episode. Good thing this is a daily show where the next episode will pop up tomorrow, right? That's the thing about The Three-Body Problem – there's always more to come.
---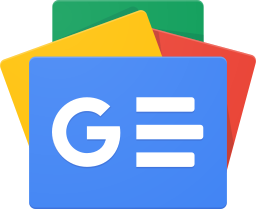 Stay up-to-date and support the site by following Bleeding Cool on Google News today!