If you've been following along with this season of AMC's The Walking Dead, you know that against the backdrop of the ever-escalating war between the communities and Alpha's (Samatha Morton) Whisperers we've had the approaching Trade Fair. Hosted by Ezekiel (Khary Payton), Carol (Melissa McBride), and the Kingdom as a last-ditch effort to bring the communities back together and working together as one.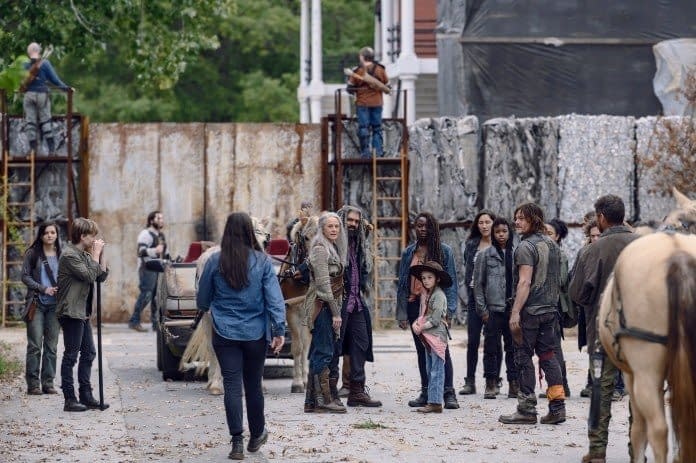 And although "Scars" was an intense episode filled with some shocking, heartbreaking backstory of what went down with Michonne (Danai Gurira) and Daryl (Norman Reedus) that resulted in the "X" scars, the ending looked promising. In the show's present, Michone and Judith (Cailey Fleming) end up escorting Daryl, Connie (Lauren Ridloff), Henry (Matt Lintz), and Lydia (Cassady McClincy) to the Kingdom.
One problem? Two Whisperers were watching  – and they're reporting back to Alpha…
Which brings us to this week's episode "The Calm Before," which already has an air of "deadly inevitability" to it – even if you don't know how it all plays out in the comics (no spoilers!). Making matters worse, the fine folks running Skybound Entertainment's The Walking Dead Twitter account did absolutely nothing to make fans feel better about what's most likely coming with the following tweet:
Just going to leave this here pic.twitter.com/8g0Rtdxckc

— The Walking Dead (@TheWalkingDead) March 21, 2019
That, folks? That was a direct reference to the righteously (in)famous "Red Wedding" scene from the ninth episode of season 3 of HBO's Game of Thrones, "The Rains of Castamere." Without turning into a Game of Thrones wiki: at the end of the wedding between Edmure Tully and Roslin Frey, Robb Stark and a while helluva lot of his folk were killed in what turned into a slaughterhouse – a literal killing blow by the Lannisters upon House Stark.
Which is a not-so-subtle way for Robert Kirkman's crew to tell us that this week's episode comes with a major body-count… and don't get us started on the "Ned Stark Special" that might be waiting for those unfortunate folk.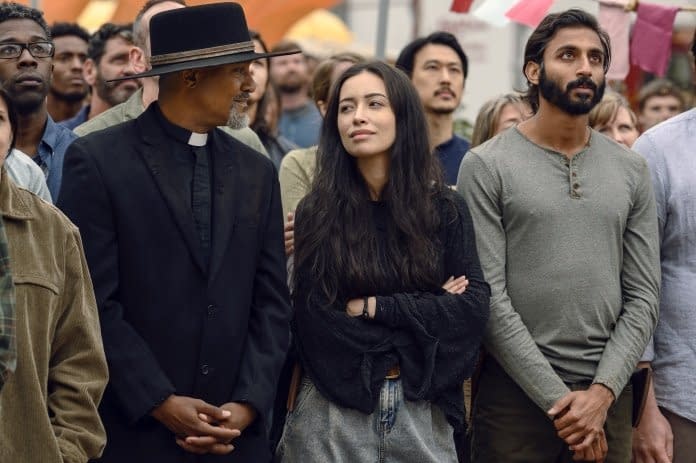 Here's a look at the trailer for this week's episode "The Calm Before" and see for yourselves how this entire season has been building up to something really, really bad coming our way… something that will make the whole Negan/Glenn/Abraham deal from a few seasons back look like nothing more than a "harmless misunderstanding":
The Walking Dead s09e15 "The Calm Before": The fair at the Kingdom is underway, with all four communities coming together in celebration for the first time in years; while some pacts are renewed, other deals will come at a much steeper price. Directed by Millicent Shelton, and written by Corey Reed and Vivian Tse.
Here's a look back at the righteously (in)famous "Red Wedding" scene from the ninth episode of season 3 of HBO's Game of Thrones, "The Rains of Castamere"…

The second half of "The Walking Dead" Season 9 finds our groups of survivors, both old and new, continuing to deal with the impact of events that took place during the six years that have passed. Since the disappearance of Rick, many of these characters have become strangers to each other, and in some ways, strangers to themselves.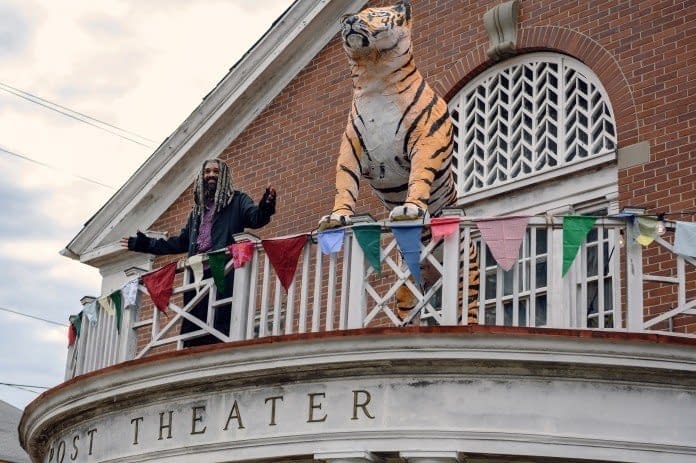 What they do know is that they are in undeniable danger. They will soon realize the world just beyond does not operate as they thought. The group's rules and ways of survival no longer guarantee their safety. A whole new threat has crossed their paths, and they soon discover it's unlike any threat they have encountered or endured before. The group will start to question what they think they see. What may appear to be normal in this post-apocalyptic world could actually be more disturbing and terrifying than when the apocalypse first broke out. All that is certain is the stakes are high and numerous.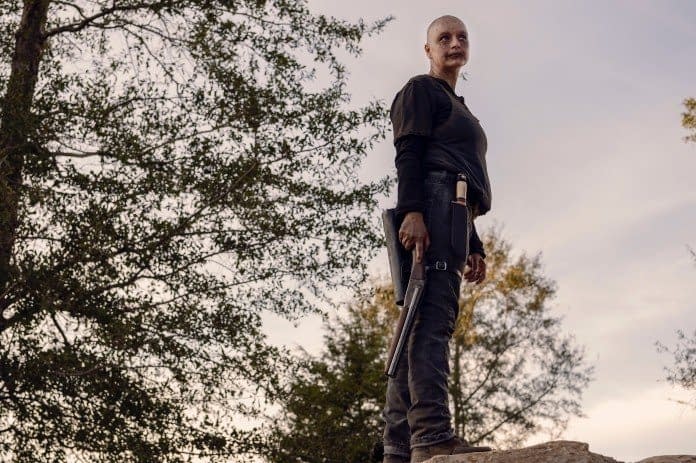 Based on the comic book series written by Robert Kirkman and published by Image Comics, "The Walking Dead" tells the story of the months and years after a zombie apocalypse and follows a group of survivors who travel in search of a safe and secure home. The series is executive produced by chief content officer Scott M. Gimple, showrunner Angela Kang, Robert Kirkman, Gale Anne Hurd, Dave Alpert, Greg Nicotero, Tom Luse and Denise Huth.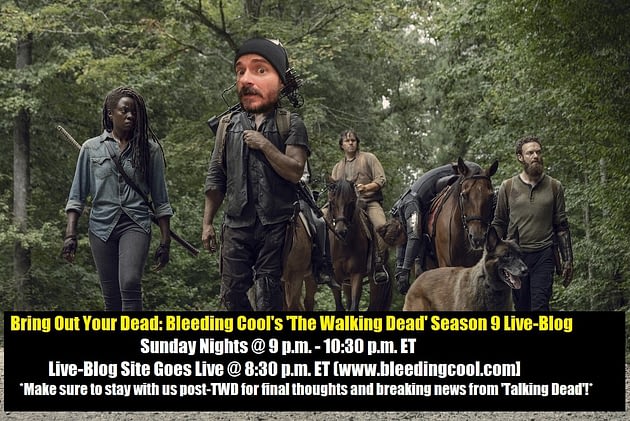 That's right! Bring Out Your Dead: Bleeding Cool's The Walking Dead Live-Blog is back each and every Walking Dead Sunday night – starting with a little "pre-game" at 8:30 p.m ET (live-blog goes live on our website) before charging head-long into our live-blog coverage beginning at 9 p.m. ET. After the show, hang out with us a little longer as we share our thoughts on the night's developments and offer up some predictions on what's still to come – and to see if Chris Hardwick has any news to break on Talking Dead.
AMC's The Walking Dead airs Sunday nights at 9 p.m. ET.
Images: AMC