Sir Patrick Stewart, that wonderful steadfast bastion of theatrical prowess, just dropped a wonderful though about the upcoming CBS All Access series revolving around Star Trek: The Next Generation character Jean Luc Picard.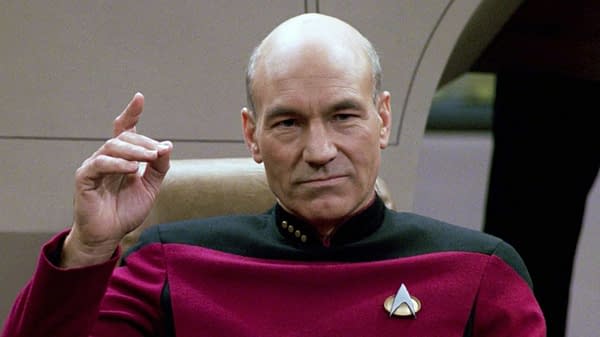 CBS All Access is gearing up for a series about former Captain Jean Luc Picard featuring the return of Stewart in the the role, and maybe-possibly there is talk of more than one season?
In a recent interview with Red Carpet New TV, Stewart revealed a bit of the different version of Lean Juc, and a possible THREE YEAR TIMELINE of the upcoming series:
"The one thing that will be different about this version of Star Trek is that we have simply moved the narratve, 20 years, from when I last wore Jean Luc's uniform, and so everything has aged. When the series gets released, you'll see that things are very different from what they were.

It gives me profound satisfaction to hear from people that my role and the series had on their lives, truly extraordianary stories of how people where effected by it. and that makes me very proud for all of us who were in it. A great company.

Oh lord, we are set up with possibly THREE YEARS of the show, so if there is a film, it's a long way off."
Needless to say, Star Trek: The Next Generation fans are very excited about the notion of having Picard back on the airwaves. Three seasons? Yes please!
You can see the interview segment here.
We'll let you know what we hear about timing for the Picard series. Season 2 of Star Trek: Discovery is currently streaming on CBS All Access now .
Enjoyed this article? Share it!