'The Walking Dead' Season 9, Episode 12 'Guardians': A Tale of Two Alphas [SPOILER REVIEW]
This week's episode of AMC's ninth season of The Walking Dead ("Guardians") saw both sides in the impending "The Whisperers War" (yup, stealing from the comics for that one) retreating to their respective camps to regroup, lick wounds, and engage in a little assessment of the situation. Alpha (Samantha Morton) got her daughter Lydia (Cassady McClincy) back, and Daryl and the communities got Alden (Callan McAuliffe) and Luke (Dan Fogler) back in return. Not everyone was happy, but it was a compromise and everyone left… peacefully???
Minus the whole "sacrificing-a-baby-to-walkers" thing, Henry (Matt Lintz) pulling a "Carl" and going after Lydia, and Daryl and Connie (Lauren Ridloff) tracking the Whisperers to track Henry (which will get into in the bullet points below).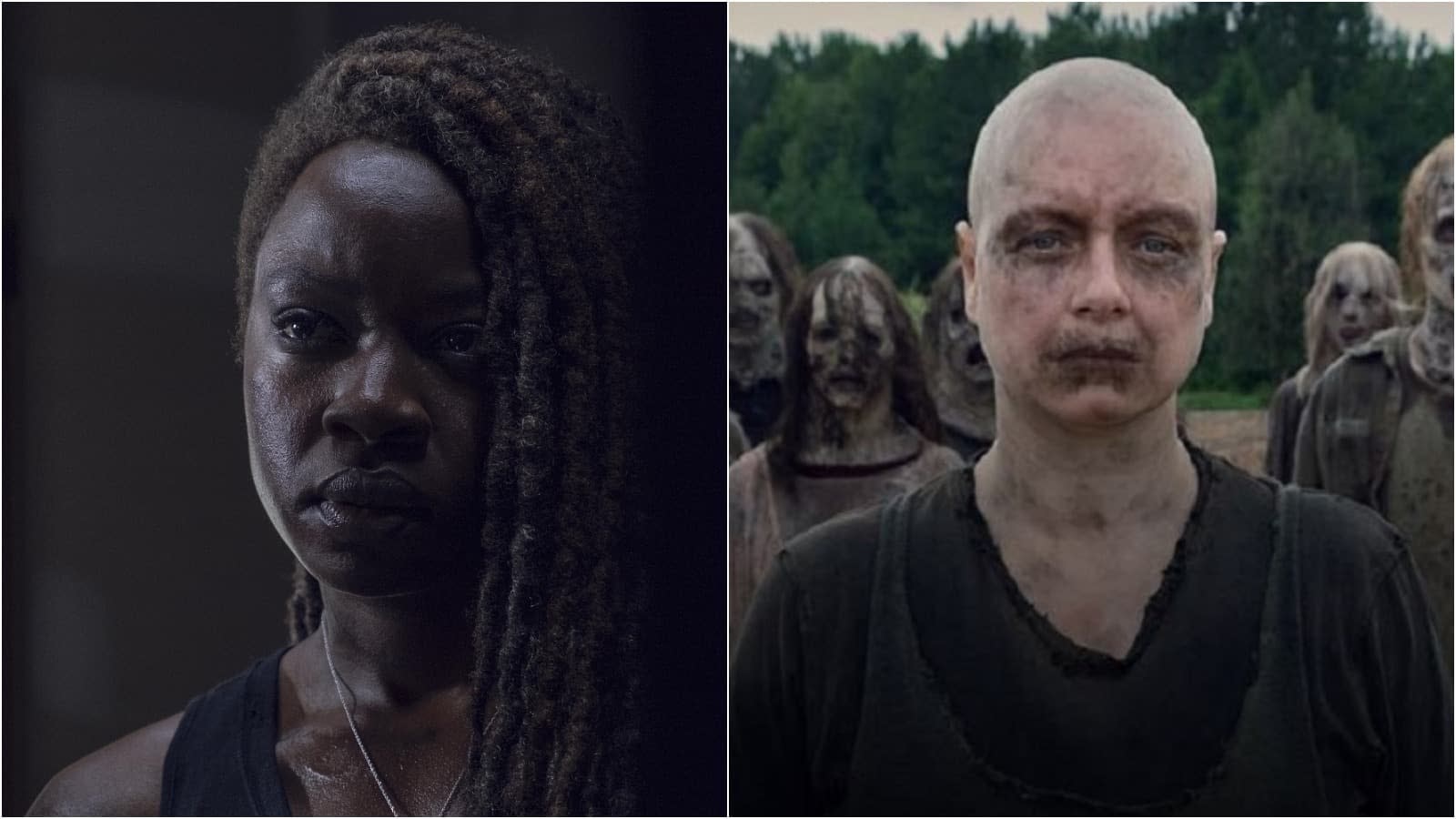 My biggest positive takeaway in an episode filled with positives was the way we saw the art of leadership practiced – and abused – by our two "alphas": Michonne (Danai Gurira) and Alpha. For Michonne, she's moved from giving the people the right to vote and have their say to using a loophole in Alexandria's council charter to shut down any resistance to her wishes that Alexandria stay closed off to the rest of the communities – and pretty much cement her role as sole decision-maker. With Alpha, it's practicing what one preaches: Alpha emphasizes the rule of no personal attachments – and then goes on a rescue mission to get her daughter back. When Alpha's challenged, she uses a "loophole" in the form of Beta (Ryan Hurst) and piano wire to "shut that shit down."
The difference? Michonne has people in her life who are willing to tell her "the emperor has no clothes": Gabriel (Seth Gilliam) and Siddiq (Avi Nash) on the council and Judith (Cailey Fleming) at home. She even has Negan (Jeffrey Dean Morgan) dropping truth bombs – and he's still in a jail cell! It's those "Devil's Advocates" that keep Michonne's hurt-and-heartbreak-fueled need to protect Alexandria from tipping over into a dictatorship. For Alpha, it's the complete opposite: no one questions her actions or motivations – not if they're looking to get "a head" (you're welcome). When Alpha's second-in-command Beta not only follows her every order but rationalizes / justifies her every decision – and can probably tear in half anyone who says otherwise – why should she see her leadership as anything but King Lear-like perfection.
While history shows us that Michonne's way is the one that will always win out at the end, how many wrongs will be inflicted upon her and the communities before she's proven right?
The Walking Dead s09e12 "Guardians": While one community struggles to ease tensions that threaten to divide from within, the true nature of another group comes into focus. A mission to rescue a friend has deadly consequences.
But that wasn't nearly all that took place over the course of the episode, so let's do a deep-dive into some bullet points you should know about…
● This episode was one of those rare instances when I found myself agreeing with pretty much everything Gabriel brought to the table – but what's the deal with the helicopter, Gabe? Still haven't told anyone?
● "It means Alexandria survives." – Michonne / Damn. Harsh. And apparently after what went down in the past, Michonne isn't helping the Kingdom until Ezekiel (Khary Payton) steps down.
● I'm not saying I wanted Beta to break off Henry's arm and best him with it – I just wouldn't have minded if he did, and in that same vein…
● Anyone else wondering what the hell happened to Oceanside?
● "You'd be a damn fool to let her go." – Eugene (Josh McDermitt) to Gabriel, not really hiding his love for Rosita (Christian Serratos). While I'm interested to see how this Three Men and a Baby debacle pans out, I'd prefer to see Gabriel and Siddiq kinda go away so Eugene and Rosita could be the "power couple" we didn't know we needed.
● I hope they go a different, positive route with Negan: Morgan's portrayal as a possibly redeemed Negan adds an additional layer to an already layered character, and his serving as Michonne's "Beta" but with brains could prove interesting.
● Our next "power couple," Daryl and Connie have nice physical chemistry together, especially during the quiet moments…
● While she may have Shane's crazy-ass blood coursing through her veins, Judith is a Grimes through-and-through – even when Michonne doesn't like it.
● Remember my "a head" joke from earlier?
● "He listens to me. Not everybody does." – Judith to Michonne, explaining why she spends time talking with Negan.
● Starting next week, Hurst becomes a major social media topic/darling:
● I'm concerned Eugene, Ezekiel, and Jerry are heading for the piano wire before the end of the season…
● Not sure what shocked me more about the ending: Daryl rockin' the Whisperer garb or the fact that it really felt like Lydia might stab Henry. I might've been projecting…
Here's hoping AMC's The Walking Dead keeps the fires burning heading into next week's "Chokepoint," where viewers get the first round in a 12-round Beta/Daryl slobberknocker:
The Walking Dead s09e13 "Chokepoint": Daryl's daring rescue mission forces Alpha to unleash a group of her own to retrieve what belongs to her, even if the price is paid in blood. The Kingdom's plans to reunite the communities is put in jeopardy.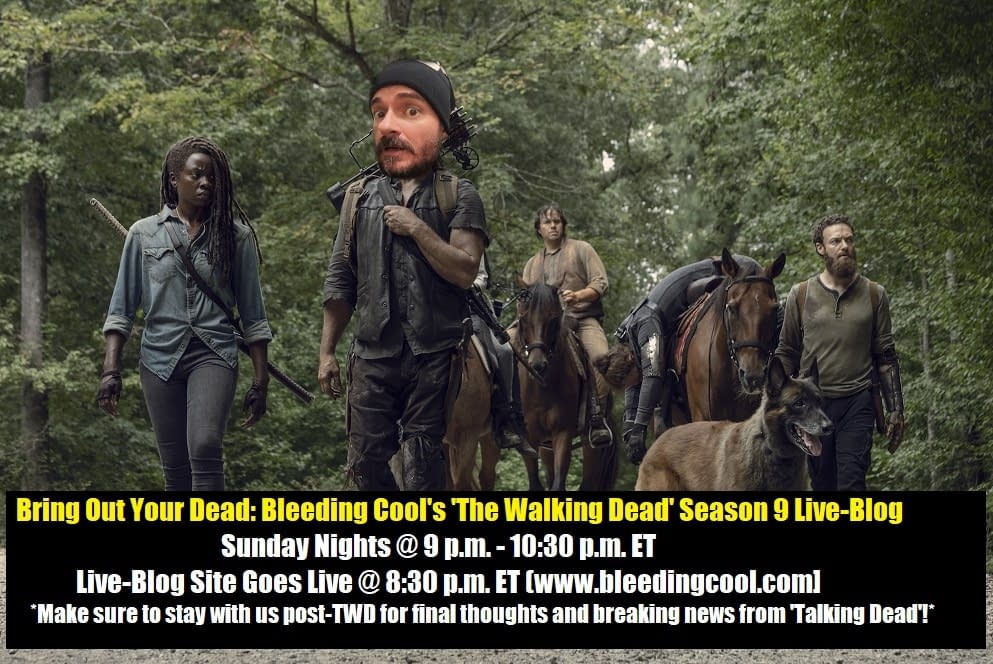 That's right! Bring Out Your Dead: Bleeding Cool's The Walking Dead Live-Blog is back each and every Walking Dead Sunday night – starting with a little "pre-game" at 8:30 p.m ET (live-blog goes live on our website) before charging head-long into our live-blog coverage beginning at 9 p.m. ET. After the show, hang out with us a little longer as we share our thoughts on the night's developments and offer up some predictions on what's still to come – and to see if Chris Hardwick has any news to break on Talking Dead.