"Watchmen": HBO Series Set for October 20? Damon Lindelof Talks "Weird" Factor [REPORT]
With Damon Lindelof's "remix" of Alan Moore and David Gibbons' celebrated comic book series Watchmen making its way to HBO in October, it looks like we might have a premiere date and some additional details. From who and from where? How about Lindelof in an interview with TV Guide for their Fall Preview 2019 issue.
Now, this is where we give righteous props to the fine folks over at hbo.watchmen on Instagram, a fan site dedicated to getting the most current news and images from the HBO series out to the fans – and they've done a damn fine job doing it. They got their hands on the issue in question, and posted below highlights from the interview as well as images that seem to confirm that Lindelof's series will debut on Sunday, October 20.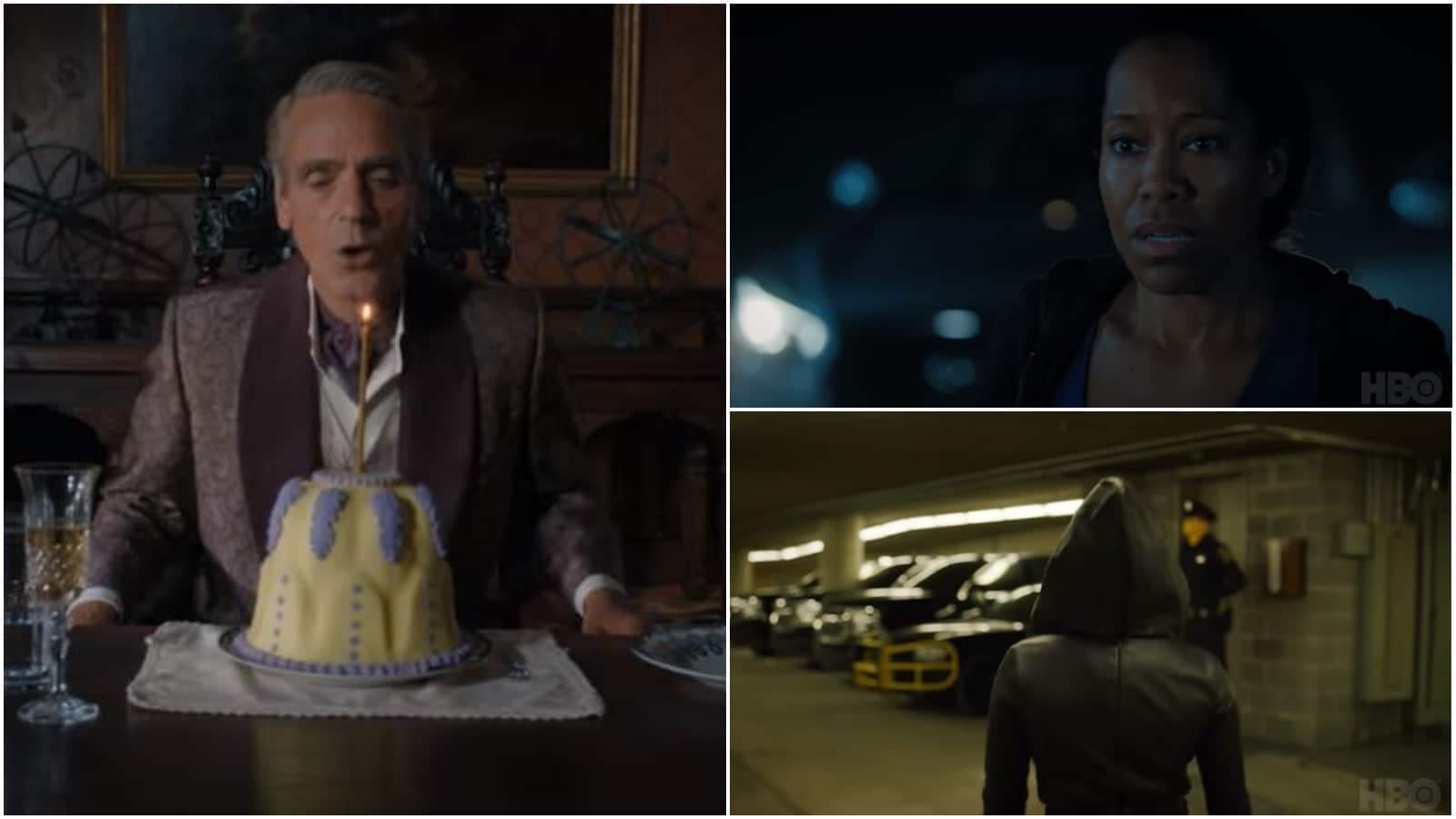 And that's not all: check out the post below to find out just how weird Lindelof wants the series to get, their take on Ozymandias, and more:
The cable network also offered viewers a fresh look at the upcoming series via a trailer released through HBO Portugal (with screen caps below). While most of the trailer is pretty much the same as what was previously released, there are a few unique moments as well as a brief but effective scene with Jean Smart's Agent Blake, Andrew Howard's Red Scare, and (we think???) Adelaide Clemens' Pirate Jenny – with Agent Blake fooling the guy on his knees and sporting the blindold into believing she cares about his "civil rights."
Spoiler? She doesn't…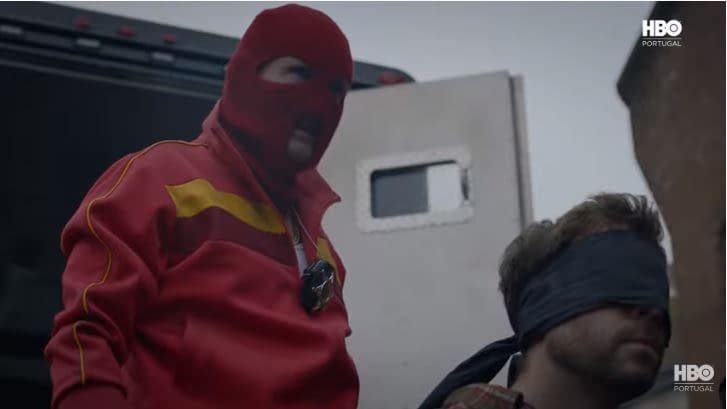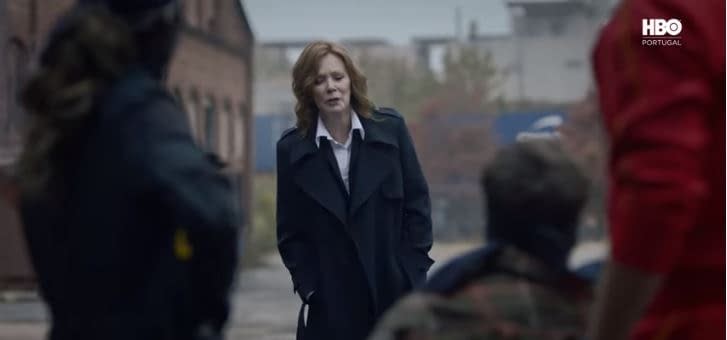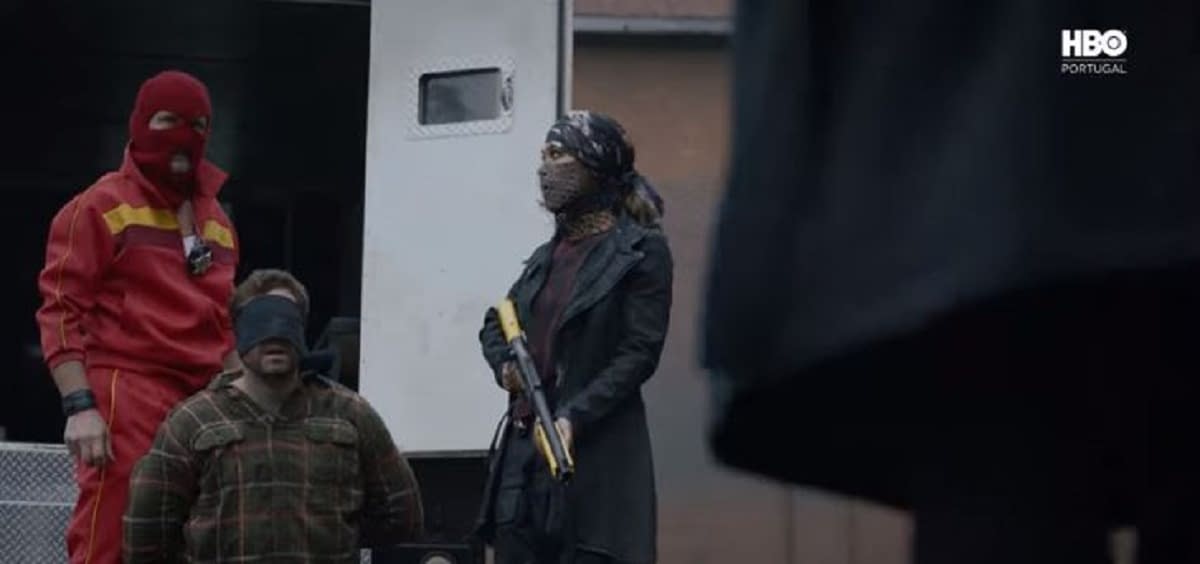 Earlier this month, the cable giant offered viewers a few new seconds of clues to help them piece together the overall narrative, in the channel's "Coming Soon" teaser:
https://youtu.be/5TaXNHfWrH8
Lindelof took to the stage during this summer's Television Critics Association (TCA) session to discuss the series' themes as well as its connections to the original series. Lindelof was joined by series star Regina King (If Beale Street Could Talk) and executive producer/director Nicole Kassell (Westworld, Castle Rock) – and here are some highlights:
● For Lindelof, the deadliest threat society faces in 2019 – the one that "tick-tocks" our modern doomsday clock closer to midnight – is not from another nation… but from itself:
"What in 2019 is the equivalent of the nuclear stand off between the Americans and the Russians? It is race and the police."
● In the regards to the hate groups that will play a major role over the course of the season, Lindelof emphasizes that there will be no "easy answers" – and just like the original comic book series, viewers expecting a cliche "superhero storyline" to play out will be sadly disappointed. Bascially? Just because we have capes and spandex doesn't mean there's a happy ending:
"There is no defeating White supremacy it's not going anyway. There are no easy answers and grandiose solution."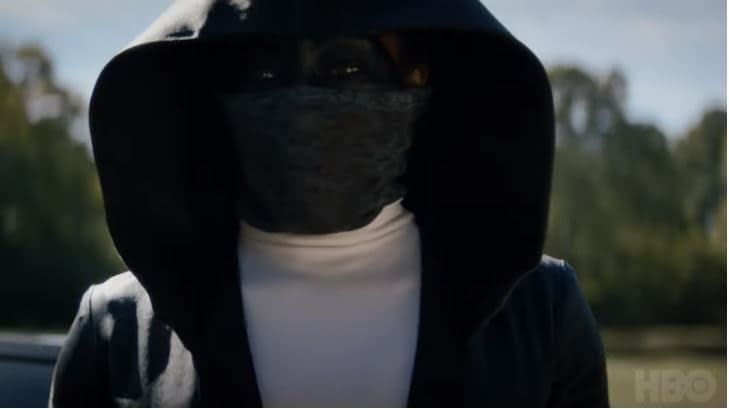 ● Viewers will see the world of HBO's Watchmen start to blur historical facts with the fictional narrative as the series rolls along:
"It is not supposed to be a world that you recognize to Trojan horse themes that are in a real world in a fictional one. What is actual history and what is alt-history and things start to get blended in the middle."
● Lindelof confirmed once again that the original comic series was not being impacted ("We are not going to mess with it, its canon") – and though he knew of Moore's history of not wanting to be involved in any adaptations, sequels, or things of that nature ("I have made personal overtures to connect with him and he made it clear that he didn't want that to happen and I want to respect that"), Lindelof's attitude towards tackling the project was:
"I'm channeling the spirit of Alan Moore to say 'F— you, I'm doing it anyway.'"
Lindelof's "remix" of Moore and Gibbons' 1986 comic book series Watchmen is set in an alternate history where "superheroes" are treated as outlaws, the series is said to embrace the nostalgia of the original groundbreaking graphic novel while attempting to break new ground of its own.
https://youtu.be/1yKq1PRvPJQ
From Damon Lindelof and set in an alternate history where masked vigilantes are treated as outlaws, this drama series embraces the nostalgia of the original groundbreaking graphic novel of the same name while attempting to break new ground of its own. The cast includes Regina King, Jeremy Irons, Don Johnson, Jean Smart, Tim Blake Nelson, Louis Gossett Jr., Yahya Abdul-Mateen II, Hong Chau, Andrew Howard, Tom Mison, Frances Fisher, Jacob Ming-Trent, Sara Vickers, Dylan Schombing, and James Wolk.

Watchmen is based on the graphic novel co-created and illustrated by Dave Gibbons and published by DC.
HBO's Watchmen stars Regina King as Angela Abraham, Don Johnson as Chief Judd Crawford, Tim Blake Nelson as Looking Glass, Louis Gossett Jr. as Old Man, Adelaide Clemens as Pirate Jenny, Andrew Howard as Red Scare, Jeremy Irons as Adrian Veidt / Ozymandias, Frances Fisher as Jane Crawford, Jacob Ming-Trent as Panda, Yahya Abdul-Mateen II as Cal Abraham, Adelynn Spoon as Emma Abar, and Jean Smart as Agent Blake – as well as Tom Mison, Sara Vickers, Dylan Schombing, and Lily Rose Smith. Joining the series in recurring roles are James Wolk as Senator Keane, Hong Chau as Lady T., and Dustin Ingram as Agent Petey.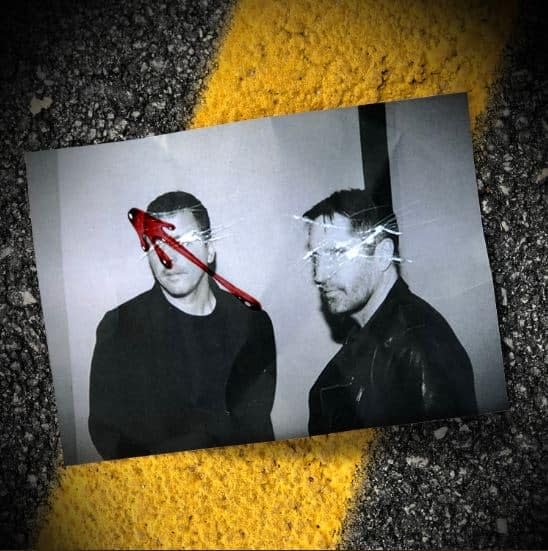 Nine Inch Nails duo Trent Reznor and Atticus Ross are on board to compose music for the series.

In May 2018, Lindelof shared a series of Instagram posts to update fans on progress on the project (with a pilot directed by Kassell) and to emphasize that his vision was not a direct adaptation of the original graphic novel, but rather a "remix" that utilizes important elements from the original story while telling its own narrative. Here are some excerpts from those posts:
"We have no desire to 'adapt' the twelve issues Mr. Moore and Mr. Gibbons created thirty years ago. Those issues are sacred ground and will not be retread nor recreated nor reproduced nor rebooted.

They will however be remixed, Because the bass lines in those familiar tracks are just too good and we'd be fools not to sample them. Those original twelve issues are our Old Testament. When the New Testament came along it did not erase what came before it. Creation. The Garden of Eden. Abraham and Isaac. The Flood. It all happened. And so it will be with 'Watchmen.' The Comedian died. Dan and Laurie fell in love. Ozymandias saved the world and Dr. Manhattan left it just after blowing Rorschach to pieces in the bitter cold of Antarctica."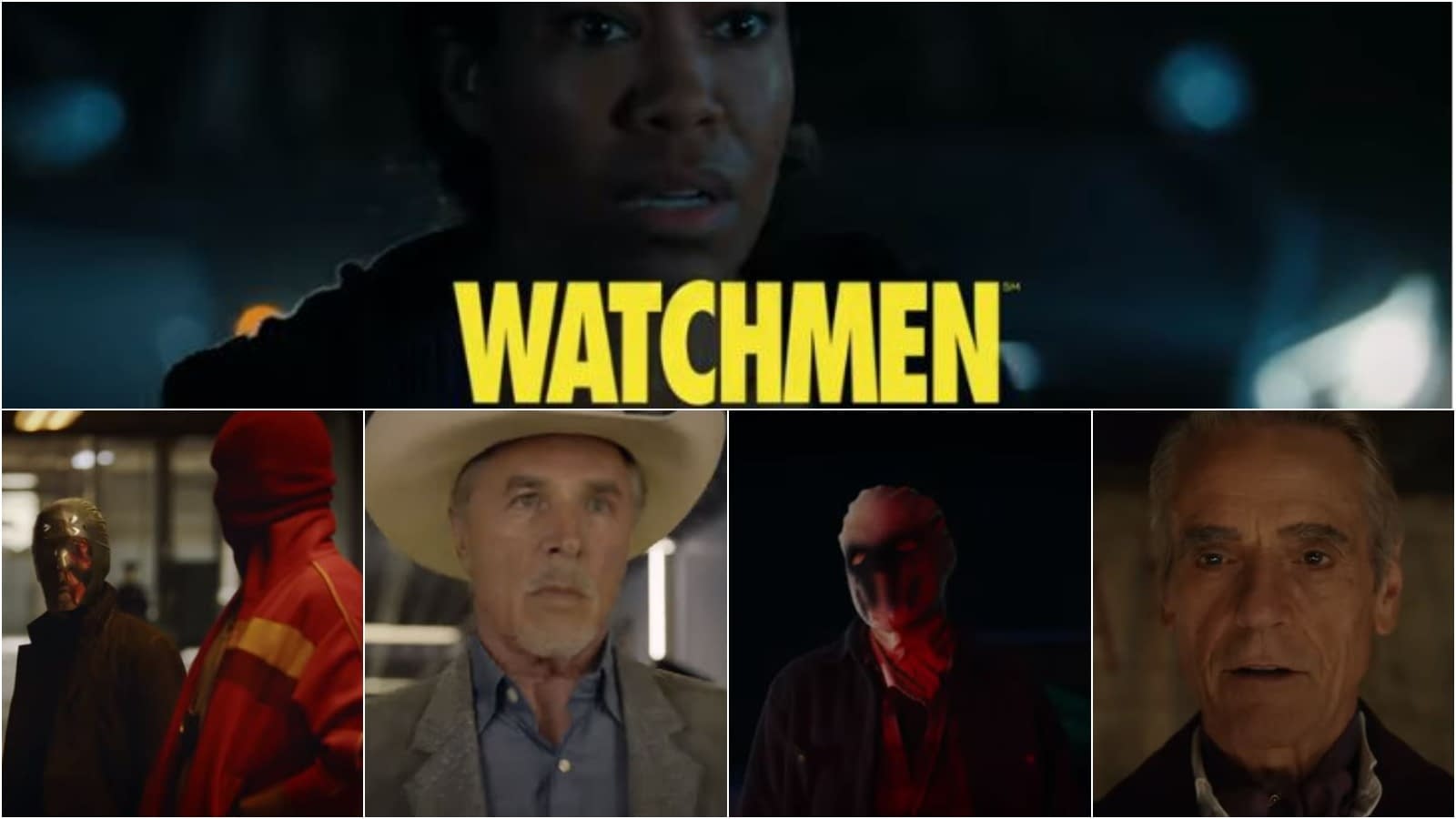 "This story will be set in the world its creators painstakingly built…but in the tradition of the work that inspired it, this new story must be original. It has to vibrate with the seismic unpredictability of its own tectonic plates. It must ask new questions and explore the world through a fresh lens. Most importantly, it must be contemporary. The Old Testament was specific to the Eighties of Reagan and Thatcher and Gorbachev. Ours needs to resonate with the frequency of Trump and May and Putin and the horse that he rides around on, shirtless. And speaking of Horsemen, The End of the World is off the table…which means the heroes and villains–as if the two are distinguishable–are playing for different stakes entirely."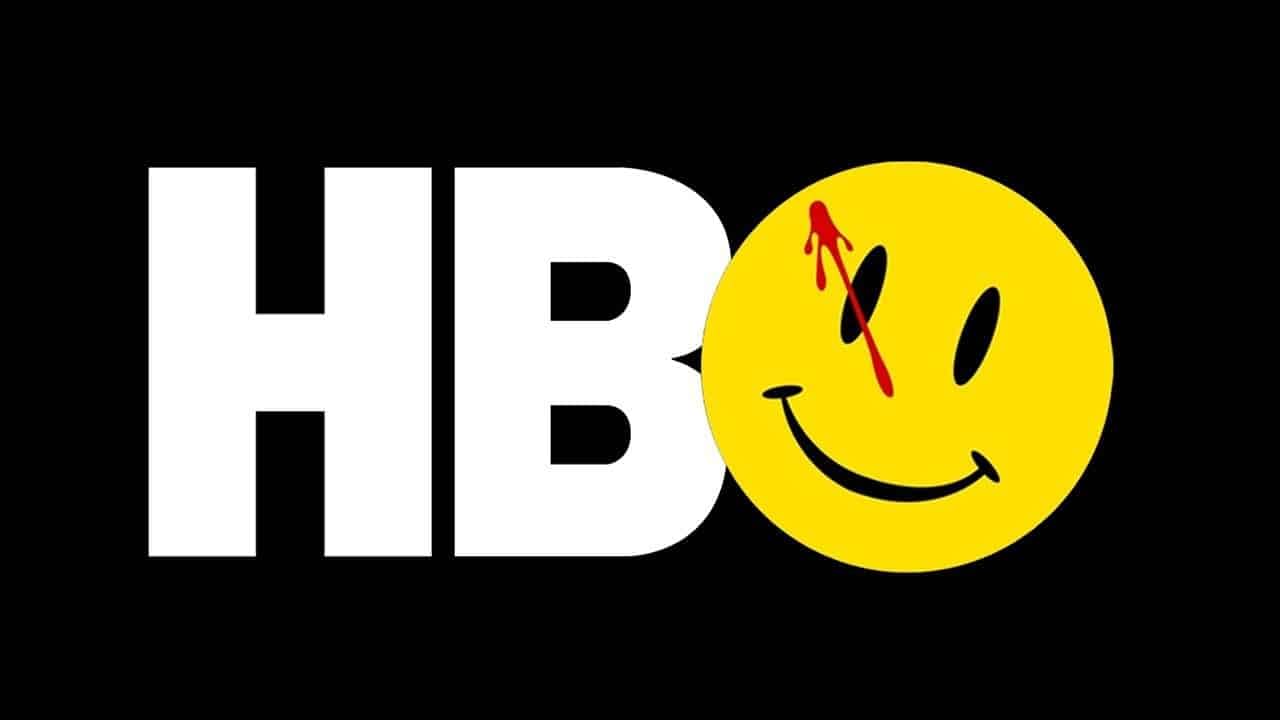 "Some of the characters will be unknown. New faces. New masks to cover them. We also intend to revisit the past century of Costumed Adventuring through a surprising yet familiar set of eyes…and it is here we will be taking our greatest risks…"