"Watchmen" Week: Regina King Takes Viewers On Set – Spoilers Spoiled by Damon Lindelof [VIDEO]
With HBO's "remix" of/pseudo-sequel to Alan Moore and David Gibbons' celebrated comic book series Watchmen having had its world premiere at this year's New York Comic Con (NYCC) 2019 and time "tick-tocking" away until its October 20th premiere, we're rolling on with "Watchmen Week" with more insight on the series.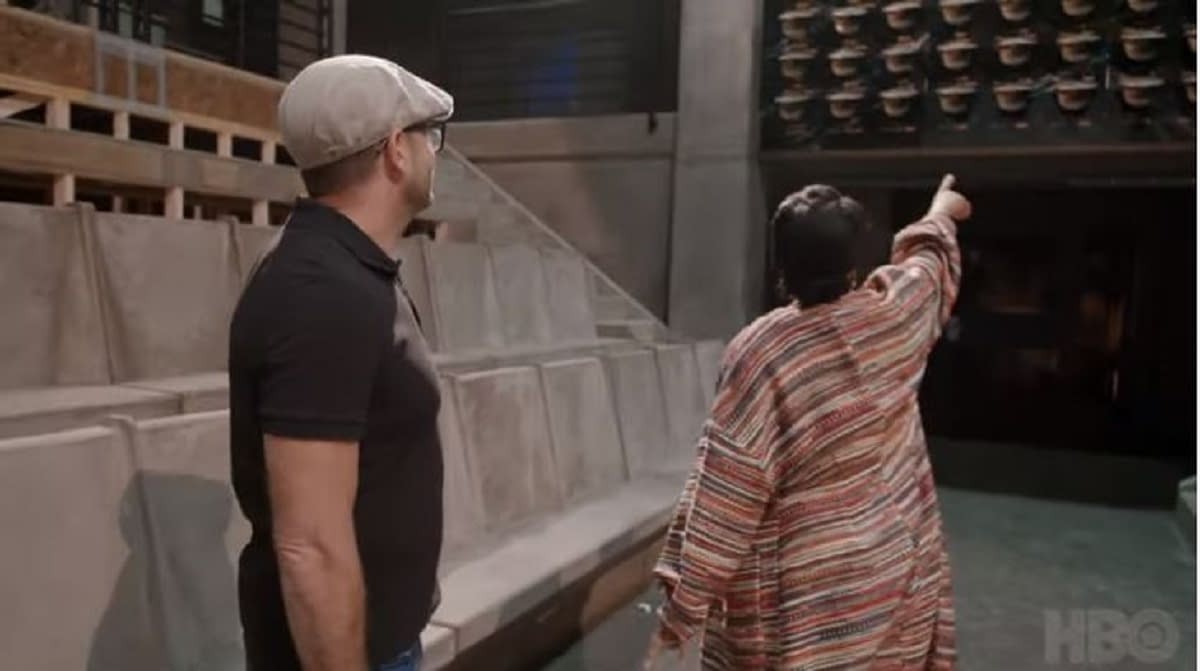 First, a little background: Bleeding Cool was invited to take part in a media day of roundtable interviews with members of the cast and series creators prior to the NYCC madness.
Over the course of the day, we had the opportunity to speak with series creator Damon Lindelof, executive producer/director Nicole Kassell, and cast members Regina King, Jeremy Irons, Tim Blake Nelson, Jean Smart, Hong Chau, Louis Gossett Jr., and Yahya Abdul-Mateen II – we'll be sharing audio from our sessions all throughout the week.
We kicked off things on Monday with some thoughts from Lindelof, continued on into Tuesday with some time with Kassell and King, had Irons offer his perspective on Wednesday, had Smart and Nelson talk shop on Thursday, and wrapped up our interviews with Chau talking character development on Friday – all leading up to our review of the series premiere, which drops this weekend.
Today, King takes us behind the scenes on production with a set visit to show us anything and everything Watchmen – or at least what Lindelof will allow:

The Road to HBO's "Watchmen"
https://youtu.be/-33JCGEGzwU
From Damon Lindelof and set in an alternate history where masked vigilantes are treated as outlaws, this drama series embraces the nostalgia of the original groundbreaking graphic novel of the same name while attempting to break new ground of its own. The cast includes Regina King, Jeremy Irons, Don Johnson, Jean Smart, Tim Blake Nelson, Louis Gossett Jr., Yahya Abdul-Mateen II, Hong Chau, Andrew Howard, Tom Mison, Frances Fisher, Jacob Ming-Trent, Sara Vickers, Dylan Schombing, and James Wolk.

Watchmen is based on the graphic novel co-created and illustrated by Dave Gibbons and published by DC.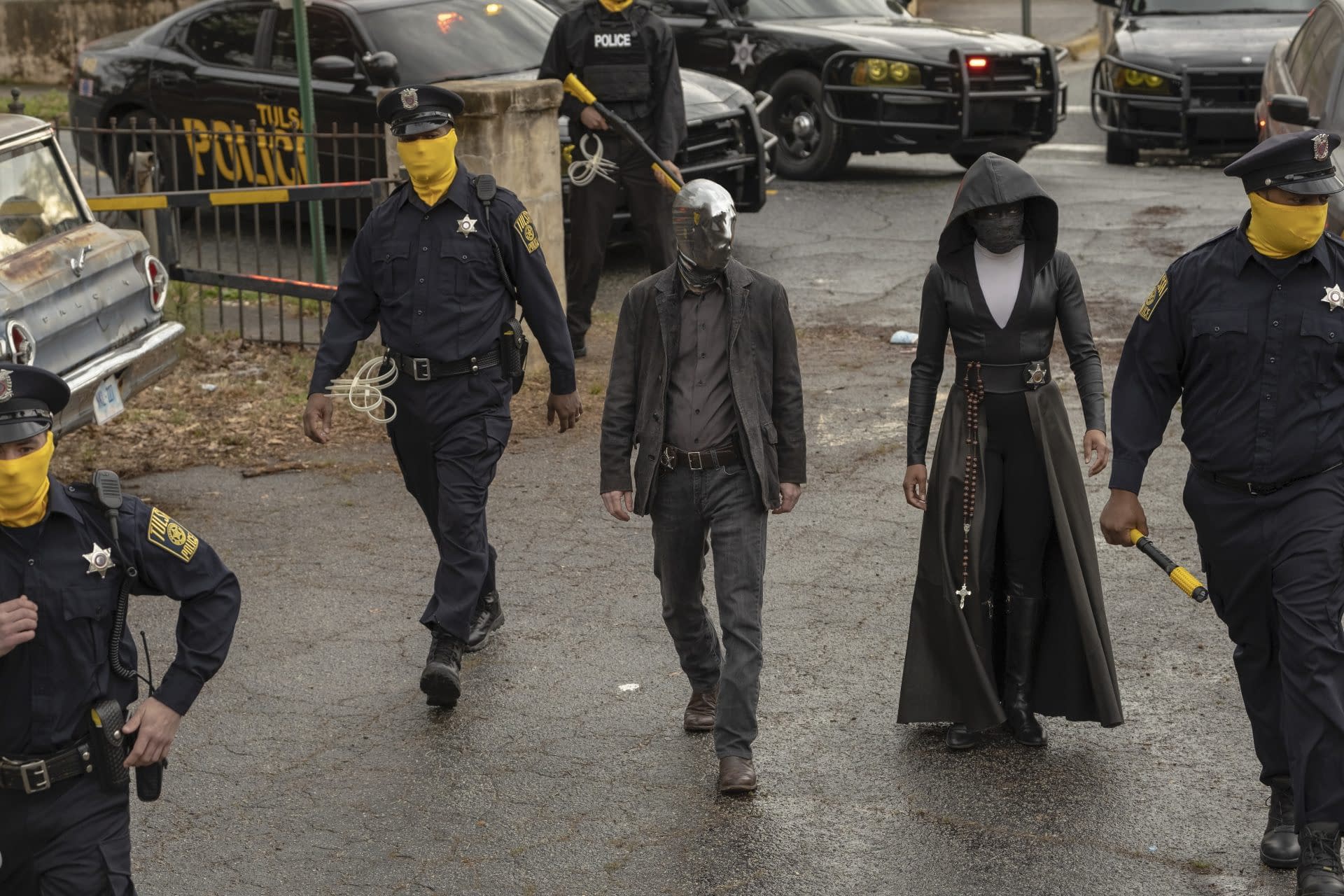 In the following featurette, Lindelof explains how the original comic book series influenced him to take the core themes of the series and find a way to apply them to a modern society. King offers more details on both the terrorist group at play during the season as well as the personal conflicts that arise when one dons a mask in the name of the law:
Here's a look at the Emmys teaser that aired on FOX during the awards broadcast:
https://youtu.be/UEVlbdnmnOg
Here's a striking look at Regina King's Angela Abar aka Sister Night – maybe humanity's last, best hope from the clock striking midnight on us all:
Lindelof sat down with Entertainment Weekly for an extensive interview about the series – here are some of our takeaways… beginning with more details on the show's "universe":
● Set three decades after Moore and Gibbons' comic book series, most of the characters readers remember have either died or gone missing – minus the ones we already know or speculating about. Regina King's Oklahoma police detective Angela Abar aka Sister Night is investigating the rise of white supremacist terrorist group the Seventh Kalvary – who take their inspiration from Rorschach's written words.
● Lindelof established the political-social atmosphere that's in play when the series begins:
"There's also this legislation that's passed, Victims Against Racial Violence, which is a form of reparations that are colloquially known as "Redford-ations." It's a lifetime tax exemption for victims of, and the direct descendants of, designated areas of racial injustice throughout America's history, the most important of which, as it relates to our show, is the Tulsa massacre of 1921. That legislation had a ripple effect into another piece of legalization, DoPA, the Defense of Police Act, which allows police to hide their face behind masks because they were being targeted by terrorist organizations for protecting the victims of the initial act."
● At first, Lindelof was hesitant to tackle such a daunting project – but that changed as the narrative started to come into focus:
"The ideas started to come with what to do with Watchmen and then it didn't really feel like a decision anymore but something I felt compelled to do. That sounds arrogant and full of hubris but when I haven't made choices based on that feeling things haven't turned out so well because then you're doing it for the wrong reasons. But when you get really inspired you have to chase it even if it leads to ruin."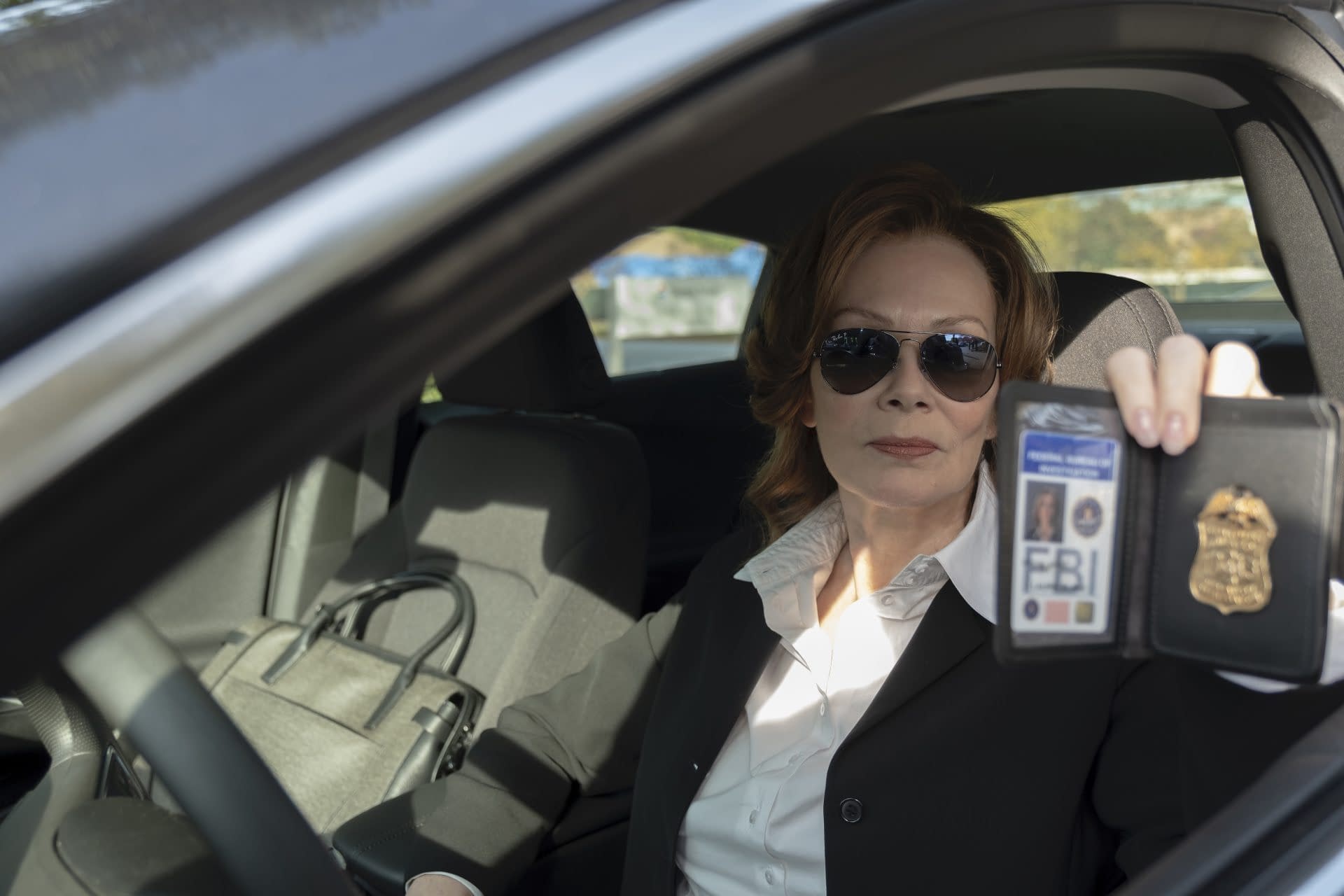 ● For those confused by the series being referred to as a "remix" – especially considering that the series is approaching "the original 12 issues as canon" – Lindelof is easing up on the "sequel" word… a bit: "Yes. Look, [the new series] certainly fits into the "sequel" box, and definitely doesn't fit into the "reboot" box.
● Contrary to social media rumors, Robert Redford will not be appearing in the series as POTUS – a matter Lindelof addressed considering how the character "Robert Redford" is depicted:
"The short answer is yes. I've had a lot of reservations about a lot of the creative choices made in the show. I don't think any of the choices were made without reservations and conversations and ultimately a decision. I'm not entirely sure I'll be able to defend every decision I made, but I'll be able to explain why I made it. We had that conversation you're suggesting. But the world of Watchmen is so heightened and so clearly it's an alternate history that it will be clear to everyone we're not talking about the real Robert Redford.

More importantly, the way we handle this story, you can't blame Robert Redford for everything that's happened in the world. The show says Redford has a liberal ideology, much like the actual Robert Redford, and he was incredibly well-intentioned in terms of the legislation he passed and the America that he wanted to create. But that doesn't mean it worked out the way he wanted it to. And that's not on him, that's on us."
● While viewers may end the pilot feeling slightly confused as to what – and who – the focus of the series is going to be, Lindelof urges patience:
"By the end of the sixth episode, it will be clear who I was talking about. There won't be any space for debate. I think people will start to theorize who I was talking about prior to the sixth episode, but that's the one that makes the subtext text."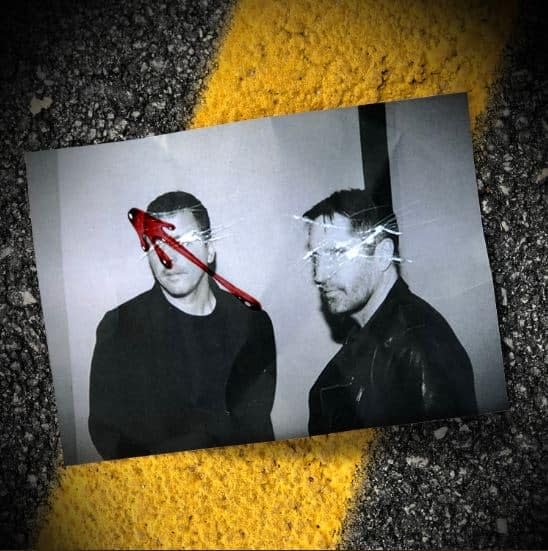 ● Finally… news of Nine Inch Nails duo Trent Reznor and Atticus Ross coming aboard caught many by surprise – especially so early on in the process. For Lindelof, it was all about mutual geeks meeting up and breaking bread:
"At the top of my wishlist were Trent and Atticus. I called HBO and said, "Look, they haven't done TV but it's worth an inquiry." And [HBO drama executive] Francesca Orsi said, "This is the weirdest thing but their reps called us this morning and asked about Watchmen." Within 48 hours of that call, Trent and Atticus and I were in a room together and it turns out they're huge Watchmen fans. They signed up on faith and faith alone. They get the scripts at the same time the actors do. They started writing the music even before we shot the pilot so we can get a sense in our heads of what it would sound like. It's been incredible. They're doing some cool stuff I can't talk about stuff inside the world of Watchmen musically that I think is going to be really cool. They go deep."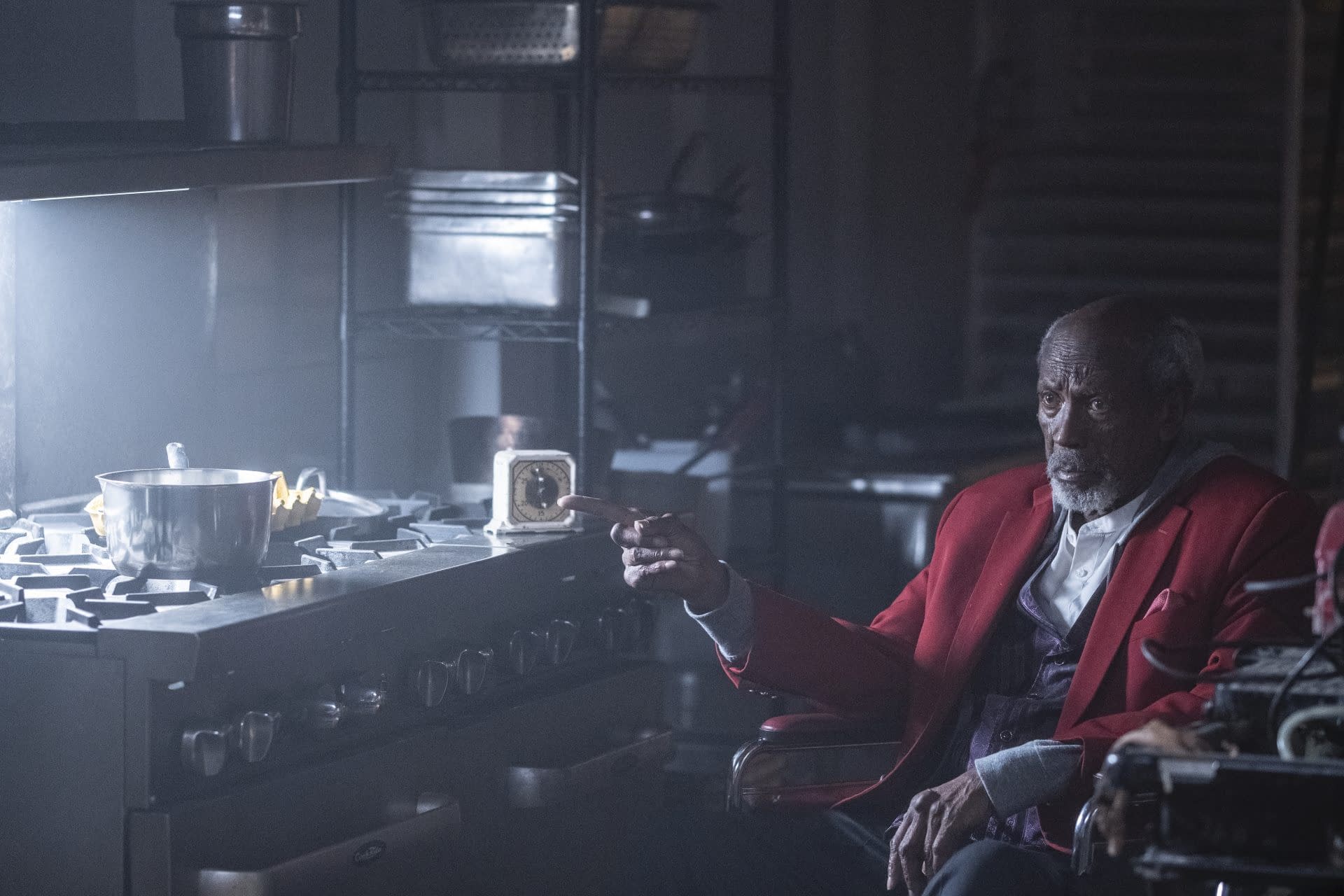 Here are some highlights from an excellent profile of King from Vulture that offers a few additional clues about her character and her role in the series:
● King's police officer Angela Abar was a role that Lindelof envisioned as King's from pretty much the start – he just had to get past his internal policy of not working with actors more than once.
● In late July, Lindelof revealed that white-supremacist militia groups would be the "big bads" of the series, with Abar being the masked cop looking to bring them down – a character King took to because of both her motivation and realistic appreciation for the societal pushback she will get:
"[Regina] liked the idea of Angela in that it was not just about putting on a cool costume and beating up bad guys. It was understanding that she can beat up white supremacists, but she can't beat white supremacy. She likes the Sisyphean quality of that battle."

– Damon Lindelof
● Which isn't to say that there's anything wrong with kicking a little ass – just ask King:
"I've wanted to be a superhero since The Incredible Hulk. Yo! I put on that [costume] and my shoulders go back and I feel like, Where's my theme music?"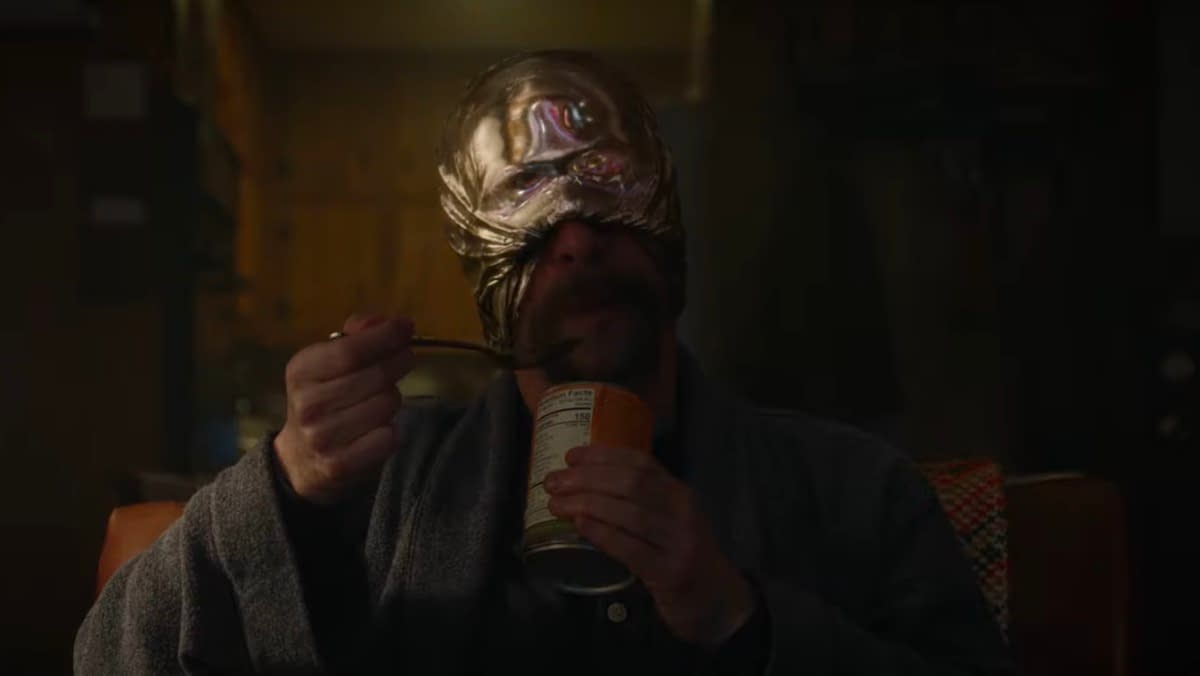 Lindelof took to the stage during this summer's Television Critics Association (TCA) session to discuss the series' themes as well as its connections to the original series. Lindelof was joined by King and executive producer-director Nicole Kassell (Westworld, Castle Rock) – and here are some highlights:
● For Lindelof, the deadliest threat society faces in 2019 – the one that "tick-tocks" our modern doomsday clock closer to midnight – is not from another nation… but from itself:
"What in 2019 is the equivalent of the nuclear stand off between the Americans and the Russians? It is race and the police."
● In the regards to the hate groups that will play a major role over the course of the season, Lindelof emphasizes that there will be no "easy answers" – and just like the original comic book series, viewers expecting a cliche "superhero storyline" to play out will be sadly disappointed. Bascially? Just because we have capes and spandex doesn't mean there's a happy ending:
"There is no defeating White supremacy it's not going anyway. There are no easy answers and grandiose solution."
● Viewers will see the world of HBO's Watchmen start to blur historical facts with the fictional narrative as the series rolls along:
"It is not supposed to be a world that you recognize to Trojan horse themes that are in a real world in a fictional one. What is actual history and what is alt-history and things start to get blended in the middle."
● Lindelof confirmed once again that the original comic series was not being impacted ("We are not going to mess with it, its canon") – and though he knew of Moore's history of not wanting to be involved in any adaptations, sequels, or things of that nature ("I have made personal overtures to connect with him and he made it clear that he didn't want that to happen and I want to respect that"), Lindelof's attitude towards tackling the project was:
"I'm channeling the spirit of Alan Moore to say 'F— you, I'm doing it anyway.'"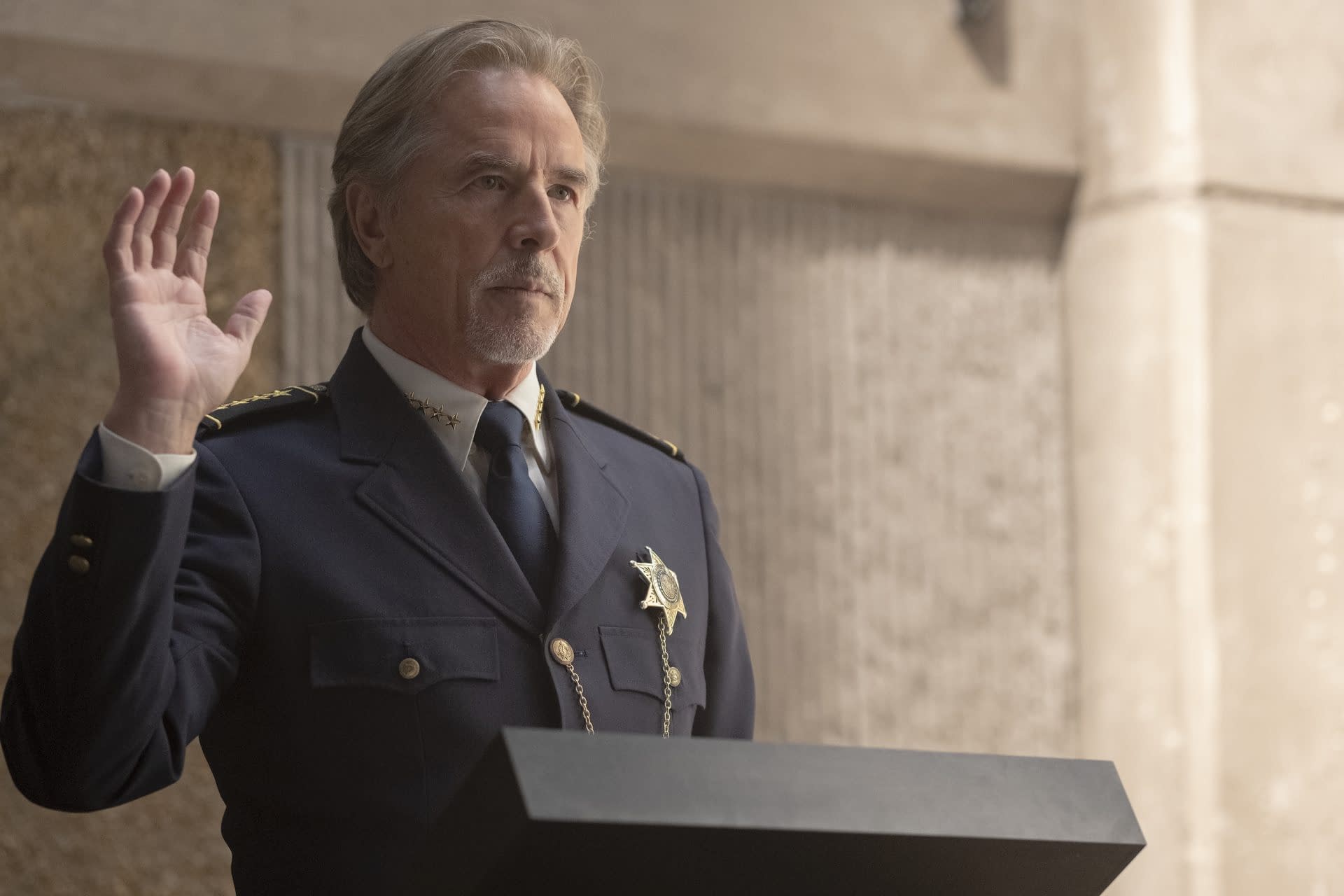 Lindelof's "remix" of Moore and Gibbons' 1986 comic book series Watchmen is set in an alternate history where "superheroes" are treated as outlaws, the series is said to embrace the nostalgia of the original groundbreaking graphic novel while attempting to break new ground of its own.
HBO's Watchmen stars Regina King as Angela Abar, Don Johnson as Chief Judd Crawford, Tim Blake Nelson as Det. Looking Glass, Louis Gossett Jr. as Will Reeves, Adelaide Clemens as Pirate Jenny, Andrew Howard as Red Scare, Jeremy Irons as Adrian Veidt / Ozymandias, Frances Fisher as Jane Crawford, Jacob Ming-Trent as Panda, Yahya Abdul-Mateen II as Cal Abar, Adelynn Spoon as Emma Abar, and Jean Smart as Agent Blake – as well as Tom Mison as Mr. Phillips, Sara Vickers as Ms. Crookshanks, Dylan Schombing, and Lily Rose Smith. Joining the series in recurring roles are James Wolk as Senator Keane, Hong Chau as Lady Trieu, and Dustin Ingram as Agent Petey.
Nine Inch Nails duo Trent Reznor and Atticus Ross are on board to compose music for the series.

In May 2018, Lindelof shared a series of Instagram posts to update fans on progress on the project (with a pilot directed by Kassell) and to emphasize that his vision was not a direct adaptation of the original graphic novel, but rather a "remix" that utilizes important elements from the original story while telling its own narrative. Here are some excerpts from those posts:
"We have no desire to 'adapt' the twelve issues Mr. Moore and Mr. Gibbons created thirty years ago. Those issues are sacred ground and will not be retread nor recreated nor reproduced nor rebooted.

They will however be remixed, Because the bass lines in those familiar tracks are just too good and we'd be fools not to sample them. Those original twelve issues are our Old Testament. When the New Testament came along it did not erase what came before it. Creation. The Garden of Eden. Abraham and Isaac. The Flood. It all happened. And so it will be with 'Watchmen.' The Comedian died. Dan and Laurie fell in love. Ozymandias saved the world and Dr. Manhattan left it just after blowing Rorschach to pieces in the bitter cold of Antarctica."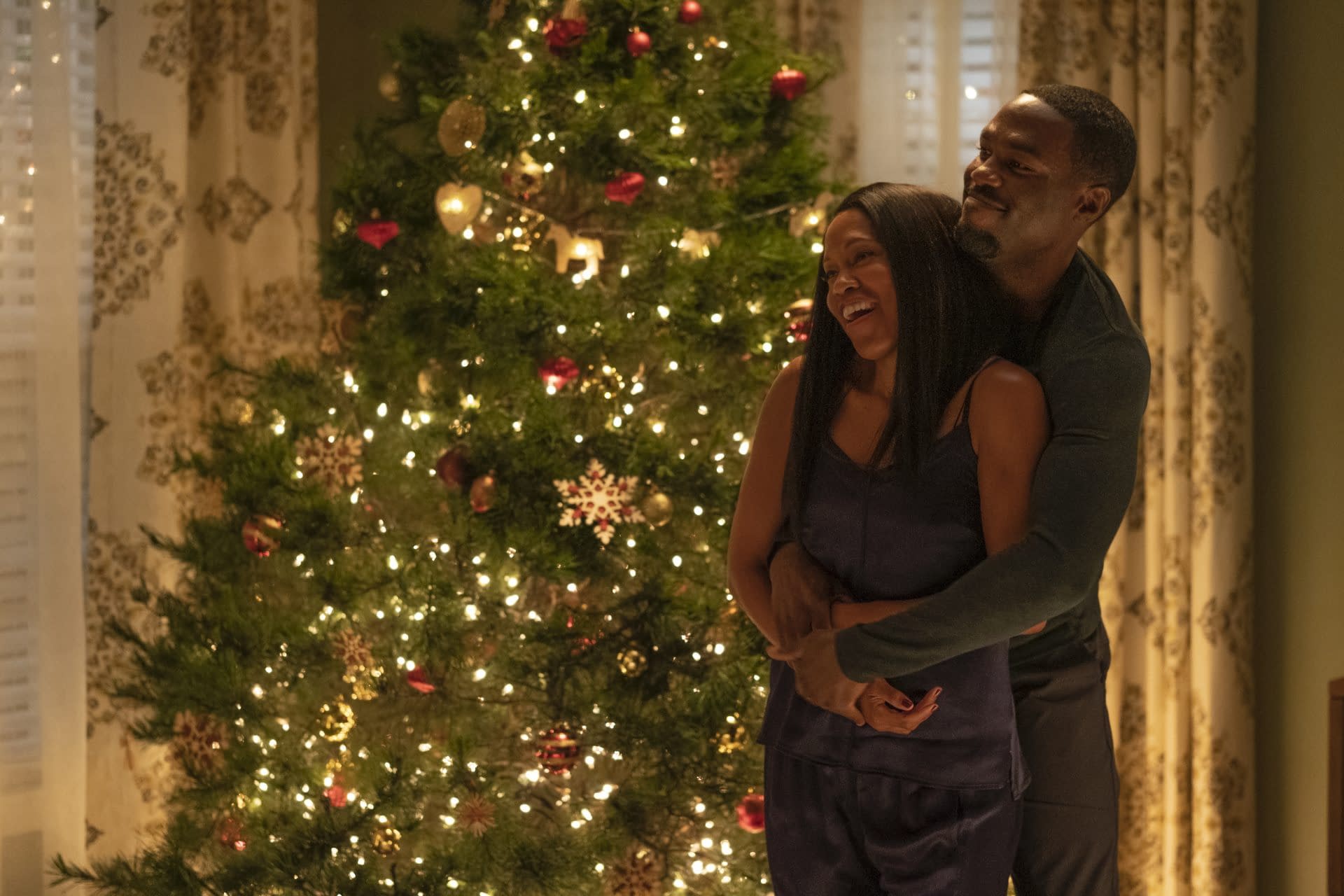 "This story will be set in the world its creators painstakingly built…but in the tradition of the work that inspired it, this new story must be original. It has to vibrate with the seismic unpredictability of its own tectonic plates. It must ask new questions and explore the world through a fresh lens. Most importantly, it must be contemporary. The Old Testament was specific to the Eighties of Reagan and Thatcher and Gorbachev. Ours needs to resonate with the frequency of Trump and May and Putin and the horse that he rides around on, shirtless. And speaking of Horsemen, The End of the World is off the table…which means the heroes and villains–as if the two are distinguishable–are playing for different stakes entirely."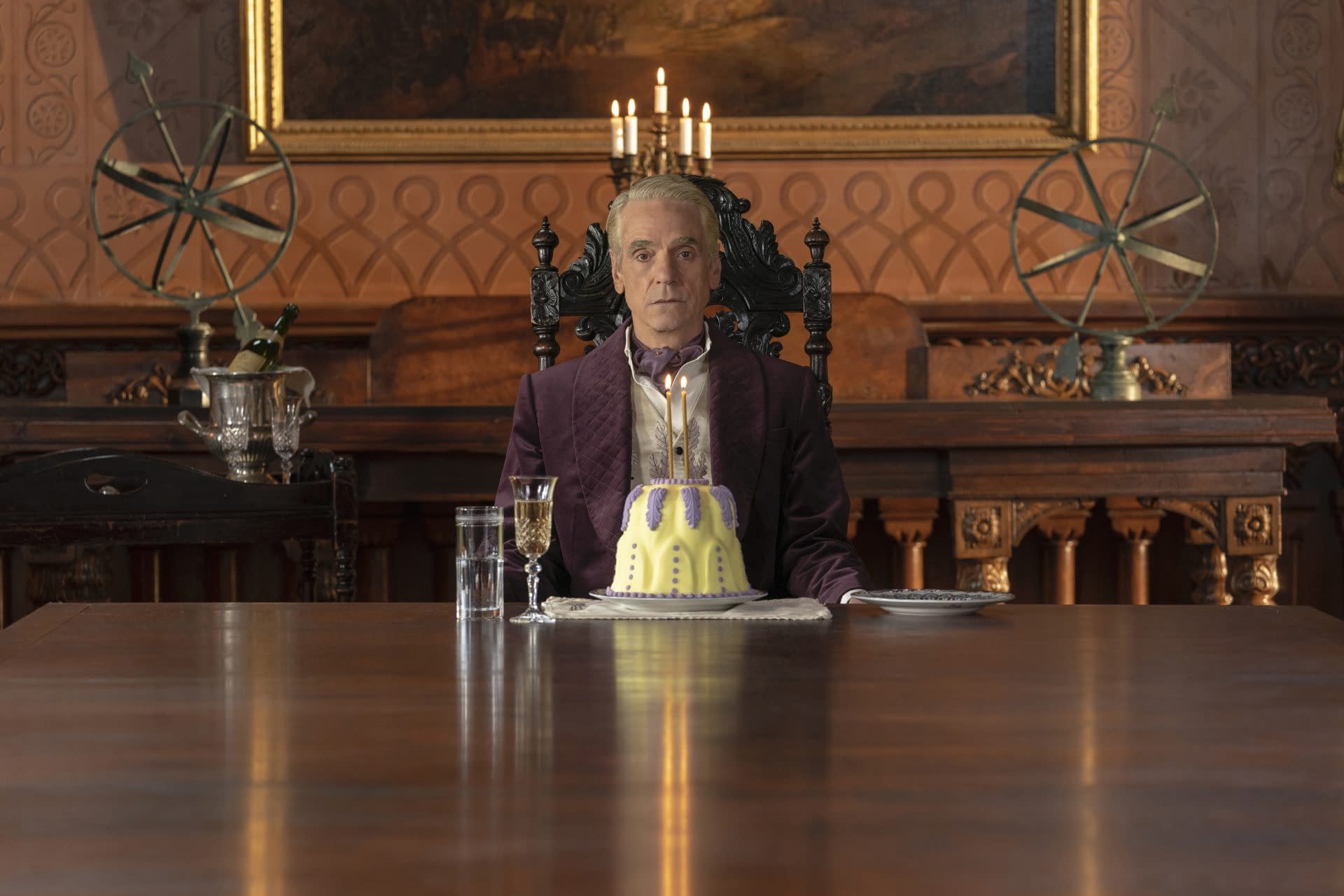 "Some of the characters will be unknown. New faces. New masks to cover them. We also intend to revisit the past century of Costumed Adventuring through a surprising yet familiar set of eyes…and it is here we will be taking our greatest risks…"
---
---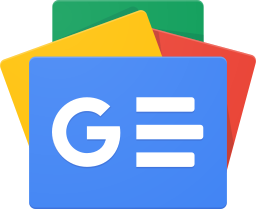 Stay up-to-date and support the site by following Bleeding Cool on Google News today!