What We Do in the Shadows Season 2 Review: Worth Taking a Bite Out Of
The second season of FX's What We Do in the Shadows opened with a horrifically funny bang. We go on a humorous rollercoaster ride of vampires, zombies, necromancers, and ghosts, all in the span of one hour. Jemaine Clement and Taika Waititi's series was packed with fun, intrigue, and likable characters you find yourself getting attached to rather quickly. I was lured in by the promotions for the new season, and I always thought comedy and vampires make for a good combination. As someone playing catch-up on the series, I was not sure what exactly I was in for, but I am so happy I took the chance because I did not realize just how much I needed this in my life. I enjoyed the look and vibe of the series, with its mash-up of old-school and modern feels, as well as how "extra" the characters can be. My favorites were Nandor (Kayvan Novak) and Guillermo (Harvey Guillen). Though to be fair, they all had me laughing from beginning to end and I was surprised (and a little disappointed) when the hour ended.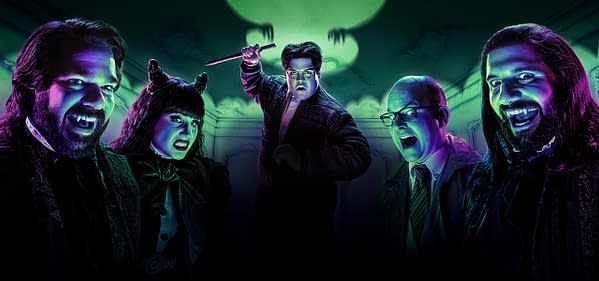 "Resurrection" followed a zombie storyline and offered enough of an introduction to the characters for me to have a general idea of who they are without going into too much detail. Within minutes, the series' format and execution reminded me of The Office or Modern Family if they were cursed, but that's where the similarities end. Nadja (Natasia Demetriou) and Laszlo (Matt Berry) have been having bad luck finding a familiar that lasts, now they got Topher (Haley Joel Osment) who pretends to be cooler than what he actually is while holding different jobs with opposing parties (like werewolves).
I was laughing all throughout and found the growing contempt between Topher and Guillermo hysterical. Guillermo's abilities are one of the many dangling storylines I will be paying attention to throughout the season, hopefully by the next episode or at least within the next couple of weeks. Guillermo's addiction to chocolate-covered coffee beans was a particularly nice touch, as was the way he easily slips into Buffy, the Vampire Slayer mode in the blink of an eye. That necromancer bit also stood out, and I hope we get to see more of Wallace (Benedict Wong) and his souvenirs as What We Do in the Shadows rolls along
From the title alone, "Ghost" was pretty self-explanatory. Apparently, our dysfunctional family are being haunted by a ghost. Nandor and Laszlo not believing in ghosts was such sweet irony, and this was the one time that I'm glad they didn't just leave it to us to recognize it but also allowed Guillermo to voice our concerns. Ghosts start piling up as our trio of vampires realize they have their own ghosts, too. This means they get to spend a little quality time with their own spirits, who still have hilariously unfinished matters to take care of before moving on. Nandor's was surprisingly moving. On the other hand (lol), Laszlo's was in a completely different way while Nadja's is to be continued.
I am very glad I tuned in and watched the two-episode, second season premiere of What We Do in the Shadows. It was worth it. I look forward to adding this to my weekly shows to watch. I am also curious to see where things will go as I can see there will be overarching storylines. I mean, that not-so-subtle threat Guillermo threw at the end of the first episode has me wondering what will happen between him and Nandor. At least with Nandor, he feels some level of "familiar commitment" but what about with Laszlo and Nadja? They haven't exactly been his biggest fans, but will that change when they see what he can do and what he's done to keep them safe? That's reason enough to keep me hooked in for the season.