Why Hasn't Jimmy Kimmel Addressed His Own Blackface History Yet?
I would like to congratulate Jimmy Kimmel as a Hollywood success story. He's come a long way from his Comedy Central days on The Man Show and Win Ben Stein's Money. He also entertained millions as the comic relief for Fox NFL Sunday. Now not only does he have a late-night show called Jimmy Kimmel Live!, but he's also returning to host the next Prime Time Emmy Awards. This will be his third stint and he'll also be executive producing. Now let's address the 800 lb gorilla in the room.
In light of the events surrounding the death of George Floyd and the subsequent protests fronted by Black Lives Matter sparked all over the country and expanded across the globe, many across the entertainment industry made dramatic changes at a cultural level addressing systemic racism not only in law enforcement and canceling police reality series like Cops but also removing Confederate monuments and banning any related paraphernalia. The Tonight Show host Jimmy Fallon was confronted about a 2000 Saturday Night Live sketch where he portrayed former cast member Chris Rock in blackface. Fallon profusely apologized for his involvement. Now it's Kimmel's turn.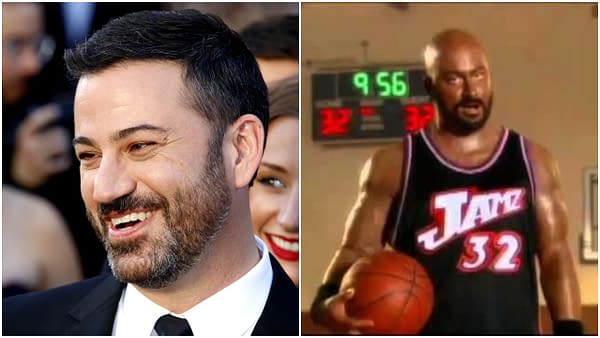 During Kimmel's stint as co-host of The Man Show, one recurring segment had him parodying NBA player Karl Malone while donning blackface. Kimmel has been fortunate enough to avoid talking about it long after the series ended. Why hasn't this garnered similar attention that Fallon's SNL sketch did? In 2019, comedian Nick Cannon spoke to USA Today about the aforementioned sketches and included Sarah Silverman, who also performed in blackface for her comedy series The Sarah Silverman Program. He posted on Instagram to call them out publicly. Silverman apologized in an interview with GQ.
Fallon and Kimmel didn't respond to USA Today's request to comment. "You know I'm always on the side of the comedian and never pander to the sensitive, but I feel there needs to be some 'truth & reconciliation' discussions and teachable moments amongst our communities," Cannon wrote. Since Fallon and Silverman apologized for their part, now it's Kimmel's turn and he has an obligation to address what he did. The irony is the Utah Jazz legend appeared on his show and not once were the skits addressed.