WWE Raw 7/20/20 Report Part 1: Who Has Coronavirus This Week?
Well, The Horror Show at Extreme Rules was certainly a PPV. Such a PPV that dirt sheet rumors claim tonight's episode of WWE Monday Night Raw was completely rewritten to change course, though certain talent unable to film (because of COVID-19, presumably) also contributed. Can a show rewritten at the last minute make up for last night's various debacles? It's time to find out because it's time for WWE Monday Night Raw, three hours of your life and mine that we'll never be able to get back.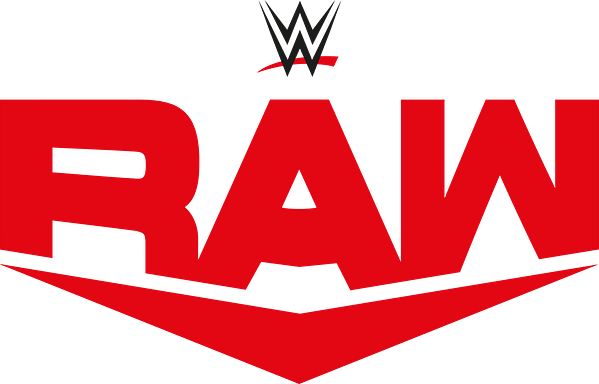 Raw starts with a recap of the feud between Rey Mysterio and Seth Rollins which culminated last night at The Horror Show at Extreme Rules, with Rollins and Mysterio facing off in an Eye for Eye Match, the objective of which was to remove an eyeball from your opponent's head. At the end of the match, Rollins did just that, gouging out Mysterio's eyeball on the corner of the steel ring steps and then vomiting at what he'd done.
After the opening credits, the commentary team teases tonight's big main event, which will see The Big Show face Randy Orton in an unsanctioned match. Then Seth Rollins comes to the ring with Buddy Murphy. Tom Phillips tells us that Mysterio's optic nerve was not completely severed last night so he will be able to make a full recovery. Byron Saxton says the match was sick and twisted either way. Even Samoa Joe is grossed out.
Raw Opening Promo Starring Seth Rollins
Over a chant of "shame" from the Performance Center crowd, Rollins talks about the ending of the match last night. Rollins understood what the stipulation entailed last night: to win the match, you had to remove your opponent's eye. But what happened last night will stay with Rollins for the rest of his life. Rollins pleads with the crowd to understand this is difficult for him. The image of Mysterio holding his bloody eye in his hand will be in Rollins's memories forever. It made him sick to his stomach figuratively and literally. The question he's been asked the most in the last 24 hours is does he regret what happened? Rollins answers the question with a question for the WWE Universe: to they regret what they have done to Rollins? Rollins says the WWE Universe are the ones who made him the Monday Night Messiah and become the person they now refer to as a monster. Ergo, it's really the WWE Universe's fault, what happened to Rey.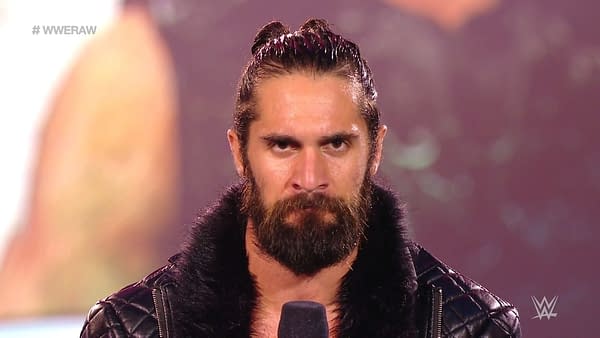 Rollins also points out that Rey Mysterio is the one who named the stipulation. Actions have consequences. What happened to Rey Mysterio last night was ugly and unfortunate, but we can't afford to dwell in the past. According to Rollins, the beauty in all of this is that Rey Mysterio is out of sight and Monday Night Raw is free to fulfill its potential. The greater good of the show can happen and there's nobody left to stand in the way of the greater good.
Aleister Black comes out. He says Rollins only has himself to blame. He orchestrated all of this and it's on his hands. But right now Black is here to rectify all of this. He drops the mic and takes off his clothes. Murphy charges up the ramp but Black kicks him in the face. Black charges to the ring, but Murphy pulls him out and they brawl at ringside. Black tosses Murphy over the announce table and hits the ring. Rollins retreats. Tom Phillips sends us to commercial break.
Seth Rollins vs. Aleister Black
Raw comes back to Seth Rollins beating down Aleister Black. He takes time to chastise the ref about who's really in charge in the ring, allowing Black to take control. Rollins retreats from the ring and Black follows. They fight around the ring, with Rollins ducking a punch from Black, causing him to punch the ring post instead. Rollins tosses Black inside and hits a sling blade and once again takes control.
Rollins pounds on Black for a while until Black makes another comeback. Black ducks a charge by Rollins and sends him to the outside. Then he dodges a springboard clothesline attempt. Black hits his striking offense. He knocks Murphy off the ring when Murphy tries to interfere. Rollins dodges a moonsault. Black dodges a stomp. Black hits Black Mass on Rollins. Murphy hits the ring and Black hits Black mass on him, but Rollins has rolled out of the ring. Raw goes to commercials again.
Black is in control when Raw comes back from break. Black sets him up for Black Mass, but Rollins dodges and hits a superkick, then another one. Both men struggle to their feet. Rollins calls for Murphy as he goes to the top turnbuckle. Black stops him and goes for a superplex. Rollins fights back and drives Black's arm into the top rope. Rollins goes for a springboard knee but Black catches him and hits a roundhouse. Rollins hits the stomp on Black and crawls over for the pin. Rollins gets the win.
Winner: Seth Rollins
After the match, Buddy Murphy hits the ring to attack Black with Rollins. Murphy tosses him from the ring and into the barricade a few times. He and Rollins and Murphy try to break Black's arm by smashing it into various objects in the ringside area. Rollins asks Black who's here to save him. No one but his messiah. Satisfied with the beating, Rollins allows the officials to tend to Black.
The commentary team is outraged, but not so outraged they can't segue into talk about last night's United States Championship match. Or lack of a match, because Apollo Crews wasn't able to compete due to doctors not clearing him due to an old injury, that old injury, of course, being COVID-19, though WWE will never admit it. MVP declared himself the new United States Champion in Crews' absence.
MVP and Bobby Lashley talk with Ron Simmons backstage. They fistbump. Hopefully, Simmons has some hand sanitizer. R-Truth walks up and compliments MVP's replica United States Champion. MVP says he's the real champion because he beat Crews by forfeit last night. Truth is skeptical. MVP invites the 24/7 champion to come to the ring with him and Lashley. Truth doesn't want to get put in the Full Nelson again. Lashley says he means the new champ. Shelton Benjamin attacks Truth from behind and pins him. Raw goes to commercials.
Raw Promo: MVP, Bobby Lashley, and Shelton Benjamin
MVP, Bobby Lashley, and Shelton Benjamin head to the ring. MVP recounts his "victory" last night. He says Crews chose to stay home because he's afraid of Lashley. MVP says it didn't matter whether or not Crews showed up because he was gonna win anyway. Tonight, once they're done with Cedric Alexander and Ricochet, they're going to go celebrate their championship gold.
Ricochet and Cedric Alexander come out. They blast MVP for a dated reference and say it's as relevant as his career. Alexander says MVP is a coward who didn't earn that title and is hiding behind Lashley. Ricochet says MVP is a chump. Alexander says he and ricochet will champions again without MVP.
MVP says he and his buddies in the ring are men, but Ricochet and Alexander are little kids who should still be sitting in catering. MVP says they can pick any two of them and they can have a fight. But Ricochet says they have a tag team partner. Someone else who thinks MVP is full of garbage and is making a return to Monday Night Raw. Mustafa Ali comes out. Lashley charges and eats three superkicks. The faces clear the ring and Raw goes to commercials.
MVP, Bobby Lashley, and Shelton Benjamin vs. Ricochet, Cedric Alexander, and Mustafa Ali
After the break, a six-man tag team match is in progress with Bobby Lashley pummeling Cedric Alexander. Alexender takes a beating from the heels house quick tags and ring positioning to maintain their advantage. MVP's 3-man stable is apparently called The Hurt Business. Lashley hits a big spear on Alexander in the corner. He tags in MVP who hits a big boot in the corner. But rather than go for the pin, MVP hits The Ballin' Elbow instead, and when he pins Alexander, he kicks out.
Alexander tries to make a comeback on MVP but eats another big boot and another two-count. Shelton Benjamin comes in and I have a feeling we're about to see Benjamin in his new role in this group: guy who screws things up so the other two guys don't have to look bad. Indeed, Benjamin screws things up and lets Alexander tag in Ricochet. Raw goes to commercials.
Benjamin is beating up Ricochet when the show comes back. He applies a devastating chin-lock. Ricochet fights back with a jawbreaker and crawls to his corner, but Benjamin pulls him back and tags MVP. MVP lays in the stomps on Ricochet and applies another rest hold. He tries to force Ricochet to smile for the camera.
Lashley is in now. He gives Ricochet a thorough pummeling. Lashley tags in Benjamin so Benjamin can screw up again. Benjamin tosses Ricochet into the cornet and charges after him, eating a boot to the face. Ricochet hits a dropkick and crawls for the hot tag. He gets it. Mustafa Ali gets in the ring and beats up MVP. He hits an X-Factor for a two-count. Lashley comes in and goes for the Dominator, but Ali dodges and sends Lashley outside. Alexander and Ricochet hold Lashley outside and Ali hits a suicide dive sending Lashley over the announce table. Benjamin gets involved and also gets taken out by Alexander. Back in the ring, MVP misses a corner big boot on Ali. Alo hits a backbreaker and then the 450 splash. Ali gets the pin.
Winners: Mustafi Ali, Ricochet, and Cedric Alexander
MVP, Lashley, and Benjamin retreat up the ramp. Tom Phillips pimps the main event for tonight. Randy Orton is backstage. He asks if we ever think to ourselves about those moments in time that may have changed our lives. Randy does. Some might think the moments he's referring to are when he joined Evolution, fought Mick Foley, or became the youngest WWE Champion in history. But that's not what he means, even though they did help him become the Legend Killer and the greatest wrestler ever.
The moment Randy is referring to is 175 days ago when he swung a steel chair down on the surgically-repaired neck of Edge. Randy has made a lot of friends in this business and he thought they were etched in stone, but they're not. Those friendships are gone. Edge. Christian. Big Show. At one point in Randy's career, those guys all helped save Randy from himself. It baffles Randy that a moment in history brought so many people pain, but it brought Randy satisfaction. It felt good to stand over Edge's convulsing body. It made him feel good to know he ended Edge's career at Backlash. He also rather enjoyed ruining Christian's chance at one last match. And tonight he'll enjoy punting Big Show and ending his career once and for all.
So where is Ric Flair? Hmmm. Well, we're into the second hour of WWE Monday Night Raw, so it's time to switch over to part two of this report. See you over there soon as we continue this wrestling journey together.