In the first hour of WWE Monday Night Raw, we saw three big returns. Heath Slater returned for one night to job to Drew McIntyre. Kairi Sane returned to face Sasha Banks in what would probably end up the match of the night… if Bayley wasn't set to face Asuka later. And Kevin Owens returned to convince Vince McMahon to take coronavirus seriously. Read about it in part one of our WWE Raw report, and now we're into the second hour.
Rey Mysterio and Kevin Owens are facing Seth Rollins and Buddy Murphy. Murphy is taking a beating from Rey to start. Rey hits a sweet hurricanrana off the apron onto Murphy on the floor. Owens tags in to take his turn beating on Murphy. Rollins wants the tag. He gets it, and he goes after Owens, but Owens gets the better of him. Owens tags in Rey, but Rollins bolts for his corner and tags Murphy in. Murphy almost eats a 619 but takes a breather outside the ring. Murphy hits a kick from the apron. Dominic Mysterio gets in Murphy's face. Rollins knocks Owens to the floor, and then he and Murphy go after Dominic Mysterio. Rollins gouges Dominic's eye as Raw goes to commercials.
After the break, Rollins is in control of Owens in the ring, working on his injured leg. Owens is going to do the selling now until it's time for the hot tag to Rey. When it happens, Rollins runs again. Rey beats the crap out of Murphy, but Rollins comes in when Rey goes for the 619. Rey sets up Rollins for a double 619, but Rollins rolls out and grabs Dominic, holding him hostage. Aleister Black runs out, allowing Dominic to escape.
As Rollins stalks Black on the ramp, Dominic gouges Murphy's eyes. Mysterio hits the 619 on Murphy. Owens takes out Rollins outside the ring. Rey hits the frog splash on Murphy and gets the win. After the match, Rey reveals the stipulation for the Extreme Rules match: Eye for an Eye. It's like a bra and panties match, but instead of ripping off your opponent's clothes, you rip their eyeball out. Wow. Even Samoa Joe seems disturbed by this.
Tom Phillips changes the subject with a recap of last week's United States Championship angle. Charly Caruso interviews MVP and Bobby Lashley backstage. They say they're going to take the US title away from Apollo Crews. After some commercials, of course.
WWE Raw: Lashley, MVP, Ricochet, Cedric Alexander & More!
As promised, Lashley and MVP head out to the ring after the break. MVP runs down Apollo Crews. Crews should have joined MVP when he had the chance. MVP wanted to help him, just like he helped Lashley. But Crews disrespected MVP, which by proxy disrespects Bobby Lashley. MVP says he's going to win at Extreme Rules. When he does, he'll be wearing a sweet new belt. MVP unveils a brand new United States Championship belt. Hey, it actually looks pretty good. It has the word "champion" most prominently across the front, which . MVP says he's basically the new champion already, but Lashley said he wants to make it official. He crowns MVP the new champion and puts the belt on him.
Ricochet and Cedric Alexander interrupt this party. Cedric thinks the belt looks good, but he's confused. MVP knows the struggle, so he should know that you have to earn your championships here. Richochet says Crews will be back soon and he'll make MVP's US Championship fantasy come to an end. In the meantime, Ricochet and Alexander want revenge on Lashley and MVP for taking out Crews. They attack and clear the ring, which means it's time for commercials.
When we get back, the match is on. Lashley manhandles both Richochet and Alexander, unphased by any of their fancy high-flying offense. Lashley lets MVP get a turn beating on Ricochet for a bit before getting back to it himself. MVP is wrestling in a suit, which looks better than his usual gear. He should wrestle in the suit all the time. MVP beats on Richochet for a while. But Lashley tossing Ricochet around like a child is definitely the more entertaining process here, so Lashley tags back in, hits a big standing vertical suplex and a flat-liner, then lets MVP go for the pin, but Ricochet kicks out. But MVP screws up, and Ricochet is able to make the hot tag to Alexander. Alexander knocks Lashley off the apron and hits a bunch of explosive offense on MVP, but it's not enough for a three-count. Lashley makes the blind tag without Alexander seeing it. Lashley hits the spear and gets the win. It was a by-the-numbers match but executed well. Lashley puts Alexander in the full nelson after the match, but Ricochet helps him escape. Lashley and MVP are looking really strong here. WWE doesn't usually let their heels look strong, so I don't know what to make of this.
After a recap from last week, Zelina Vega congregates with Andrade and Angel Garza backstage. She wants reassurance they won't fight with each other during their match. Angel promises it won't happen again. Ric Flair shows up for a pep talk. He gets way too close to everyone. Does anyone care that Ric Flair will definitely die if he gets COVID? Randy Orton shows up. None of them are wearing a mask. He appreciates that Andrade and Garza are both third-generation wrestlers like himself. But he tells them Big Show is his, and if they do anything to screw that up, he'll introduce them to the Legend Killer. Does he mean that literally? If not, he should put a f**king mask on and WWE should send Ric Flair home. Raw heads to commercials.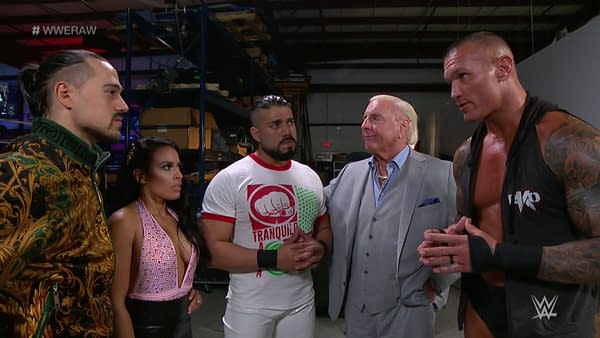 Charly Caruso interviews the Kabuki Warriors. After Asuka beats Bayley, she and Kairi Sane are challenging Sasha Banks and Bayley for the Women's Tag Team Championships next week. Kairi plays them off with her flute.
Big Show comes to the ring. Remember, Randy Orton has pissed him off, so he's in Big Nasty Bastard mode lately. The Viking Raiders come out next. Then Andrade, Garza, and Vega. Finally, Orton. Flair, mercifully, stays in the back. We're into the third hour of Raw, so we'll pick up this match in the third and final part of our Raw report.
Enjoyed this article? Share it!