WWE SmackDown 6/19/20 Report Part 1: Matt Riddle Debuts
WWE SmackDown opens with a commercial for Ring of Honor, at least here on my local Fox affiliate. Sinclair, you sneaky bastards! This is a rough night for WWE amidst the #SpeakingOut scandal, which is ongoing and which I wrote about earlier here. The question tonight is whether or not WWE will air the debut of Matt Riddle on SmackDown, which they taped earlier this week, as Riddle is one of the accused.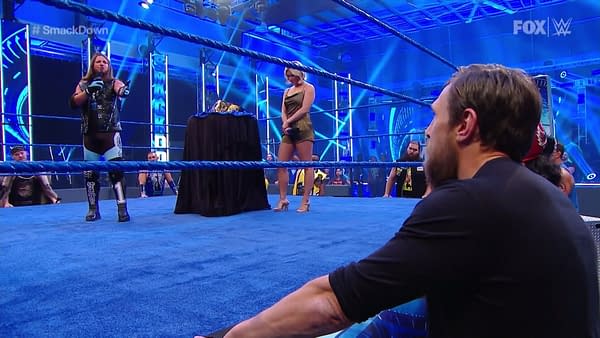 The show starts with a recap of last week's Intercontinental Championship match between Daniel Bryan and AJ Styles. Then the opening credits, still featuring Roman Reigns even though there's no telling when he'll return to the ring. Renee Young is in the ring, along with the Intercontinental Championship, to be prevented to Styles. Michael Cole and Corey Graves promote a new episode of the Firefly Funhouse and an episode of Miz TV with Mandy Rose as guest. No mention of Riddle yet.
Renee Young introduces Styles and puts over his match last week. AJ comes out to the ring, which is surrounded by the SmackDown roster. Styles loves the adoration. He points out that SmackDown is the house that Styles built. He invited all of the wrestlers to the ring to let them know this is as close as they'll ever get to the title. Renee Young asks what it means for Styles to win the Intercontinental Championship for the first time. Styles said it vindicates everything he's ever said about himself and earning his opportunities.
Styles doesn't want Renee to present the title to him though. he wants Bryan to do it and invites him into the ring. Bryan climbs in the ring. Styles wants Bryan to put the belt around AJ's waist and say "congratulations." The crowd chants "no." Styles turns around, trusting Bryan not to do anything stupid. Bryan picks up the belt, but Styles starts running him down. Styles questions Bryan's manhood and tells him to prove he's a man by putting the belt on Styles. If he doesn't, then Bryan is a coward. Bryan puts the belt on Styles and says congratulations, but Styles doesn't think it was enthusiastic enough.
Bryan grabs the mic and sarcastically congratulates AJ. He says AJ was the better man last week, and though they disagree about a lot of things, Bryan respects AJ's ability in the ring. He thinks AJ will be a great Intercontinental Champion and that he has the opportunity to be the greatest Intercontinental Champion in WWE history if he defends the belt against everyone on the Smackdown roster. Bryan suggests Shorty G, Gran Metalik, and Big E as potential contenders.
Styles tells Bryan to shut up. Only a select few will have an opportunity at the belt. Only people on AJ's level. And Bryan is at the back of the list. Bryan says that if Styles is interested in earning things, he would be willing to defend his championship against Drew Gulak since Gulak pinned Styles two weeks ago. The crowd chants "yes." But Styles refuses and says he will only defend the belt against the number one contender. The next person to run their mouth will have to deal with the consequences.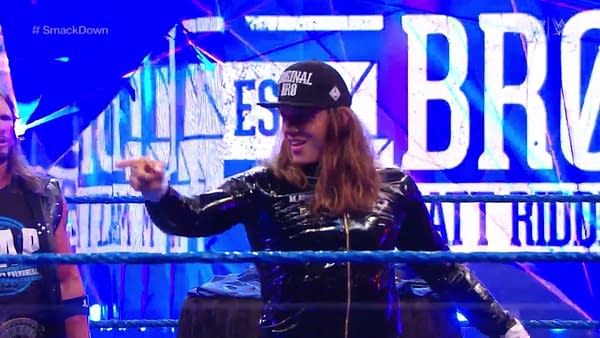 Riddle comes out. Well, that answers that question. Riddle introduces himself. Styles says he knows who Riddle is, but all he sees is some dude with no shoes in his ring. Riddle says he never wears shoes. Styles says Riddle is just looking for a handout. Riddle says AJ Styles may be the face that runs the place, but he's the bro that runs the show. Styles puts the belt back on the table and attacks Riddle. Riddle fights back and ends up kicking Styles out of the ring. Styles calls for a referee. SmackDown goes to commercials.
When the show comes back, Styles interrupts the introductions to say the match isn't for the title. "No shirt, no shoes, no title match." Riddle kicks off the match with a German Suplex, then a pair of Gutwrench Suplexes. Riddle gets a two-count. Riddle mounts Styles and hits him with forearms. Styles fights back with a jawbreaker and tries to Irish Whip Riddle, Riddle gets a waistlock on Styles and Styles backs him into the corner and hits him with an elbow. Riddle kicks Styles in the face with a roundhouse and gets a two-count. Riddle hits a Broton and puts Styles in an armbar. Styles pushes Riddle into the corner and chops him, but Riddle fires back with chops and punches, backing Styles into another corner.
Riddle panders to the crowd and Styles hits a dropkick. He rams Riddle's head into the turnbuckle and then around the ring into another. Riddle fights back with more strikes. Styles fights back and clotheslines Riddle over the ropes and onto the apron. Styles picks him up, but Riddle punches Styles and tries to drag him outside the ring. Styles kicks Riddle and Riddle bumps into Baron Corbin. Corbin and Riddle argue as SmackDown takes another commercial break.
Back from break, Styles has Riddle in a headlock in the ring. Riddle powers out, but Styles throws him to the mat. More punches and a Backbreaker from Styles. Styles hits Riddle with some kicks and a Snap Suplex. Riddle and Styles trade blows some more, and Styles gets the better of it. Styles hits a Running Knee Drop. Riddle fights back with kicks but Styles hits a Dragon Screw. Now Styles works the leg as Cole and Graves call attention to Riddle's hamstring. Riddle tries a roundhouse kick but Styles Chop Blocks the leg. Styles goes for the Calf Crusher but Riddle knees him in the face. Styles tries more strikes but Riddle hits a Fisherman's Suplex. Styles tries a splash on Riddle in the corner but Riddle dodges and hits a running forearm and a suplex, then the Broto again for a two-count.
Riddle tries for the Bromission, but Styles leans back into a pin for two. Riddle puts Styles on his shoulders but Styles reverses it into a Calf Crusher. Riddle reaches the ropes. Bryan heads outside the ring and shoves Daniel Bryan, who was cheering on Riddle. Styles heads to the apron but rolls back out to talk trash to Bryan some more. Styles heads up and gets ready for the Phenomenal Forearm, but Riddle catches him with the Bro Derek for the pinfall. SmackDown's faces celebrate in the ring with Riddle as Styles pouts on the ramp. This was a good match, but nowhere near Styles and Bryan's match last week. Backstage, Jeff Hardy stares blankly as he gets ready for an interview with Young and SmackDown heads to commercials.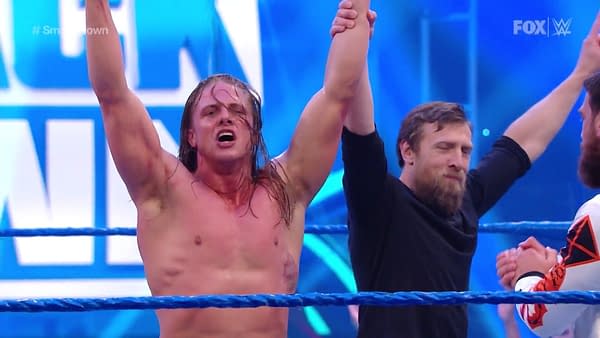 Back from break, The Progressive Match Flo recaps the feud between Hardy and Sheamus. Then Renee interviews Styles. She asks how he's holding up. Hardy says it's been a roller coaster. He's forty-two and it feels like he's been trying to turn his life around his whole adult life. Hardy feels like there's always fires to put out. The struggle is real. Renee says Hardy's feud has been uncomfortable to watch and she asks about Hardy's lost at Backlash. Hardy says Sheamus is a reminder of what Hardy doesn't like about himself, and if Hardy could beat Sheamus and shut him up, it would confirm that Hardy is doing well.
But because he lost, he doubts himself, not just in wrestling, but as a husband and father as well. The bottom line is that Hardy has to catch himself before that cycle of thinking spirals out of control. Hardy isn't a pathetic junkie like Sheamus says. But he is an adrenaline junkie. He is an alcoholic. But Sheamus doesn't have a problem with Hardy. He has a problem with himself. He's a miserable, insecure bully who mistake's Hardy's struggle for weakness. Sheamus is just an obstacle in Hardy's road to redemption, and Hardy isn't done yet.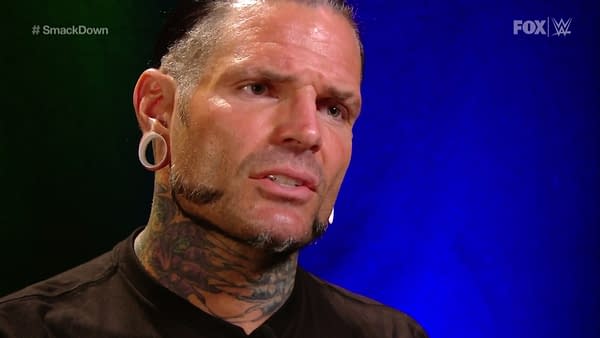 Kayla Braxton talks to Shorty G about his match tonight with Mojo Rawley. Shorty says it doesn't matter how tall you are or whether you're friends with Gronk. Heavyweights are all the same and they don't know what it's like to have eyes in the back of your head. Rawley crept up behind Shorty as he was talking, and right after the eyes line, Shorty turned around and clocked him. SmackDown heads to commercials, and we'll head to the second part of our report. See you there soon.