WWE Survivor Series War Games: Full Card, How to Watch, Live Results
Greetings, comrades! It is I, your El Presidente, here to provide you with a preview of WWE Survivor Series, along with live results from the Premium Live Event when it airs tonight. Chad McMahon was begging to be allowed to recap Survivor Series, comrades, but Survivor Series is branded Survivor Series: War Games this year, and who better to recap that then me? After all, I am involved in War Games of a sort with the American CIA on a regular basis.
Just a few weeks ago, the CIA tried to interfere in my country's presidential election in hopes of ousting me from power. But what they didn't understand, comrades, is that I had already interfered in them. The elections were always a sham, but it was my sham, and the CIA should have respected that. They tried to rig the elections in favor of the pro-American capitalist candidate, but I already rigged it in favor of myself. And who is better at rigging elections than me? Still, I only won with 96% of the people, which shows my numbers are slipping a little bit. Boy, would I love to get the American CIA in a double steel cage. But I digress, comrades. The point is that I am on duty to cover Survivor Series tonight, and both Chad McMahon and the American CIA are total losers! Haw haw haw haw!
WWE Survivor Series: War Games Full Card
Survivor Series: War Games will consist of just five matches, comrades, though two of them are War Games matches and will probably take close to an hour each. In the men's War Games match, The Bloodline — Roman Reigns, The Usos, Sami Zayn, and Solo Sikoa — will take on the team of The Brawling Brutes — Sheamus, Butch, and Ridge Holland — along with Drew McIntyre, and Kevin Owens. In the women's War Games match, Damage CTRL — Bayley, Iyo Sky, and Dakota Kai — will be joined by Rhea Ripley and Nikki Cross to face the team of Bianca Belair, Asuka, Alexa Bliss, Mia Yim, and Becky Lynch. But there are three more matches also taking place at Survivor Series. Ronda Rousey will defend the Smackdown Women's Championship against Shotzi. Seth Rollins will defend the United States Championship in a triple-threat match with Bobby Lashley and Austin Theory. And AJ Styles will take on Finn Balor with The OC and Judgment Day watching from ringside.
How to Watch Survivor Series
WWE Survivor Series: War Games takes place tonight, Saturday, November 26th starting at 8E/5P, comrades. You can stream it on Peacock in the United States or on the WWE Network internationally. In my country, I make sure that Survivor Series airs on every channel, and citizens may be stopped in the street at any time by my secret police and asked questions about it. If they don't know the answer, it's straight into the dungeons! So if you're planning on any world travel, comrades, make sure you at least check back later to see the results, even if you don't watch the show. We wouldn't want there to be any… misunderstandings. Haw haw haw!
Live Results from Survivor Series: War Games
A lot of people ask me, "why do you love pro wrestling so much, your Excellency?" Yes, it's true. Pro wrestling is the ultimate form of capitalism, comrades, because it is a sport in which the workers (the wrestlers) are owned by the state (the promotion) due to ironclad exclusive contracts, and the workers are only given a portion of the profits they generate. The workers are also not allowed to unionize, and they are constantly at risk of injury. In other words, pro wrestling is the perfect capitalist sport, and there is no company on the face of the planet that exemplifies capitalism more than WWE.
And that's why I love it, comrades. It is the same reason that people watch horror movies, even though they are scary. The capitalist principles of pro wrestling are terrifying, but it keeps me on my toes. Plus, if I'm being honest, comrades, I kind of just love the soap-opera storylines, and all of the fit wrestlers grappling in their underwear is a nice touch. It's like when citizens accused of a crime in my country are forced to defend themselves in trial by combat in the gladiatorial arena, except with more muscles and better lighting.
So yes, I am a complicated man, but would you expect anything less from your El Presidente? Below, you will find a section for each of the five matches taking place at Survivor Series tonight. Throughout the night, I will update each section with the results of the match, and I will link to an additional post featuring highlights taken from social media so that I can appears the capitalist clickmongers who run this website. One day, they will be deposed and will die like dogs, and I will reign supreme as the one true leader of Bleeding Cool, but until then, I will play their games, comrades.
Survivor Series War Games: Bianca Belair, Becky Lynch, Asuka, Alexa Bliss, and Mia Yim vs. Damage CTRL, Rhea Ripley, and Nikki Cross
The women's War Games match opened the show, and Bianca Belair and Dakota Kia started the match. Belair gained the upper hand, but then Iyo Sky entered, gaining the advantage. Asuka entered next, evening the odds. But then Nikki Cross came in to give the heels the upper hand again. Are you sensing a pattern, comrades?
Cross added a pile of garbage can lids and kendo sticks into the mix. Alexa Bliss entered next, as Nikki Cross got the first big spot of the match with a dive off the top of the cage onto a crowd. Bayley was next and brought in ladders and a table. Mia Yim was next, followed by Rhea Ripley. And finally, Becky Lynch.
Comrades, as everybody knows, a War Games match doesn't really start until all the competitors are in the cage, so now the chaos could finally begin. I love a good War Games match because the large cage reminds me of the one in my backyard where I like to keep political dissidents locked up when they're caught telling filthy lies about the government. I also love them because of all the big, violent spots. Here are some of the best spots that happened during this match:
Becky Lynch put a trash can over the top of Iyo Sky, laid her across the ropes, and hit a leg drop off the top rope onto the can.
Nikki Cross blocked Bianca Belair from doing one of those big pyramid powerbombs where everyone gets up on the ropes and goes down at once, but that led to Iyo Sky on top of the cage, so she hit a moonsault off the top on Belair and Yim.
Cross tried to handcuff Bliss to the cage, but Bliss handcuffed herself to Nikki instead.
Ripley slammed Yim through a ladder set up in the corner, cracking it in half.
Bianca stacked Sky and Kai on top of a single table and then KODed Bayley into the cage as Becky jumped off the top of the cage through the women on the table.
Lynch pinned Kia after that one to win the match. This match was a great in-ring return for Becky Lynch, and a good showing for Bianca Belair as champion. But how long can they coexist as babyfaces? Long enough for Becky to have a feud with Rhea Ripley, hopefully. Until next match, comrades… socialism or death!
Watch highlights here, comrades.
AJ Styles vs. Finn Balor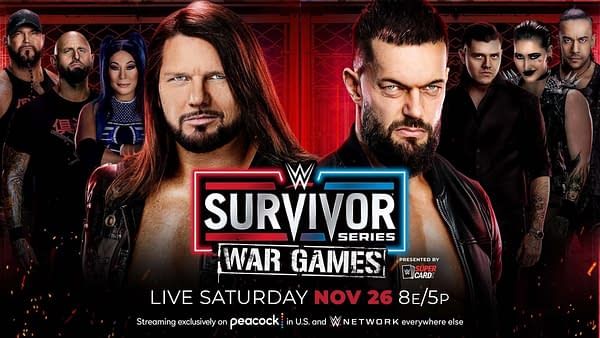 WWE has been playing up Kevin Owens trying to get Sami Zayn to screw the Bloodline. In the locker room, Jey Uso pleaded with Roman Reigns not to trust Sami Zayn, but Reigns told him to mind his own business. Reigns said he'd look Zayn in his eyes man-to-man and he'll know if he's telling the truth. That's exactly how trials are run in my country, comrades.
Finn Balor came out flanked by Damian Priest and Dominik Mysterio. AJ Styles and the Good Brothers came out next. Styles was wearing a gas mask. Is he expecting a chemical weapons attack? I had nothing to do with it! The CIA set me up! Oh, it was just for fashion.
Styles and Balor sparred for a while until Dominik interfered in the match, leading to a brawl between everyone outside. They brawled into the crowd and away from the match, which continued. Balor had the upper hand for this part of the match because Styles was paying attention the brawl outside the ring. Until Balor tried to use the Styles Clash on Styles, leading to a comeback.
After some back and forth, Styles got the Calf Crusher on Balor, who escaped. But a Phenomenal Forearm did the trick. It was a solid match, but never got to the next level. Until next match, comrades: socialism or death!
Watch highlights here, comrades.
WWE Smackdown Women's Championship: Ronda Rousey (c) vs. Shotzi
WWE Hall-of-Famer Ozzy Osborne promoted his new album, Patient #9. Then Shotzi came out. I'm glad they gave her back her tank, comrades. I drive one myself. Couldn't Triple H have gotten her last name back too? Ronda Rousey came out with Shayna Baszler, but Shotzi was alone. Two women vs. one. A woman with two name vs. a woman with one. That is not equitable, comrades! I demand that one of Ronda Rousey's names be taken from her and redistributed to Shotzi.
Ronda didn't really take Shotzi Rousey seriously at the beginning of the match, putting her in ankle lock and mocking her. Shotzi made her pay for it for a bit, but ended up back in the ankle lock again, and then an arm bar, all the while with Ronda making fun of her. Shotzi paid her back with a very ugly DDT on the apron, taking the fight outside, where she hit a crossbody onto Ronda and Shayna into a row of indie wrestlers pretending to be fans in the front row at ringside.
Back inside, Ronda hit Piper's Pit and then ther armbar to make Shotzi tap out. The match wasn't long and it wasn't pretty, and Ronda got no comeuppance for her attitude, but it was nice to see Shotzi get a high-profile title match. Until next match, comrades… socialism or death!
Watch highlights here, comrades.
United States Championship Match: Seth Rollins (c) vs. Bobby Lashley vs. Austin Theory
Sami Zayn arrived in Roman's dressing room. Roman grilled him about talking to Kevin Owens and asked him to state his loyalty. Sami said he's with Roman and expressed gratitude for being allowed in the Bloodline. That's exactly what someone planning to betray their leader would say! If it were me, comrades, I would have Sami executed, but Roman gave him a hug instead. The execution could still happen though. A good leader never rules it out. Haw haw haw haw!
Just one more filler match before the other War Games match, Bobby Lashley, Austin Theory, and Seth Rollins came out. Bobby Lashley was in rare form for this match. At one point, he picked up Austin Theory and used his body as a weapon to hit Seth Rollins with. Theory got some revenge when he attacked both men with the steel steps. In another interesting spot, Theory put a sleeper on Lashley while Lashley put the Hurt Lock on Rollins.
Rollins hit a pedigree, but Lashley kicked out. Rollins missed a flippy move off the ropes, and Theory tossed him from the ring and tried to finish Lashley, but got put in the Hurt Lock. He tried to pin his way out of it, but Rollins hit a frogsplash. Lashley put both men in the hurt lock at the same time. Rollins hit a stomp on Lashley after jumping off Theory's back. Lashley speared Rollins in the middle of his superplex/falcon arrow combo, and Theory pinned Rollins to win the belt.
It looks like reports of Austin Theory's career's demise have been greatly exaggerated, comrades. Until next match: socialism or death!
Survivor Series War Games: The Bloodline vs. The Brawling Brutes, Drew McIntyre, and Kevin Owens
After much ceremony for the Bloodline's entrance, Butch and Jey Uso started the War Games match while the commentary team obsessed over Sami Zayn's loyalty. Ridge Holland joined the match next, and the beatdown of Jey Uso was on. Uso must have thought he got really, really drunk last night to have woken up a babyface. When the Bloodline's turn was up next, Jimmy Uso wanted to enter, but Roman sent Sami instead. Sami did help Jey, but Jey wasn't grateful.
Zayn and Uso managed to take out the brawling boobs, but Drew McIntyre joined the cage and beat them both up by himself. Jimmy Uso was out next to make the save and bring some tables in the cage, but Jey and Sami continued to argue as the Bloodline dominated. Kevin Owens was out next chairs and chair shots for everyone. Solo Sikoa was out next to take out Owens and McIntyre.
Sheamus came out as the last member of the Brawling Brutes, and Sami Zayn tried unsuccessfully to block the door. Sheamus cleaned house, including carrying Sikoa to the second rope to give him a White Noise, until finally Roman Reigns came out and the War Games could officially begin. Stiff brawling ensued until Jey Uso "accidentally" superkicked Sami Zayn. As the crowd chanted "asshole," Ridge Holland was late breaking up a pin, but ate a spear from Roman through a table.
Solo Sikoa hit a Rock Bottom on Drew McIntyre through a table. Kevin Owens hit a stunner on Sikoa and came face-to-face with Roman Reigns. Reigns hit a Superman Punch but missed a spear and received a Popup Powerbomb and a Stone Cold Stunner, but Sami Zayne tackled the referee as the crowd chanted Sami Uso. Owens blocked a superkick from Jey Uso, but Sami punched Owens in the nuts. The commentary team were outraged by this as if the two of them haven't been complete bastards to each other in feuds for decades. Sami hit Owens with the Helluva Kick and laid him in the middle of the ring for a frogsplash by Jey Uso, who got the pin.
Sami Zayn got a hug from Roman Reigns after the match, and then an even bigger hug from Jey Uso. Michael Cole accused him of selling his soul. But Sami Zayn's status as a member of the Bloodline is more solid than ever. Is it setting up Zayn to eventually take the title from Roman Reigns like some people are crazy enough to believe? Haw haw haw haw!
Not only was this a watchable Survivor Series with a decent main event, but by ditching the brand vs. brand concept and using the War Games format, Survivor Series got a much-needed shakeup. Another success for the Triple H era! Until next time, comrades: socialism or death!