WWE The Horror Show at Extreme Rules: MVP vs Apollo Crews Letdown
WWE started off The Horror Show at Extreme Rules with a nail-biting match between The New Day vs. Shinsuke Nakamura and Cesaro, with the latter proving victorious after Cesaro power bombed Kofi Kingston through not one, but two tables. This was followed by the long-awaited throw down between Nikki Cross and Bayley, where the WWE's champion retained her title after expected help from Sasha Banks outside the ring. Although the crowd was sparse due to COVID concerns, their presence brought the much-needed audience interaction that was missing from previous pay-per-views such as Money in the Bank.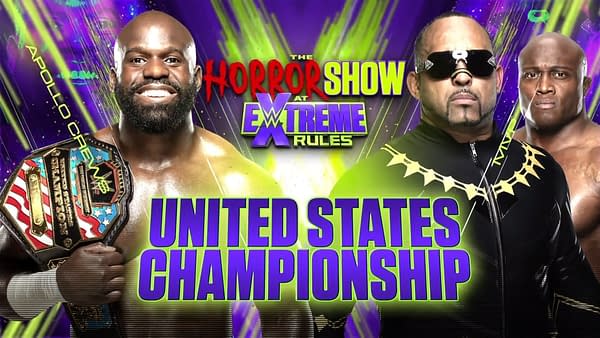 The momentum of the matches inside the ring was quickly disrupted by an interlude of Bray Wyatt's "Firefly Fun House." Tapping into The Horror Show theme, Wyatt (cosplaying as a cross between Doctor Frankenstein and Dracula) alluded to his hand in the creation of Braun Strowman.
This was followed by the news that Apollo Crews had not passed his physical exam due to an injury inflicted by Bobby Lashley, which unfortunately halted his built opposition against MVP. Alluding to the forfeit, MVP put the United States championship belt on to a hollow echo of disappointed jeering from the crowd. Hope that someone's music would pop and end this fresh hell was slashed as MVP and Lashley sauntered out of the arena, meaning that Crews' injury was likely a last-minute inability to physically participate in the match. This resulted in an obvious lull in the action of the night, as it was sandwiched between the long-awaited Eye for an Eye match between Rey Mysterio and Seth Rollins. Here is hoping that Apollo Crews is given a chance in the future to regain this title and we aren't subjected to another long-winded run of MVP inflating his already boisterous ego.
In comparison to the much-awaited Swamp Fight, this part of the show was a considerable letdown and left MVP and Lashley once again looking like an afterthought in the eyes of the WWE. We look forward to further interaction between Crews and MVP in the future, but it may be unlikely considering WWE didn't bother in even attempting an alternative wrestler to salvage the match.