Wynonna Earp, Xena, Vagrant Queen Join SYFY & GLAAD's Pride Month
This June brings National Pride Month, so to celebrate SYFY (along with USA Network) is partnering with the leading non-profit LGBTQ+ advocacy organization GLAAD, for a month-long celebration of representation. Starting next week, viewers will be treated to Pride-themed marathons of series Wynonna Earp, Xena: Warrior Princess, and Vagrant Queen; SYFY FANGRRLS podcasts, specials, and editorials; custom short-form videos, fan testimonials, public service announcements, and more. GLAAD will support the initiative via their social handles, across digital platforms and with PSAs featuring resource and donation links. SYFY and GLAAD are also developing a schedule of virtual talent-driven events and social initiatives that will be announced soon.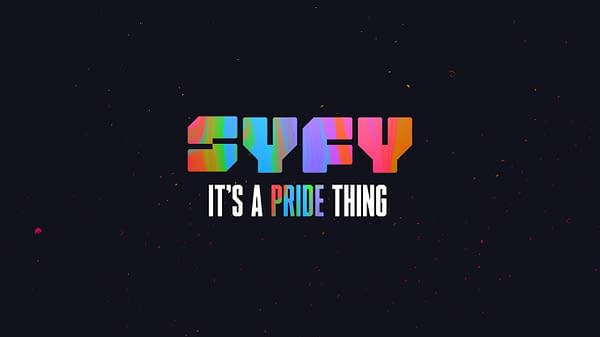 "SYFY and USA each have long histories of sharing LGBTQ stories that entertain, enlighten, and inspire and this Pride month will bring empowering content and series to fans all over. During a Pride month when many LGBTQ community members will not be able to gather in-person, LGBTQ visibility matters more than ever and SYFY and USA's content will help to ensure the spirit of Pride still shines bright."

– Rich Ferraro, CCO, GLAAD
Here's a look at just some of the highlights, and make sure to check out SYFY's main website for additional as well as updated information :
Wynonna Earp "#WayHaught Wednesdays" Marathons (Wed., 6/3 from 6-9 am, Wed., 6/10 from 6:30-9:30 am, Wed., 6/17 from 6:30-9:30 am, Wed., 6/24 from 6-10 am on SYFY): Marathons of SYFY's cult-favorite series Wynonna Earp featuring episodes from Seasons 1 and 2 centered on the show's beloved couple Waverly Earp (Dominique Provost-Chalkley) and Nicole Haught (Katherine Barrell); will include all-new custom content highlighting the passionate "Earpers" fanbase discussing how the show has impacted their lives
Xena: Warrior Princess Pride Marathons (Thurs., 6/4 from 6:30-11:30 am, Thurs., 6/11 from 6 am-12 pm, Thurs., 6/18 from 6:30 am-12:30 pm, Thurs., 6/25 from 6:30-11:30 am on SYFY): Marathons of the legendary adventure series Xena: Warrior Princess, which has become an iconic show among the LGBTQ+ community; will include all-new custom content featuring stars Lucy Lawless and Renee O'Connor discussing representation as well as spotlighting fans who have been influenced by the series
Vagrant Queen Season Finale (Thursday, 6/4 at 11/10c on SYFY): Based on the comic book series from Vault Comics, Vagrant Queen was created by an all-female team of writers and directors, and will air its Season 1 finale during National Pride Month.
In addition, SYFY FANGRRLS's website will serve as a one-stop-shopping hub for Pride-centric programming and events all month long. Some of the many options to consider include the Strong Female Characters: Uncoded podcast, where LGBTQ+ creators and fans discuss which genre characters and storylines impacted them most as a queer person. In addition, be on the lookout for Get Rec'd; Grrl Talk; Reboot, Remake it Gay You Cowards, Ruin; Frak, Marry, Kill; a look back at the groundbreaking Gay Comix anthology, which is one of the most notable underground gay comic anthology series; and Pride-ography, consisting of mini biographical pieces celebrating the original LGBTQ+ creators in comics that helped pave the way for creators, stories, and characters within their community from the underground scene into the mainstream.