Join Us Tonight- We're Gonna Live Tweet X-Files Season 11 Episode 2
After last week's highly disappointing premiere of FOX favorite series The X-Files, we're REALLY hoping tonight's second episode is better. It really should be, as it's penned by long-time X-Files writer Glen Morgan.
Morgan is behind several classic episodes of the series along with his writing partner James Wong. Glen's brother Darin Morgan also wrote for the series as well as directed an episode, from season 10, "Mulder And Scully Meet The Were-Monster".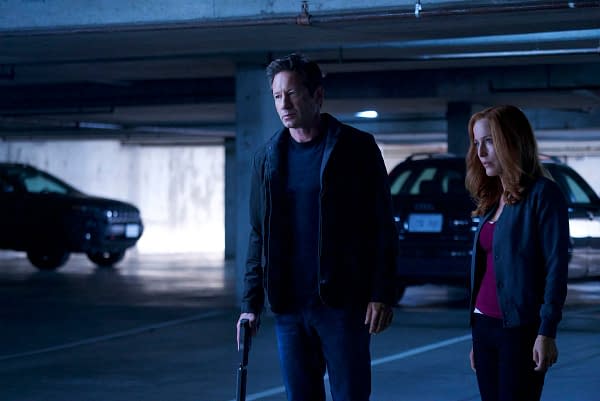 Tonight's episode titled "Thing" looks to be pretty interesting- with the possible return of a previously offed fan-favorite character played by Dean Haglund, Langley. You may recall that Langley was one of the three Lone Gunmen, long standing characters in the X-mythos who even had their own spinoff series, The Lone Gunmen.

Judging by this synopsis from TVLine- it sounds like tonight's episode may tie into another classic episode, "Killswitch Engage". Yes, that *is* the name of a hard rock band, GUESS where they got it from? (There's also Eve 6 the band, after all.) "Killswitch" centered around a group of computer programmers who were experimenting with sentient AI being 'let loose' on the internet, and eventually being able to download human consciousness onto the net as well. And tonight's episode, TVLine says, will feature dead character Langley appearing to Mulder and Scully via cell phones.
Color me interested.
Join us for our live tweet of the episode starting at 8pm PST on our official Bleeding Cool tv twitter account, BleedingCoolTV.