Posted in: American Gods, BC Network, Recent Updates, Starz, Trailer, TV | Tagged: american gods, bleeding cool, books, bryan fuller, cable, Fremantle, ian mcshane, Jesse Alexander, michael green, neil gaiman, novels, orlando jones, ricky whittle, season 2, starz, streaming, television, tv
---
American Gods Showrunner Jesse Alexander Asked to Stop Working on Season 2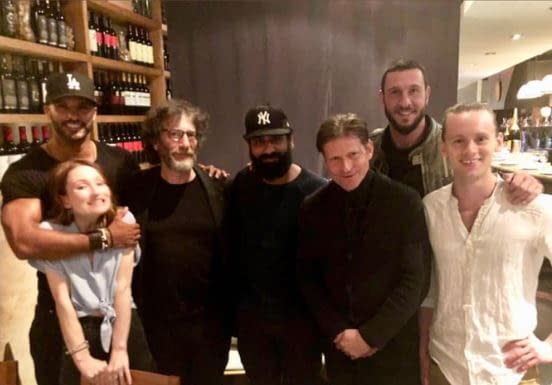 Production on the second season of Starz's American Gods has found itself mired in controversy once again, with showrunner/writer Jesse Alexander reportedly being asked a month ago to stop working on the series adaptation of author/executive producer Neil Gaiman's famed novel. According to exclusive reporting from The Hollywood Reporter based on numerous sources, while the word "fired" has not been used by Starz, Fremantle, or Alexander's representatives, he has effectively been "fired but not fired": not replaced, but removed from every aspect of production.
"We are all working very hard to make American Gods the series that its fans want and deserve." – Jesse Alexander
Sources in the THR report also make the following claims:
● Alexander had submitted multiple drafts of the second season finale, but executives at both Starz and Fremantle rejected the reportedly first six drafts, with a seventh draft in consideration. The script delays and other issues have caused production to be six weeks behind schedule, with the cast not receiving a season finale script because "there is no script." Members of the crew who've received portions of the script are hesitant to move forward – fearing extensive changes still to come – so time has been spent filming pickups and reshoots of earlier episodes.
● Sources say that the departure of American Gods executive producer and Fremantle executive Stefanie Berk was a factor in the cooling relationship between Starz and Fremantle. Having brought the series to the cable network after plans with HBO fell through, Burke was viewed as the one responsible for keeping the peace within and around the series.
● Sources also reported that Fremantle – who has an overall deal with the author – gave Gaiman a strong level of creative control during second season production. Gaiman co-wrote the second-season premiere and offered guidance in creative decisions and directions, but has not been a regular physical presence around the production offices or set due to other responsibilities (Good Omens).
"American Gods has a deep and complex mythology and a unique visual style that makes this series one of the most ambitious productions on television, and one that we remain committed to delivering for our audience. We are confident that when the fans get their first look at season two in just a few weeks at New York Comic-Con, they will agree it was worth the wait." – Starz
● Alexander was the day-to-day showrunner, with sources agreeing that he appeared to have Gaiman's approval – though they also state that several other candidates turned down the job before Alexander was approached. The new showrunner's vision for the series didn't seem to work for several members of the cast, as well as creative and executives looking for more of a consistant vision with the previous season.
● Alexander was seen as a good choice for both Fremantle and Gaiman, with his vision for the series being seen as being more in line with the novel. Insiders say that Alexander was also seen as someone the studio could have a stronger level of influence over than they could with Bryan Fuller and Michael Green.
● If Gaiman was involved in or was notified of the decision to remove Alexander is still unclear, though sources in the report doubt Fremantle would have made such an important move without at least his knowledge if not his blessing.
● Reportedly, script problems began at the first table read and only got worse: season two scripts were being rewritten on the set in what was viewed as attempt to maintain the show's vision. American Gods star Orlando Jones (Mr. Nancy) was formally brought on board as a writer after Ian McShane (Mr. Wednesday) and several other actors stopped working on their dialogue and to keep from having actors violate Writers Guild of America (WGA) union rules.
● As Alexander and McShane engaged in "screaming matches," writers were reportedly coming to set with hand-written notebook page script rewrites to work from.
● While Fremantle and Gaiman may have supported Alexander's move back towards the source material, Starz was said to be less than impressed with what they viewed was the showrunner's "conventional direction" and were expecting something more in tune with Fuller and Green's vibe.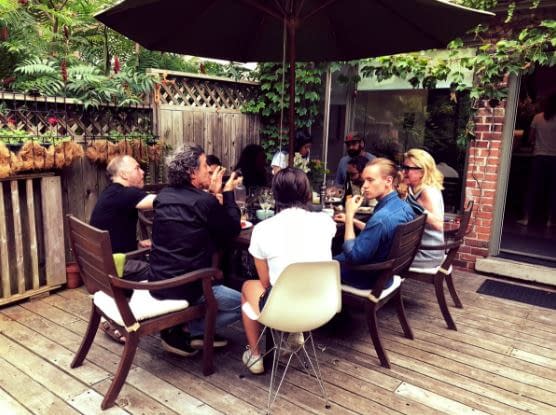 "We stand by our network partner's statement and share in their confidence that season two will exceed expectations. Our cast and crew are extremely passionate about the show and have delivered something that remains loyal to the source material and true to the creative vision of Neil Gaiman. We think fans will feel the same when we share a first look at New York Comic-Con in a few weeks." – Fremantle
● After the departure of a writer who was promoted to the vacant showrunner position, producing director Chris Byrne and line producer Lisa Kussner are temporarily heading prodcution.
● Even with a hiatus called to get production under control, reshoots have been ongoing as network executives are described as being unhappy with a number of season 2 episodes, describing them as looking "cheap." The season's third and fourth episodes were noted as being particularly problematic and requiring major retooling.
● While Fuller and Green's departure after the first season was said to have been fueled by serious budget disagreements, it appears the second season budget has outpaced it – except this time, according to one source, in an effort to fix what was already filmed: "Now they're spending to spice up what was flat on the page."
---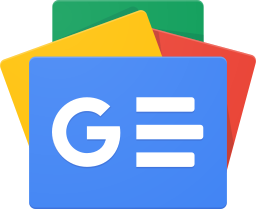 Stay up-to-date and support the site by following Bleeding Cool on Google News today!