Better Call Saul Season 4: Bob Odenkirk on HUGE Breaking Bad Flash-Forward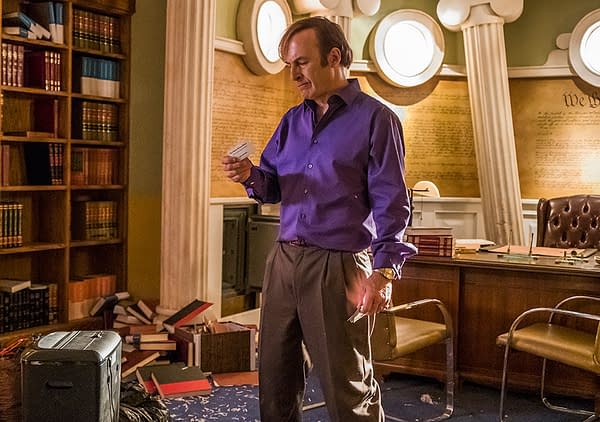 Are you feeling a little better now, Breaking Bad fans?
Better Call Saul co-creators Vince Gilligan and Peter Gould made it known during the lead-up to the show's fourth season return to AMC that not only would we be seeing Bob Odenkirk's metamorphosis from Jimmy McGill to Saul Goodman, but also that the two Breaking Bad-based universes were going to start merging a lot more. Guess it's safe to say that the opening to the season's fifth episode 'Quite a Ride' proved them right in a righteously big way, with a flash-forward not to the life of in-hiding Gene but to the last, desperate days of Saul Goodman.
In a scene that places somewhere between 'Ozymandias' and 'Granite State' on the Breaking Bad timeline, we get Odenkirk back to pure Goodman greatness: grabbing as much cash and as many personal belongings as he can (check out some of the Easter eggs you missed below) while assistant Francesca (Tina Parker) shreds, shreds, shreds! And with one phone call to the mysterious "Cleaner", Goodman arranges a pick-up that will lead to a final (???) meeting with Walter White (Bryan Cranston) — and a one-way ticket to Nebraska:
Odenkirk spoke with Entertainment Weekly about what it was like to go back to that time period in Jimmy's life, and what fans can expect moving forward:
● On his initial reaction to learning when the opening scene of the episode was taking place:
"I was thrilled. Part of me — it really comes from comedy — just really wants to make the audience happy. I was satisfied and pleased at the notion of playing Saul and being back in the office and giving everybody a moment of that character that they love so much and was so entertaining to people. To go there for a few minutes and be that guy and give them that flavor made me really, really happy. Plus, it's fun to play him. The truth is it's easier to play Saul than Jimmy. It's not as rewarding. Jimmy is a rich character with so many angles — there's so much complexity to the guy that it's a more rewarding character. But Saul is kind of pure fun."
● On what it was like getting back into that version of Jimmy again:
"For sure. Because Saul is pretty much a schemer and he doesn't have the self-reflection, he's shut off part of his brain that has self-awareness and thinks about the repercussions and his hopes and dreams. He's dashed all those and hidden them away and he just looks to the easiest, quickest fix or profit that he can see. He's simple to play, relative to Jimmy. And it's a lot of fun. I don't think a show where you're just Saul all the time would be great fun to do. Because he's burned a lot of himself down. Chuck [Michael McKean] burned his whole self down, and Jimmy is burning big parts of his psyche down."
● The next flash-forward won't be heading back to this time period, though: "I believe we'll be skipping around the next time we revisit this era."
● While he doesn't have any information on that shady moment when Francesca was asked to be somewhere and do something on November 12th at 3 p.m. ("I can't give you a hint because I don't have any idea"), Odenkirk confirmed that it will be revisited this season.
● On how the flash-forwards on Better Call Saul open up more and more Breaking Bad crossovers:
"Absolutely. I think it's a wonderful thing. The fans of Saul at this point, they're down for this journey, and they're not just Breaking Bad fans who are waiting for Breaking Bad to return. At this point, we're in season 4, we're into so many stories, and the tone is different in a way, although it is maybe getting closer to the Breaking Bad kind of vibe, with more menace in the world and more violence. But it's just really nice to just go there and just give them Saul. Stop feeling like, "Are we going to see him?" But just go there and get to see him."
Better Call Saul s04e06 'Pinata': While Jimmy daydreams about reconstituting Wexler-McGill, Kim sets out to secure her own future; Mike puts a plan into motion for Gus.