Arrow Season 6, Episode 15 Recap: Doppelganger
This article contains spoilers for the Arrow season six episode – Doppelganger.
.
.
.
.
.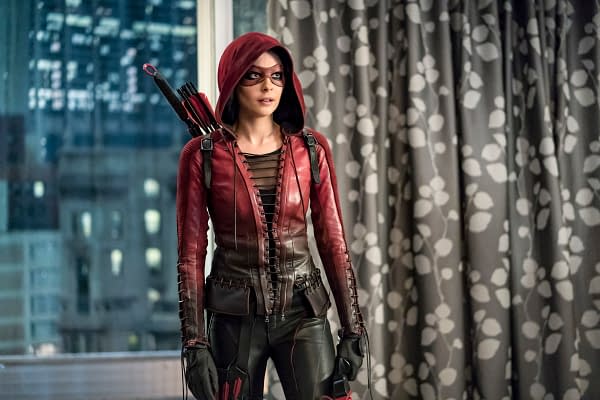 This episode picks up the day after the fight between Team Arrows and Laurel Lance (Katie Cassidy) claiming to be the one for Earth-1. Oliver (Stephen Amell) as his day start with good news when he finds out that his lawyer can get the case against him thrown out because the testimony from Rene (Rick Gonzalez) was coerced by the information given to the FBI by Cayden James (Michael Emerson) who has proven to be a criminal and makes Rene's testimony inadmissible. He also finds out about Laurel's impersonation stunt and rushes to the police headquarters to see her giving a press conference. She even hugs Oliver and Quentin (Paul Blackthorne) when she sees them. They pull her into another room with Thea (Willa Holland) and she tells them that the money is gone and she's going to pose as Laurel unless they want her to go tell the press who Green Arrow is. Dinah (Juliana Harkavy) gets assigned to the case as she's still furious about Vince's death. Meanwhile Curtis (Echo Kellum) has to go tell Rene's daughter about her father being hurt.
In the judges office where they try to get the case thrown out, the D.A. takes Rene off the witness list and adds Roy Harper (Colton Haynes), this keeps the case open. Felicity (Emily Bett Rickards) find where they're keeping Roy. Oliver and Diggle (David Ramsey) go to recon the site. Dig asks Oliver about giving him back the hood, but Oliver changes the topic. They see an opening in the security and Speedy ends up going in through the air vent. Roy is being beaten badly, but she has to wait to he's alone. She jumps down, cuts him loose and kisses him. Then finds out that had been living in St. Roch when the Star City police came to get him and the knew everything. She tries to get him out of there, but he's too hurt and a SWAT team is approaching. Speedy is ready to fight them all, but Green Arrow fires a bola arrow with a line and pulls Speedy to safety, so they only find Roy in the room.
Thea is pissed, but Oliver saved her life. Felicity discovers that Ricardo Diaz (Kirk Acevedo) and that a large number of cops are on the take. Oliver ask Dinah and Quentin to work together to figure out the crooked cops. Diaz has also taken Laurel from her hospital room and has the money from James, now he wants her to work with him. They figure out when the police are going to transfer Roy and strike, only to find the truck empty, a decoy as they really took him to Diaz. Some how he knew about Speedy suiting up and tries to use it again Roy to get him to testify against Oliver. Laurel shows up at Quentin's apartment, telling them where Diaz is and that he has Roy. The team moves in and is able to free Roy. Anatoly (David Nykl) gets picked up by the cops and Diaz gets away.
Back at the bunker, Felicity asks about giving Diggle back the hood, but seeing Roy has made Oliver realized that when someone else wears the suit they're taking on his danger and his responsibilities and it isn't' far to ask them to do that. Oliver then goes to thank Laurel for the information and agrees to give her a chance to be better. She then gets a text from Diaz telling her "good job". Thea takes Roy back to her loft and they start to make up for lost time. We then pan back and realize that a woman from the League of Assassins is watching from the opposite building. The she calls in to her leader and says she has located the hear of Ra's al Ghul.
It was cool seeing Thea in costume again and to see Roy back. The Laurel story is twisting all over the place and I just feel sorry for Quentin as I can't see this ending well. Diaz, like James, seems to be way ahead of Team Arrow and you have to wonder why he'd let them take Roy back. Did he break or turn Roy? And there was a tiny door open to try and patch things between the two teams and Oliver slammed it shut by not taking Dinah with them to save Roy. And what else does he want from Laurel. And while we're at it, was the police captain's idea of selling off the confiscated property good or something else Diaz will use against Oliver? So many question.
Next week we get an episode called The Thanatos Guild which features the return of Nyssa al Ghul (Katrina Law) who comes to Star City to warn Thea that a group of renegade League of Assassin members are after her because she is the daughter of Malcolm Merlyn. Looks like Speedy will be hanging on to her suit for a while longer and in the clip we see Arsenal wearing a ball cap, the same way he does in some of the comics.
https://youtu.be/l510k4sINbE