This article contains spoilers for the Black Lightning season one episode 'Black Jesus'.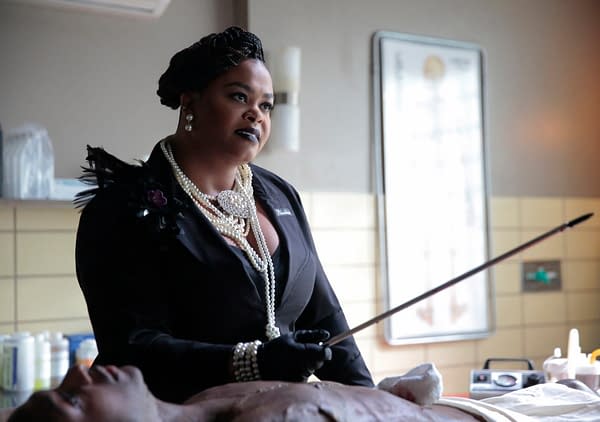 This episode bounced around a lot and started putting pieces into place more than telling a single story. I'm going to recap this one by person rather than in linear progression. It will be easier to follow and less jumping around like the show did.
Starting off, Jefferson (Cress Williams) arrives at school to find a kid freaking out on a new kind of drug called Green Light. The kid has increased strength and Jefferson has to blast him twice to put him down. He takes the drugs to Gambi (James Remar), who learns that the pills are extremely addictive on just one use.
Black Lightning hits the streets and gets a name, 2-Bits, a guy Jefferson new back in high school. He tries to approach 2-Bits (Jason Louder) as a friend, but gets nowhere, so Black Lightning goes back and threatens the guy. 2-Bit pleads for a chance, to not be given to the cops for his third strike, which would put him away for 30 years. BL tells him to stop dealing and go clean or he'll come back. 2-Bits is grateful and wants to take a selfie with BL… Jefferson knocks the guy out.
While at school, Jefferson is having to fight with the board to allow the student who attacked him to stay in class. He has to give up his final say in disciplinary actions for them to agree. The kid then goes looking to score again — his dad tries to get him out and gets beaten badly. BL goes in and gets the kid, puts him in rehab. He and Gambi track the Green Light to a warehouse thanks to 2-Bits information. But before he can follow the trucks, a sound like an explosion happens in the distance and he goes to find a bunch of guys taken down. Gambi sees what happened on the security cam recordings, but tells Jefferson he sees nothing, and whoever did it is long gone.
Anissa (Nafessa Williams) sees some of her students talking to some pushers and chases them off. She later goes back and beats the crap out of the pushers, almost doing too much damage. She wants to talk to her family about it over dinner that includes Inspector Henderson (Damon Gupton), but it doesn't quite come out. She praises Black Lightning, which Jefferson seems to enjoy, but she ends up leaving and going to talk to Grace (Chantal Thuy). They get jumped because of where Grace works and Anissa cuts loose, using her powers and causing loud noises like explosions (the ones Black Lightning hears). She beats the crap out of the guys and takes Grace inside. Gambi ends up coming to the scene and checking it out… he seems to be putting the pieces together.
Jennifer (China Ann McClain) is trying to help Khalil (Jordan Calloway) with his rehab. She ends up quitting the track team so she can help him more, telling her parents she only joined because that is what Jefferson wanted. They find out that Khalil's spine is severed and he'll never walk again.
Tobias Whale (Marvin 'Krondon' Jones III) meets with Lady Eve (Jill Scott) again as she does her mortician stuff on what appears to be a living body. She explains to Tobias that the others in the 100 gave him his position because of his reputation as being the guy who killed Black Lightning. But since BL is still alive, it's like Tobias lied on his resume. He has to save face by killing Black Lightning finally. He calls in his sister, who gives him the idea of turning Freeland against Black Lightning by convincing Khalil that his injuries are Black Lightning's fault.
The episode sets up that there is much more organized group running Green Light… maybe military. Tobias is going to use Khalil as a pawn. Gambi seems to have no problem lying to Black Lightning, but for what purpose? Mrs. Fowdy (Skye P. Marshall) is the vice principal… I could've sworn she was a senator in the pilot. Is Inspector Henderson going to get a first name? And nothing says, "I didn't rat out the 100," more than getting a selfie with Black Lightning. And is there anything more creepy than a bad guy mortician?
The trailer for next week shows us that Anissa is getting closer and closer to suiting up, and the fact that Gambi is on her trail now might mean that he becomes her confidant as well as Jefferson's — even if they don't know about each other. Kind of the same way that Alfred knew about Batman and Batgirl in the old 1966 television series. And it looks like Jennifer may be starting to tap into her own powers already.
https://youtu.be/Rk4P9uOvWoo
Enjoyed this article? Share it!