Black Lightning Season 1, Episode 13 Recap: Shadow of Death
This article contains spoilers for the Black Lightning season 1 finale, 'Shadow of Death: The Book of War'.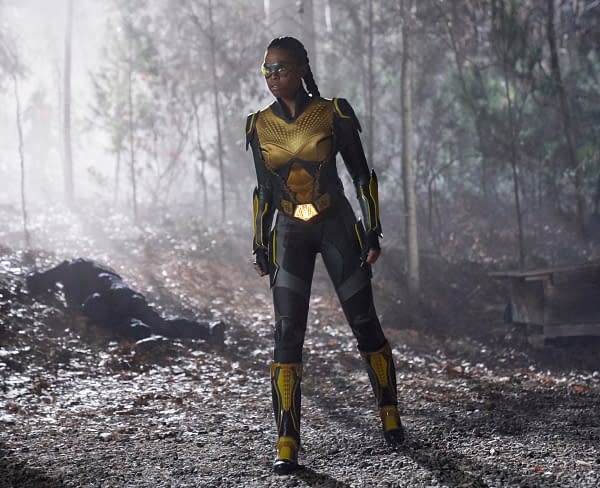 The season finale of Black Lightning is simple, straightforward, and shows us why this series is so damn good.
Gambi (James Remar) has taken the injured Jefferson (Cress Williams) and the rest of the pierce family to a cabin in norther Freeland to protect them. Jefferson is unconscious and having flashes to when he was a kid, seeing Gambi talking to Alvin Pierce (Keith Arthur Bolden) and finding out that Alvin had gone much further in his investigation than Gambi had wanted. That Alvin brought down Whale with a story on corruption. This is what led to him being killed, not what Gambi had given him.
Meanwhile, Lynn (Christine Adams) is watching over Jefferson while Gambi tries to keep Anissa (Nafessa Williams) from trying to take the fight to the ASA. Martin Proctor (Gregg Henry) is furious, needing to find Black Lightning in the next 10 hours or lose all but four of their test subjects. He also knows Tobias (Marvin 'Krondon' Jones III) has turned on them and wants him brought in. Turns out Tobias isn't that upset with Khalil (Jordan Calloway) for killing Black Lightning and orders him and Syonide (Charlbi Dean) to find Proctor, as he thinks it's time to kill the guy.
We find out that Tobias uses a drug to keep him from aging and to increase his strength, that Syonide has body armor under her skin, and that Khalil, now called Painkiller, has a liquid metal implant that allows him to walk. He also creates a paralytic toxin that he can transfer using darts.
Jefferson comes close to dying and in doing so gets to "see" his father and talk about what happened. His father tells him he is proud of the man he's become and that he needs to go back and handle his business. He regains consciousness but discovers that his powers are gone. Lynn equates it to being like a battery — that at some point it can just no longer hold a charge. The ASA figures out where Gambi took the Pierces and sends a tactical team to take them out. Tobias brings in Lala to use as a trojan horse. He then allows Lala to get captured by the ASA — except he is loaded with explosives and goes off, taking out a few agents, but not Proctor.
Gambi sees the assault teams coming in and has a plan. He will confront the soldiers while Thunder creates a path for her family to get to a tunnel and to safety. Gambi is willing to sacrifice himself to save the Pierce family. Jefferson alters the plan, having the suit on — it's bulletproof even without his powers. He will distract the guards while Gambi gets his family out. Jennifer freaks out about the idea of losing her father and triggers her powers. She hugs him, and in doing so, supercharges him, restarting his abilities. With Black Lightning back, the strategy changes. He and Thunder go out and confront the soldiers. Open warfare begins and the police are called. Henderson (Damon Gupton) pulls together his cops and heads that way.
The soldiers were prepared for Thunder, but thought Black Lightning was dead. They put up a good fight, but not good enough. Gambi and Christine take a few out themselves and Jennifer starts using her abilities as an offensive weapon to save her mom. They are able to take out the soldiers as the cops arrive.
Proctor calls for a retreat just as Tobias and his crew attack the ASA. They easily take out the agents. Proctor escapes at the last minute, minus a brief case he needs. He goes to the facility with the test subjects, only to be confronted by the Pierce family. He tells them he can save the test subjects with a bit of DNA from Black Lightning, or they could kill him and have the United States government after them. Gambi has checked and found out that Proctor was off the books on this and hurting people. He kills Proctor and disposes of the body while the others take care of the test subjects. We don't know exactly what they did with them.
Proctor is dead and no one in the ASA should know that Jefferson is Black Lightning, which means the Pierce family can go back home and start life again. Except Fowdy is still at the school and working for the ASA. Lala should be dead this time, but you never know. Tobias seems to have come out of all this well, getting the briefcase that Proctor wanted and getting his thumbs from the coroner, so he can open it. We don't see what's in the briefcase, but it makes Tobias very happy. And we end with Jefferson, Lynn, Anissa, and Jennifer all together and happy on the front porch of their home.
The Verdict
Black Lightning is brilliant. Anyone who thinks that there are too many superhero shoes on television really needs to sit down and watch, as this is something unique and extremely well done. First and foremost, this is a series about a family and a community. It's about standing up for the people you care about and for those who need it. It's a show that both transcends its genre and triumphs within it. The series is a mix of exciting action and an exploration of social issues in a way that comics have been doing for years. I am already looking forward to the second season.