This article contains spoilers for the Marvel's Cloak & Dagger season one episode – Stained Glass
.
.
.
.
.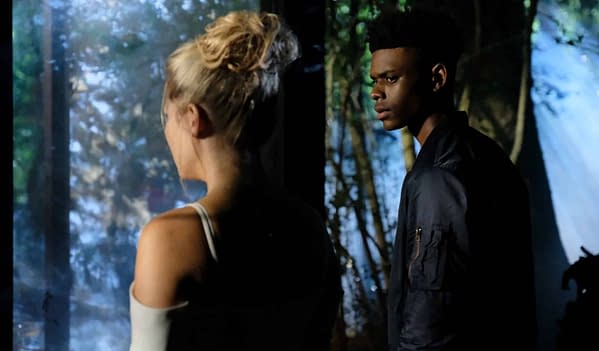 I really enjoyed the first two episodes of Cloak & Dagger and was looking forward to this episode… which was kind of flat. Where the first two were a bit frantic in cutting back and forth between the stories, keeping things moving and giving us a lot of set up for the series, this episode was a massive slow down and spent more than half of the episode inside of visions. But we'll get to that. The episode picks up immediately from last week with the aftermath of the car crash. Tandy (Olivia Holt) has been thrown from the car. Tyrone (Aubrey Joseph) goes to check on her and she fears him because he has a gun and just shot at her. She realizes its the same guy from the cemetery and the beach, but she gets in the car, is able to start it up and drives off as the cops come. We follow her as she goes back to her mom's trailer to get cleaned up. Her mom (Andrea Roth) confronts her about coming home after their falling out but stops when Detective O'Reilly (Emma Lahana) knocks on the door. She's looking for Tandy and wants to help, but her mom sends the detective off and Tandy is gone by the time she gets back to the bathroom. Tandy hops a bus to get out of town and drops into a vision where she sees a young Tyrone playing basketball with his brother, who gives him a check. When Billy's friend come to get him, he decides to stay with Tyrone. There's a jump to later with Tyrone an adult in a white suit. He walks to a table where he has multiple weapons to choose from, he selects a gun and then shoots Connors (J.D. Evermore), then he is swarmed by riot police. Then it replays with him selecting a noose and it happens again, Finally, Tandy tries to tell Tyrone that he must "Try something else" and puts one of her light daggers on the table. When he goes to pick it up, they become handcuffs and he survives. She then see the young version of him in a room full of checks and finds her way into a room with a stained glass window where she goes to touch with her light emanating… and the vision ends and she's on the bus still.
We jump back to the accident and follow Tyrone this time, who hides from the cops when Tandy dries off. He goes home and then to church the next morning where he prays and talks to his brother, asking when this curse might end. Evita (Noëlle Renée Bercy) over hears him and asks if he really thinks he's cursed then says she knows someone who might help. He meets her later as she is doing a tourist voodoo walk of New Orleans, the family business, and gets him to ask for a wish from Marie Laveaux, a famous voodoo practitioner. She then takes him to her Auntie Clarisse who reads him the tells him to take a bath with certain items in the water. He gets this things and Evita helps him take the bath and he slips into a vision where he sees young Tandy dancing by the Roxxon sign and nearly getting electrocuted. He tries to save her and ends up in a wooded area where he finds Tandy starring into a glass box that has a board room inside. Her father is seat belted to a chair and the rest of the board are forcing water down his throat. She keeps trying to run away but getting hurt. After watching it multiple times, Tyrone stops her with his darkness and tells her she must "Try something else". This jumps to a scene in a church where he sees young Tandy handing out pills like there communion wafers to a series of men from her life and each falls over after taking the pill. He's then drawn to a stained glass that he reaches for with his darkness emanating… and the vision ends and his in the tub again.
While all this has been happening. O'Reilly talks to the guy who tried to force himself on Tandy and figures out what he had been trying to do, hence her wanting to help Tandy. She then gets a visit from Connors who gives her the guys driver's license he claims he got off of a dead druggy who mugged the guy and the case was now closed. O'Reilly doesn't believe it, but doesn't have a choice. So when Tandy calls her to tell her what happens, she meets and listens, but there is nothing she can do. Tyrone walks Evita home and kisses her, then he notices he's passing the church from his vision. He goes back there and waits. Tandy goes back to the church and finds him there. We then cut to see that Auntie Clarisse has made a 3D-printed voodoo doll of Tyrone. End of episode.
VERDICT
I get why this episode was important because it got into the characters heads and allowed them, for a brief time, to believe they deserve good things. Tyrone believed he deserved love and kissed Evita. Tandy believed she deserved justice and called O'Reilly. But I look a episodic television the same way I look at individual comic issues and keep Stan Lee's quote in mind, "Every issue is someone's first issue." You couldn't step into the series with this episode and understand anything. Which goes back to my thought last week that this feels like a show that should've been released all at once. If you're binge watching, this is a good character development episode and you immediately go into the next that seems like it will be a bit more action packed. Not sure if a person who happened onto this last night would track down the previous episodes and come back for more next week. But if I had the next episode available right now, I would already be watching it.
Looks like next week we'll get to see them test their powers and Tyrone may have found his cloak.
Enjoyed this article? Share it!