This article contains spoilers for the Marvel's Luke Cage season two episode – Wig Out.
.
.
.
.
.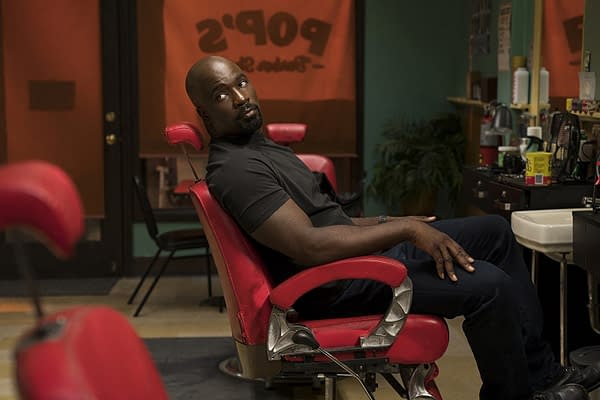 The episode starts with the immediate aftermath of Luke Cage (Mike Colter) beating up Dontrell "Cockroach" Hamilton (Dorian Missick). He calls Claire Temple (Rosario Dawson) who isn't happy, tells Luke that if Cockroach died he'd be going back to Seagate. They call Misty Knight (Simone Missick) and the paramedics. Misty promises to try and smooth things over before anyone talks about arresting Luke. With Cockroach down, Luke figures there is only Nigel left to flip on Mariah, not knowing that Nigel is already dead. We check in with John "Bushmaster" McIver (Mustafa Shakir) who is still determined to bring down Mariah Dillard (Alfre Woodard) and is bugged by Luke's existence in Harlem. Turns out that he also has a spy at Harlem's Paradise. Mariah is having breakfast with her daughter Tilda (Gabrielle Dennis) and talking about the past when Hernan "Shades" Alvares (Theo Rossi) shows, tells her about Cockroach being in the hospital. She sends him to meet with the Jamaicans. He doesn't like being treated like the help. Luke realizes that he needs to go to Brooklyn. Misty goes to talk with Cockroach who won't flip and talks smack, they get interrupted by Nsndi Tyler (Antonique Smith) and Bailey (Justin Swain) who accuses Misty of letting a perp leave the scene of a crime. Luke slept at the barbershop. Claire comes in to talk, Luke isn't happy that she called the cops. She tells him she's never seen him be brutal, he says sometimes brutal gets things done and leaves. Misty gets yelled at by Captain Ridenhour (Peter Jay Fernandez) but he can't suspend her because the hire-ups have made her untouchable.
Luke goes to Brooklyn looking for Nigel and gets no respect at all, very different than in Harlem. Shades goes to meet with Nigel and finds Bushmaster instead. He gives Shades a duffel bag full of cash and Nigel's head, tells Shades he needs to convince him to do the deal. Mariah is having a fundraiser for her charity and Tilda shows up. Mariah has her hostess working Mark Higgins, the owner of the plastics company. Misty goes to work out with Colleen Wing (Jessica Henwick). She opens up about how she's jammed up, can't focus or see the way she used to. Colleen pushes her, trying to get her past the self pity. But focusing on chi doesn't work for Misty. They go for a drink. Claire goes to talk to Reverend James Lucas (Reg E. Cathey). She doesn't say she's there for Luke but talks about not being able to help someone. The Reverent points out that Claire needs to be safe before she can save others… uses a Titanic reference to illustrate it that makes them both laugh. Luke has been following a guy who heard him ask about Nigel all the way back to the Yardies base. Luke busts the door down takes out a few guards and confronts Bushmaster and his crew. Tells him no deal with Mariah and stay out of Harlem. Bushmaster says Harlem is his and has a few of his people attack. Luke takes down the fighters, shrugs off the bullets and when one of them throws a grenade, he muffles the explosion in his hands. Luke then walks out believing his message has been delivered.
At the fundraiser we here the story of Mariah's husband, Jackson Dillard, and how he died in South America before Tilda was born. At the bar, a guy recognizes Misty as the cop that sent his brother to prison. He picks a fight, but it's Colleen and Misty that kicks his and his friends butts. Misty gets her "swagger" back. Bushmaster prepares for taking on Luke by watching video of him fighting and using more of the herbs he got from Tilda. Mariah meets with Higgins, blackmailing him to approve a merger and sell his company. Tilda goes to see Mariah and tells her she never saw their relationship from her point of view and apologies for that. The conversation is ended when Shades arrives with bags full of money. Mariah is happy. We find out that the Jamaican's spy is the hostess Mariah used to blackmail Higgins. And now they know what Mariah wanted the money for. We cut to Claire's apartment where it looks like she's trying to make up with Luke, but it turns south quickly and he talks about how he's getting things done with his anger. It's an emotional conversation about racism and choices and it builds to Luke punching the wall, which scares Claire, who grew up seeing her father get angry like that. She tells Luke she needs to go see her mom in Havana, need space. He doesn't want her to go, he apologies but things seem to have gone too far and he's carrying too much anger. He leaves, walking and thinking when he suddenly gets sucker-punched by Bushmaster.
A lot of this episode is character driven even though we got the action scene with Luke versus the Yardies. We learn about Mariah's marriage, we get to see a different side of Reverend Lucas, we get some of Claire's back story, we get into Misty's head and we get more time with Bushmaster. All of which works really well. Bushmaster is far more than just a Diamondback like villain, he plans and plays the long game even though he is driven by grudges. Luke continues to slip into more and more anger and the argument with Claire is intense and emotional. You want them to stop, you want Luke to listen but he's not there yet. The pressure is getting to be too much, his past is too much. And now that he's vulnerable, Bushmaster attacks.
Enjoyed this article? Share it!