Agents of SHIELD Season 5, Episode 12 Recap: The Real Deal
This article contains spoilers for Marvel's Agents of SHIELD season 5 episode 'The Real Deal'.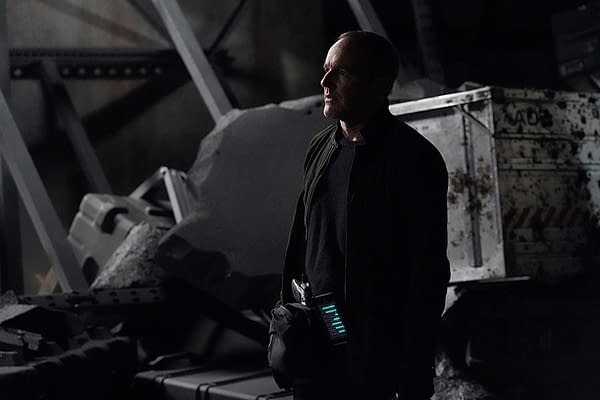 Marvel's Agents of SHIELD had its 100th episode last night, and while there was a lot of hype going into it, I think they lived up to that hype and more. What we got was an hour-long love letter to the fans of the series, and it kicked off by showing every version of the SHIELD logo that's been used in the show, giving us the sense that it's been a journey.
Things kick off with the fallout of last week's explosion and destruction of three Kree monoliths. The explosion opens an inter-dimensional portal in the basement that goes to what Leo Fitz (Iain de Caestecker) calls the "fear dimension" — a place that brings your greatest fears to life. We get a sample of that when Deke (Jeff Ward) and Daisy (Chloe Bennet) see a Kree warrior from the Lighthouse who then turns to smoke when killed. Also, for some reason, the 27th floor down has suddenly gained a immense forest with blue skies.
Fitz comes up with a plan, using Deke's gravity-powered belt, to close the portal. But the person doing it could die. Coulson (Clark Gregg) decides that he is the only choice to do it. No one else is expendable, especially Daisy, whom he sees as his heir to carry on SHIELD when he's gone. The reason he's thinking all of this is that he's dying. The "deal" he made with the Ghost Rider really wasn't a deal — it was a side effect. Having the Spirit of Vengeance in him burned away all of the Kree blood in his body, taking away the 'alien voodoo' that had been keeping him alive since being skewered by Loki years ago. This is why his chest looks that way — it was nearest the initial wound, and now the dead tissue is spreading. He doesn't have long to live, making him the right person to close the portal. No one else is happy about this at all.
Daisy is upset that he didn't tell anyone while they were in the future and there was technology that could've saved him. Coulson says he's already come back to life once and won't do it again. His mission has been to prepare Daisy to take over SHIELD and keep the mission and ideals alive. Daisy says there is no SHIELD without Coulson. May (Ming-Na Wen) realizes that this is why Coulson has pulled back from what seemed to be a blossoming relationship between them. He tells her not to waste her time on another lost cause, but she insists it's her choice to do what she wants.
Once suited up and inside the portal area, Coulson is greeted by a familiar face — Mike Peterson (J. August Richards), but in full human form. He tries to convince Coulson that everything over the last five years has been an illusion and he's still on the operating table after being stabbed by Loki. Coulson is tempted to believe it, but that is blown apart by the arrival of the real Mike Peterson, aka Deathlok, who ends up taking out the false version of himself, some roach creatures, and even Hive when he pops up to taunt Coulson once again. He uses the gravitron belt to seal the portal.
And then they go for broke with Fitz and Simmons (Elizabeth Henstridge) getting married, with Coulson officiating. Simmons talks about how the joined SHIELD for the adventure and she is ready for their next adventure — building a family together. Fitz admits to not having the words to explain just how he feels about Simmons. And then they make on last final reveal: Deke is actually their grandson, meaning we at least get the idea that Fitzsimmons will get the happily ever after.
But even with that, the team has no plans to just let Coulson die.. as we see in next week's trailer.