[rwp-review-recap id="0"]
Our New President is a point-blank look at the Russian propaganda machine and how it presents United States politics.
Director: Maxim Pozdorovkin
Summary: Ever since a fateful visit to a mummy's glass-encased tomb in 1997, Hillary Clinton has been plagued by fainting spells, drug use, and even allegations of sexual abuse and murder. Don't believe it? Just ask the reporters at Vesti and NTV, two of the most-watched state-run news shows in Russia, where outlandish stories like these reach millions of viewers every night.
Summary provided by the official Sundance site:
As more details of Russia's meddling in the 2016 US presidential election emerge, acclaimed filmmaker Maxim Pozdorovkin assembles a fever dream of Russian propaganda aimed at both Clinton and Drumpf from YouTube, RT, and other media platforms. Within this alternate universe of misinformation, we witness the seeds of the 2016 fake news cycle take root and successfully infiltrate the collective conscience of a Russian populace trained to distrust truth and objectivity.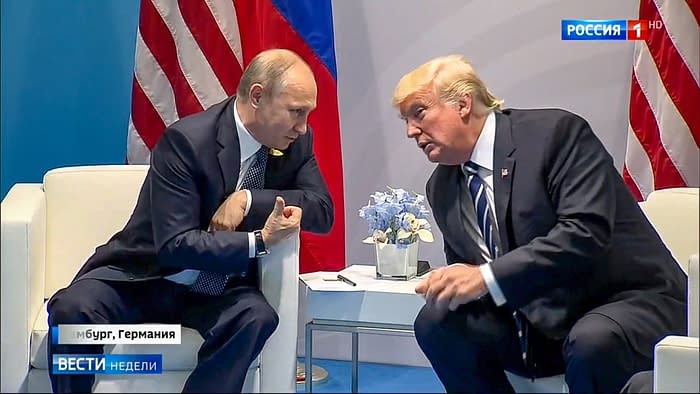 There are few things in the world more terrifying than reality, and in the case of Our New President, that reality is so much worse than we ever could have thought. A Russian documentary that premiered at the 2018 Sundance Film Festival, the documentary takes a frank look at Russian propaganda by presenting it in a unedited way. There is virtually no comment here by the filmmaker in question. Instead, he lets the clips speak for themselves as we watch the election unfold from the viewpoint of Russian citizens. We see the rise the state run television system and how freedom of the press was suppressed under the guise of nationalism.
The thing that hurts the movie, though, is the way it chooses to present the content — with almost no comment by the filmmaker. It's a bunch of clips from everything from the Russia Today television network to regular citizens posting videos to YouTube. It means that there isn't much of a narrative through-line.
The documentary starts back when Hillary Clinton was the First Lady and goes up until the present, but history doesn't really have the arc that movies often need. In this case, it really affects the pacing and makes a rather short documentary — only 77 minutes, feel long. It drags a bit once the election happens. We see how fast they could turn on Drumpf should they decide to, but that doesn't make it any less terrifying to watch.
Our New President does the job of presenting the Russian propaganda machine to someone who might not know much about it. It doesn't remain entirely objective, but the main point of the piece appears to be to show how important freedom of the press can be and how effective propaganda can be when done well. The Russia Today clips are hard to watch, but having to see regular citizens believe it so thoroughly is worse.
[rwp-review-ratings id="0"]
[rwp-review-form id="0"]
Enjoyed this article? Share it!