Super 8 Review – Kate's Take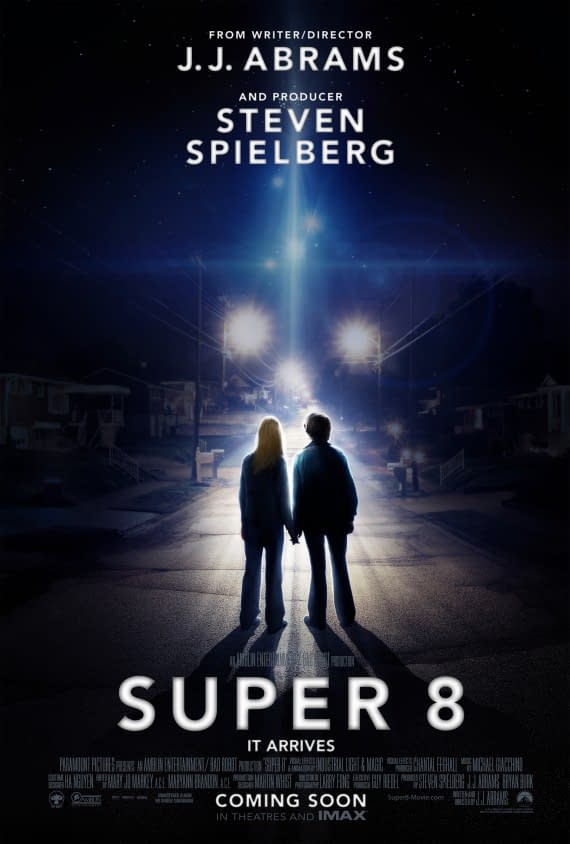 I don't know about you but, for me, just the thought of a collaboration between JJ Abrams – director of surely the best reboot of them all, Star Trek – and producer Stephen Spielberg is enough to put me at the head of a line to see the resulting movie – but the wait in line for Super 8 has been long and it has been frustrating.
US audiences (and almost everyone else it seems) were able to see the film a full two months before the UK release of 5 August. It has not been easy to avoid the spoilers and for some the film may not be as fresh when they see it as it should have been.
And that is a real shame because Super 8 delivers its promise and it does reward the long wait.
For me, watching Super 8 was like stepping back into another world of filmgoing. I'm at 'that age' when my formative cinematic years were shaped by Disney on one hand and Stephen Spielberg on the other. My favourite film as a child wasn't Star Wars it was Close Encounters of the Third Kind, closely followed by Indiana Jones, Jaws and, later, Jurassic Park . ET was a little too cutesy for me but I cried my eyes out along with everyone else, including my parents, and when I see images from it, or hear the music or the voice, I am transported back in time in a whirl of wonderful memories. I saw Super 8 and it did exactly the same thing.
Of course, it helps that Super 8 is set in that most nostalgic of times – the turn of the 1980s. This is almost like ET revisited; it's like another adventure by the Goonies (also co-written by Spielberg). We have chopper bikes, bad hair, fireworks, kids out in the streets getting into scrapes and uncovering adventures that their parents would never be able to understand. We even have aliens. And as befitting tales of young teens facing the full significance of what the world really means, we have expressions of first love and glimpses of true courage.
Super 8 presents us with a group of kids who are making their own zombie movie with a super 8 camera, gruesome makeup and all. Charles (Riley Griffiths) is the director with boundless enthusiasm; in charge of special effects is his best friend Joe (Joel Courtney). Joe's heart, though, belongs to the film's female lead, Alice (Elle Fanning, so memorable from The Curious Case of Benjamin Button). One late night the kids film at a railway station. As they do so everything explodes around them. An enormous train accident is spectacular to watch and has repercussions beyond its immediate deadly danger. Before long, the whole town is affected and the threat is indiscriminate.
There is, of course, much more to it than that. The families of Joe and Alice have been torn apart by an accident in which Joe's mother died. His police father, Jackson (Kyle Chandler) must face his own set of problems with the aftermath of the train disaster. But this is the beauty of a Spielberg story. You can call it sentimentalism but the youngsters don't face this peril alone. Sooner or later, parents, families, the authorities will join together behind their kids to face the external threat.
Super 8 is not a perfect film – the second half did not live up to the exhilaration and wonder of the first. Watching the kids film their movie, incorporating as extras some of the outsiders and situations that resulted from the train crash, was a delight, reminiscent of Spielberg at his best. However, despite this homage to Spielberg by Abrams, some of the magic does slip between Abrams' fingers. He is not Stephen Spielberg – Abrams has done more than enough to establish himself. And, at times, he appears torn between creating a Spielberg tribute and putting his stamp on a film of his own.
Nevertheless, Super 8 races along with such a pace, packed full of characters of all ages that you can't help but warm to. And this being Spielberg influenced, the alien isn't so straightforward either. The setting, though, is superb. It is evocative of so many memories, not only of America at the time of Three Mile Island and Rubik's Cube, but also of a whole set of key movies from the last 30 years or so. While this nostalgia does, arguably, damage the originality of Super 8 in places, this is more than made up for by the film's sheer exuberance and adventure, plus its strong characters and actors, which will, no doubt, appeal to a whole new generation of young moviegoers.
I can't wait to see it again.