The Steven Spielberg Director's Western Starter Kit For Cowboys And Aliens
Cowboys and Aliens is a film of two halves. When Steven Spielberg brought in Jon Favreau to direct and Roberto Orci and Alex Kurtzman to write, Spielberg's concern wasn't for the alien side of things so much as the western. He solution was to given Favreau, Orco and Kurtzman a Western Starter Pack. In fact, the first time that Favreau sat down in a meeting with Spielberg to discuss Cowboys and Aliens, a screening of The Searchers was an agenda point.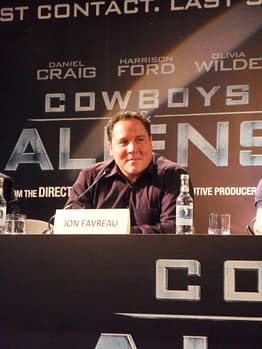 The first thing when I sat with Steven and Bob [Robert Orci] along with Alex [Kurtzman] as well, I sat in Stephen's conference room for the first time, which, for those of you who haven't been there, it's a very intimidating place. It's small and there's the actual sled from Citizen Kane that says Rosebud on it hanging above your head. So if it's not intimidating looking at the most powerful and important director in the world, you're looking at the most powerful and important prop in the world too. There's not a lot to look at that isn't intimidating except to look in Bob's eyes – so we shared a lot of looks.

We had the meeting, it went very well and finally at the end Steven said 'I've got a restored print of The Searchers. Do you guys want to take a look at it with me?' and we're like 'Yeah, I think we could schedule that'. He screened it for us and talked us through The Searchers, giving us a very interesting perspective on it. Our starter gift was an iPad, a new fangled contraption called an iPad, filled with classic westerns. Everything from Stagecoach to Unforgiven and it was great. And in pre-production, as we were rehearsing every night, we'd watch another western. There was a bit of a directing school as well as a fun movie experience.
At the press conference for Cowboys and Aliens, all concerned were asked for their favourite western and their favourite sci-fi film. Harrison Ford replied 'I'm gonna opt out of this. I don't watch movies'. When Orci responded with Frisco Kid and Star Wars, one could understand why.