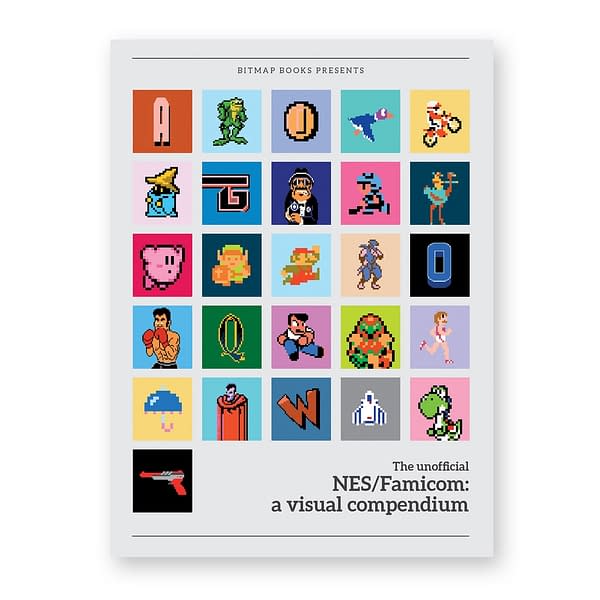 [rwp-review-recap id="0"]
If you're looking for a collection of essays and images celebrating the NES/Famicom console, Bitmap Books' the unofficial NES/Famicom: a visual compendium is a pretty solid choice. That said, it's less of a coffee table book and more of a bookcase show-piece. With the thick case and vertical pages, the NES/Famicom compendium looks lost on a coffee table. It's too small for that and the pages don't lie flat easily. My copy also had a bit of foxing on the edges of the case which made displaying it on a coffee table a bit less than ideal.
As for what is in the pages, well, you've got a nice bit of copy to keep you entertained with facts, essays, and opinions about the console, and more than enough art of the console's hit games and even some of the smaller ones. The art takes up the whole page or takes up a multi-page spread without giving you a whole lot of unused negative space. The interior design of this book is fantastic.
As for its contents, they cover the gamut of AAA titles, cult favorites, and even some of the less-well known titles that were features on the NES or Famicom, and they've been lovingly collected in one volume. If you loved your NES or Famicom, this just might be the perfect book for you.
And let's not forget the pricepoint. You can buy it for an easy £29/$36 which makes it definitely worth it. Is it the ultimate gaming coffee table book? No, not really. But it looks damn awesome in a book case. The holographic cover makes it photograph pretty terribly, but I've got a series of shots of my own copy if you'd like to take a look at them below.
[rwp-review-ratings id="0"]
[rwp-review-form id="0"]
Enjoyed this article? Share it!