It is time to travel back to the '80s as Hollywood Collectibles Group is giving us some amazing Aliens collectibles. First up is the Caterpillar P-5000 Powered Work Loader is getting a 33" statue that Ripley uses at the end of Aliens to fight the Alien Queen. The detail is remarkable and that even shows weathering effects. The power loader even features a working light-up hazard light. Next, we are getting a replica of the Pulse Rifle used in the film as well. The rifle replica is 27" long and was created from obtaining actual prop from the Aliens film. These collectibles are must have high end collectibles you need to add to your collection today.
The Alien Power Loader will be priced at $1,200 and is limited to only 1000 pieces. Pre-orders are live and are located here. The Replica Aliens Pulse Rifle is priced at $600 and is limited to only 250 pieces. The rifle is already available for pre-order and you can find them located here. These limited edition collectibles will enhance your Alien collection to new heights so act fast before they sell out.
In space, no one can hear you scream.
Alien Power Loader Statue by Hollywood Collectibles Group 1:4 Scale
ABOUT THIS STATUE
The Caterpillar P-5000 Powered Work Loader, commonly referred to as a Power Loader, is a commercial mechanized anthropomorphic Exoskeleton used for lifting heavy materials and objects. More importantly it was also used by Ripley to defeat the Alien Queen!
Painstakingly recreated from the original blueprints, no detail has been spared to make this the most accurate Power Loader replica ever made.
Presented for the first time ever as a Studio Scale model – exactly the same size as the model used in filming the movie! Standing an imposing 33" tall, and 25" wide this truly is an EpicTM scale model!
Amazingly detailed, it features a webbing operator harness made of real material, a working light-up hazard light on top, and an accurate weathered finish.
As with all Hollywood Collectibles pieces this museum quality Studio Scale model is constructed from heavyweight polystone and mixed media, then hand painted to the finest detail. A HCG Exclusive Edition of the Power Loader is also available, click here for more details.
The centerpiece of anyone's Aliens collection!
Alien Pulse Rifle Prop Replica by Hollywood Collectibles Group Life-Size
ABOUT THIS PROP REPLICA
We are very proud to present our Officially Licensed, Aliens Stunt Pulse Rifle! One of the most Iconic movie weapons ever to blast its way onto the big screen, the Pulse Rifle is the weapon of choice for the US Colonial Marines in James Cameron's Oscar winning Aliens.
Several "Hero" Pulse Rifles were created, mainly for the live firing sequences, but most of the time what you see on screen are lightweight "stunt" versions – the hero versions weighing in at a hefty 20lbs or so!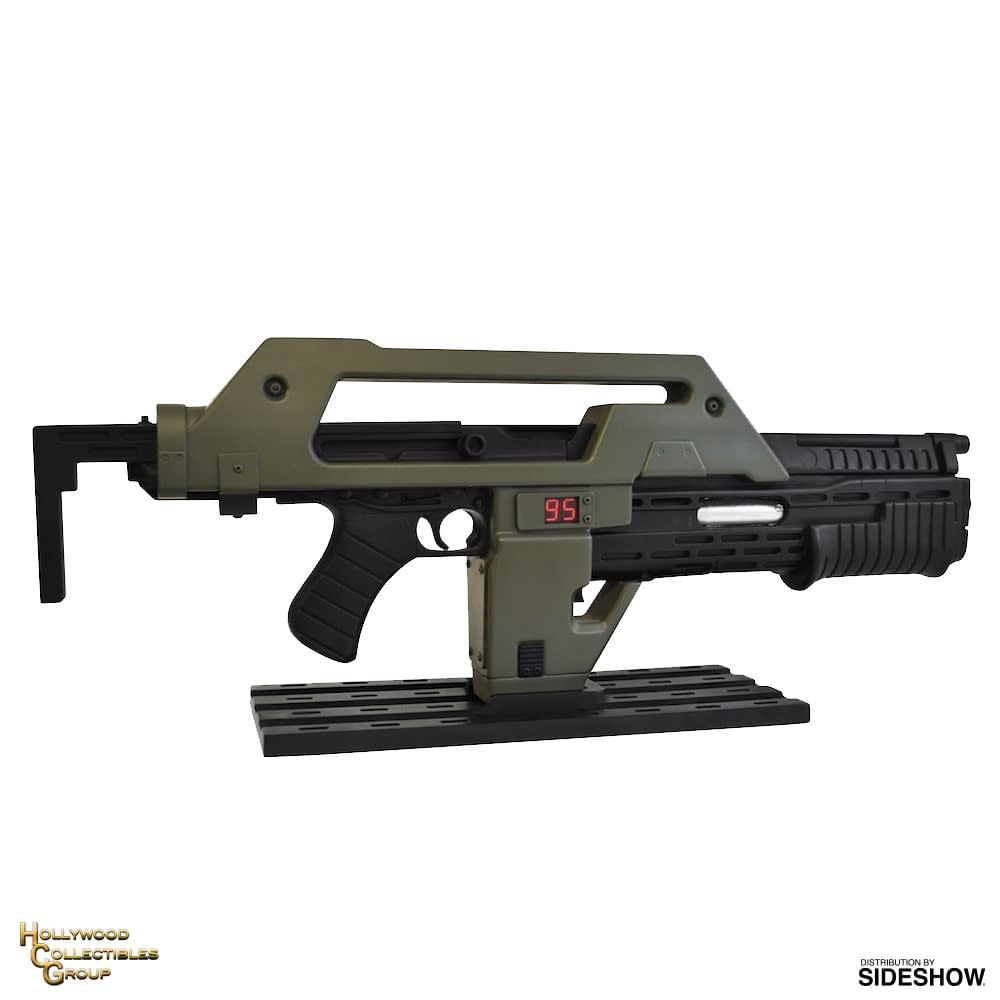 To create the definitive Pulse Rifle we obtained one of the few surviving Hero Pulse Rifles, meticulously measured and photographed every detail and then painstakingly recreated this exactly. The result is the most accurate replica ever produced, a "must have" for any Aliens fan!
Our Stunt version Pulse Rifle remains faithful to the ones seen in the movie, with accurate shrouds the same dimensions as the "hero" versions, but has no moving parts and weighs only 5 ½ lbs – ideal for display or Cosplay!
Comes complete with themed tabletop display stand.
WHAT'S IN THE BOX?
The Alien Pulse Rifle specially features:
Themes tabletop display stand
Dimensions (including shrouds) exactly the same as original "Hero" Pulse Rifles
Reinforced metal sling attachment points
OD Green colored shrouds
Round Counter says "95"
27" long and weights 5 1/2 lbs.