Aliens opened our eyes to a world full of science fiction horror as we saw an alien infestation. The fanbase for this cult classic has easily iron over the years as fans' army build their own Alien collections. This time super fans have something special to add as Hollywood Collectibles Group trans up the heat. The Aliens M240 Incinerator Prop Replica is here in all of its glory. This massive collectible comes in at 31 inches long and would be a great piece for any high end collector. There is an HCG exclusive that will come with the Incinerators blueprints and specs sheet which would like nicely next to the replica on the wall.
The Aliens M240 Incinerator Prop Replica by Hollywood Collectibles Group is priced at $800 and is set for release between April and May 2020. This collectible is only limited to 750 pieces so act fast before they vanish. Pre-orders are already live and you can find them located here.
It's game over man.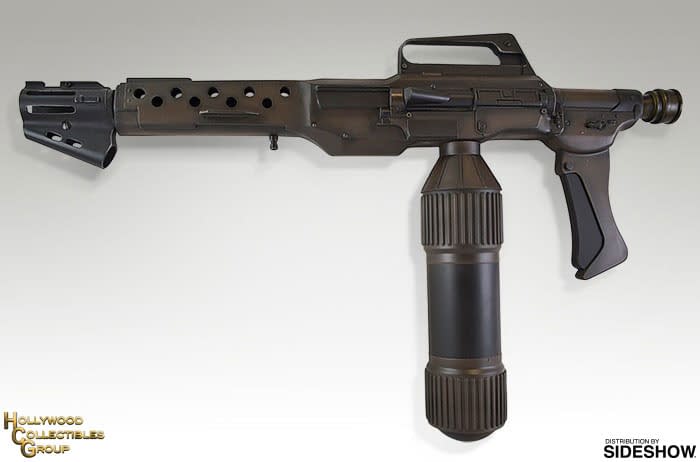 Aliens M240 Incinerator Prop Replica by Hollywood Collectibles Group
ABOUT THIS PROP REPLICA
The M240 Incinerator Unit, is a carbine style Flame Thrower used by the US Colonial Marines in the blockbuster movie Aliens. It was designed for close range use against soft targets, and famously used by Ripley in the Hive scene.
We are proud to present for the first time ever an Officially Licensed Life Size Replica of this iconic Sci Fi weapon! Measuring 31" in length, this amazingly detailed replica is a companion piece to our Aliens M56 Smartgun and Pulse Rifle.
An outstanding addition to any Aliens collection it comes complete with a separate, themed wall display plaque.
A HCG Exclusive Edition is also available, it comes with a high quality 24" x 16" print of the Incinerator's blueprints and specs sheet!
This Museum quality Life Size Replica is constructed from fiberglass, resin and mixed media, then painstakingly hand painted in authentic "Brown Bess" just like the original movie props.
Enjoyed this article? Share it!