Asuna Lounges in New "Sword Art Online" Statue from FOTS Japan
Sword Art Online has had a long list of extremely important character whether through the main story or the side stories. No matter what though, it always comes back to Kirito and Asuna. They are two characters that have fought with their love through the test of time through Aincard, ALfheima, and now the Underworld. This time Asuna isn't battling monsters or men in her newest Sword Art Online statue but is shown relaxing in her room wear. This statue could seem a little seductive but is smiling too innocent to be considered that. Asuna is posed with her hands on her long legs and ready to enjoy her night. This is a sight we rarely see in the show s most of the characters are always in action. Sometimes it is nice to just sit back and enjoy the little things like Asuna.
The Sword Art Online Asuna Room Wear Statue is priced at $194.99 which seems a little steep but it packed with a lot of character and detail. She is set to release in May 2020 and pre-orders can be found here and at BBTS here. It looks like Sword Art Online collectibles are coming back and I super excited to see what will be coming out next.
"If we make it back to the real world, I'll find you. And fall in love with you all over again." – Asuna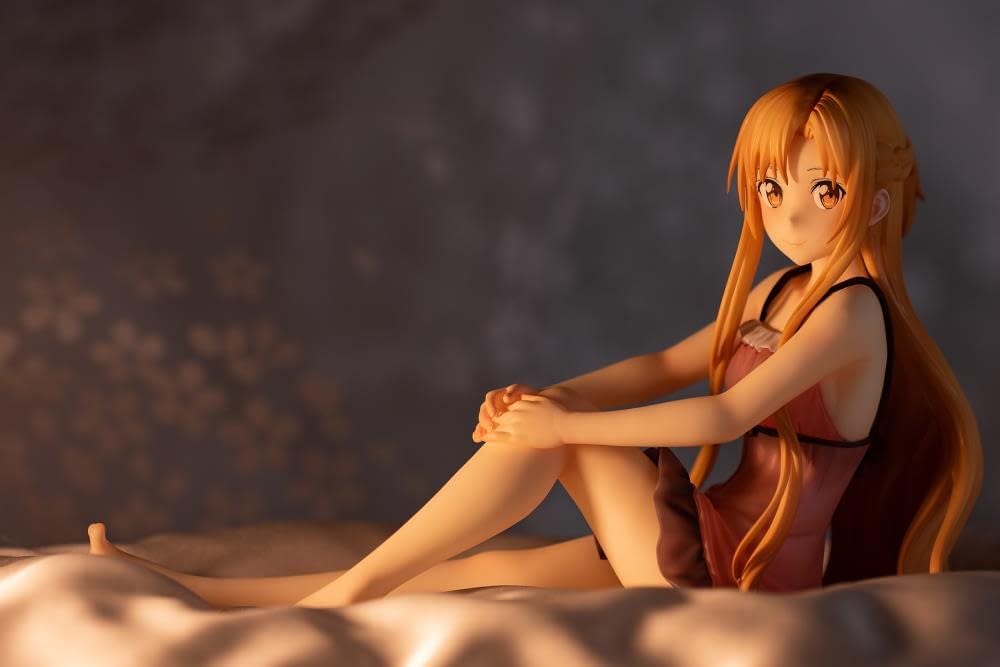 Sword Art Online Asuna (Room Wear Ver.) 1/7 Scale Figure by Fots Japan
Had a rough day? Imagine being welcomed home by the sight of smiling Asuna lounging around in room wear! That's exactly the treat that B-Full has produced with this 1/7 scale figure. SAO's heroine and waifu of the decade is posed sitting down. Her hands are resting on one knee. Her hair comfortably flows over her shoulders down to the ground, complementing her rosy nightgown. And the smooth contours of Asuna's long bare legs invite you to get comfy and relax with her!
Product Name: Sword Art Online Asuna: Roomwear Ver. 1/7 Scale Figure
Series: Sword Art Online
Manufacturer: B-Full (Fots Japan)
Sculptor: Matsuwo (Moineau)
Specifications: Painted, non-articulated, 1/7 scale PMMA (PVC-L) figure with stand
Height (approx.): 90 mm | 3.5"