Batman is the Last Knight with New Quantum Mechanix Figure
Batman: Last Knight was a great addition to the DC Black Label series. The story begins with a dark tale of showing us if Bruce Wayne really is Batman. We are toyed with the idea of Bruce being in a psych ward and all of his adventures were illusions of his mind. We later find out it's all real and we are now on a post apocalyptic future where the Joker is his fellow partner, well, his head at least. Quantum Mechanix is doing it first and giving us the first collectible from Last Knight. This Q-Fig is packed with detail for his size showing Batman and his apocalyptic design. His fashioned asylum outfit gives Batman fans a new costumed Batman for their collection too. I love the added Joker head in the lantern too, it really brings that apocalyptic feel to the design. This would be a great piece to go in front of a displayed copy of the comic as it is also the same design as one of the variant issues.
The Batman: Last Knight Q-Fig Statue from Quantum Mechanix is priced at $29.99. If you want to add one to your collection then you can pre-order yours today and here.
Oh Bats, why the long face?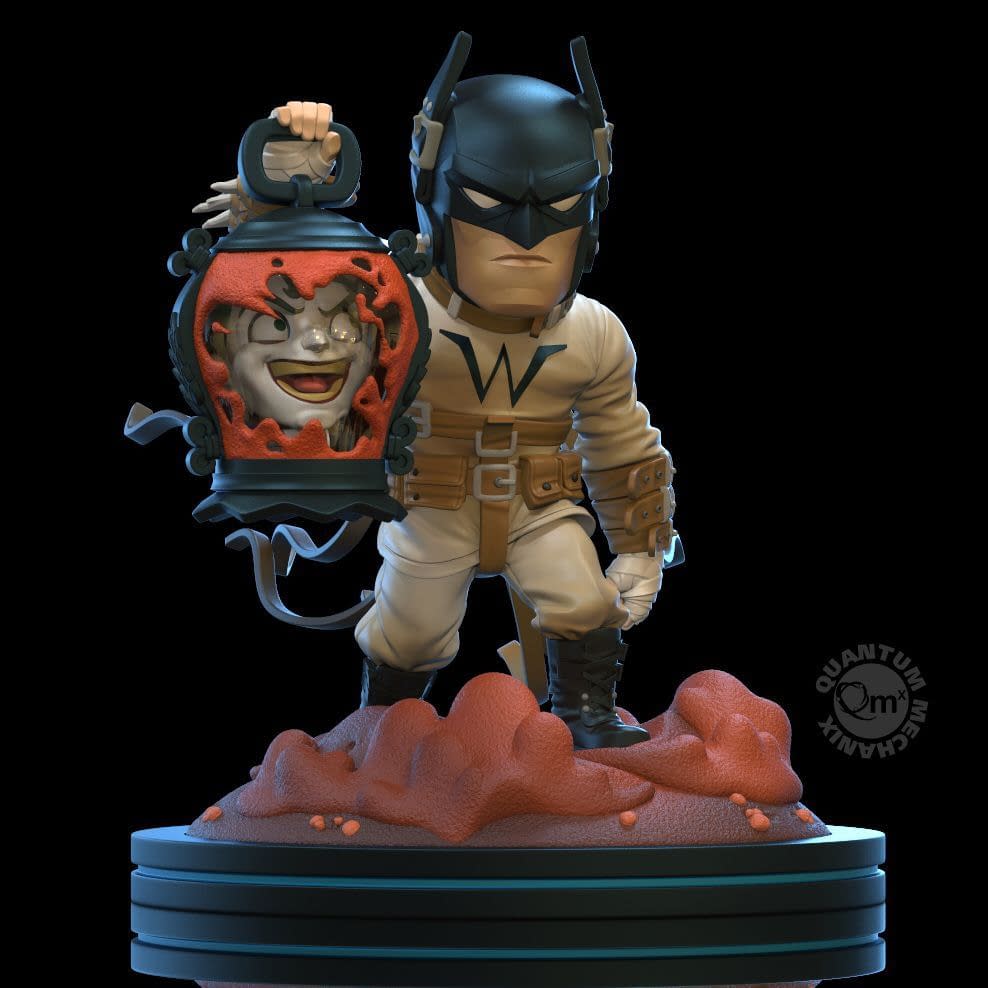 DC Comics – Batman: Last Knight on Earth Q-Fig Elite by Quantum Mechanix
After being assaulted by a mysterious child in a rainy Gotham alley, Bruce Wayne wakes up strapped to a hospital bed and… he's never been Batman? Based on the celebrated comic series Batman: Last Knight on Earth by Scott Snyder and Greg Capullo, The Last Knight Q-Fig Elite presents Bruce Wayne twenty years in the future, rumbling through an apocalyptic wasteland that was once Gotham City. Clad in a modified Arkham straight jacket and a handmade bat cowl, Batman wanders a devastated landscape carrying only a glass lantern containing the head of a seemingly alive and very talkative Joker.
The Last Knight Q-Fig Elite is a revolution in premium collectibles. Featuring unparalleled craftsmanship and intricate sculpting, The Last Knight is a step beyond what has previously been possible in small-scale collectible figures. Witness the extraordinary engineering of Batman's jacket straps – which defy gravity as they seemingly billow in an invisible wind – to the multitudes of metallic clasps and leather straps that detail this amazing figure. Even the Joker's animated head is readily visible through the clear-cast lantern glass, despite collecting an eerie red dust that may be all that is left of the once booming Gotham City.
The Last Knight Q-Fig Elite is a must-have for any Batman collector. Standing approximately 4-inches tall including the dioramic base and comes packaged in a window box.Batman is just one in our series of DC Comics Q-Figs.