Deadpool is back and he is ready to make the streets covered in chimichangas with his newest statue. Sideshow Collectibles has opened up pre-orders for their newest Marvel Comics Premium Statue featuring the Merc with the Mouth. This statue is 1/4th scale piece and comes clocked in at a whopping 20.5" tall. Deadpool will be sporting his classic red and black suit that features his logo belt buckle and classic pouches. He will have a secondary set of hands that will allow collectors to give him the power of Wolverine! Deadpool has utensils in his hands that pays the right amount of homage to a fellow X-Men and carries the right amount of humor. Deadpool is also wearing a half a heart shaped necklace that is rumored to be on his other half, Cable. Sideshow Collectibles knows the power of the friendship between these two and that's why they have a special collectors edition. This edition is only a $15 difference but it will give a nice little Cable plush to put around Deadpool's waist.
This is one statue that brings the iconic mercenary alive. From the dynamic mold to the sculpting of his muscles, this statue will be a highlight for any Marvel fans collection. The interchangeable piece is a nice extra touch to give Wade the humor he is always known for. The added Marvel Universe treats that are shown in this statue like Cable and Wolverine are nice additions too that will please any dedicated fans. The Marvel Comics Premium Deadpool Statues from Sideshow Collectibles are set to release between July and September 2021. The standard statue will be priced at $635 and the deluxe $650 and they can both be found here.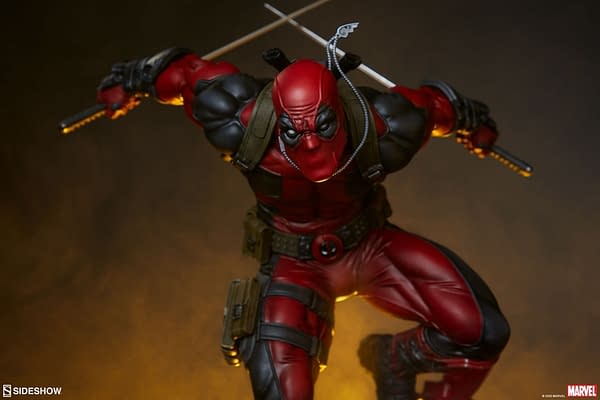 "Coming in hot! The Deadpool Premium Format™ Figure measures 20.5" tall as Wade Wilson makes his epic entrance on a crashing red scooter, kicking up a cloud of smoke behind him. Deadpool comes brandishing his signature katanas, but also includes a pair of swap-out hands with fistfuls-o-utensils, just in case the Merc with a Mouth needs to knife, fork with, or even spoon the baddies."
"The polyresin Deadpool Premium Format™ Figure features a fully sculpted black and red tactical costume based on his appearance in Marvel Comics. His trademark uniform features armored elements, pouches (they're coming back in style!), and just the perfect amount of chiseled musculature to tastefully distract Wade's enemies (thanks, artists!). Deadpool's masked portrait has a look of fierce determination as he really tries to stick the big battle landing. And we'll give you one guess as to who has the other half of the Best Friends necklace on Deadpool's neck- he's a part-machine time traveler with a gruff attitude and a big gun. That's right! It's the Term… Cable. It's Cable."
"The Exclusive Edition of the Deadpool Premium Format™ Figure includes a sculpted Cable Doll that can be attached to Wade's belt so he can carry his best friend everywhere he goes. Pair Deadpool with the Exclusive Edition of Sideshow's Cable Premium Format™ Figure to create a display (and a legendary friendship) that crosses the multiverse. Without the pesky fourth wall in your way, you have just the right amount of space in your collection to bring home the Deadpool Premium Format™ Figure today! (And if you're craving chimichangas, maybe he'll let you borrow his utensils.)"
Enjoyed this article? Share it!