Flash Gordon 1/6th Scale Figures Coming From BIG Chief Studios
Flash! AH-AH!
BIG Chief Studios is celebrating the 40th anniversary of the cult classic film in style, announcing that they will be producing 1/6th scale figures, busts, and more. The first two figures revealed are Flash Gordon himself and Ming the Merciless. Prince Vutan and Prince Barin will follow. Check out the announcement from their Facebook page and the first two figures below!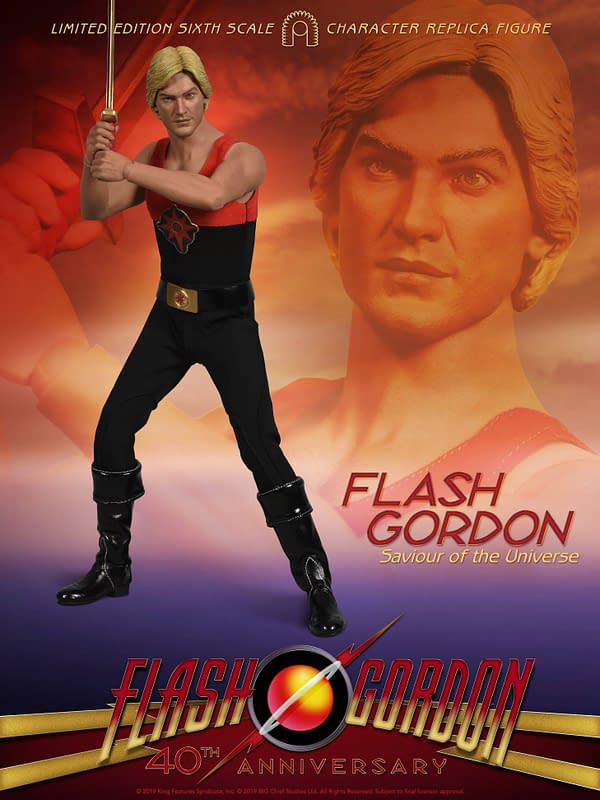 Earthlings who will you collect next?
BIG Chief Studios Ltd. is proud to announce a licensing deal with Hearst Holdings, Inc., King Features Syndicate Division, via Allsorts Licensing to produce a range of high-end collectables based on the cult classic 1980 movie Flash Gordon.
Initial product offerings will include highly detailed Sixth Scale Character Replica Figures of the key characters. Fans will be able to pre-order the first two figures: Flash Gordon – Saviour of the Universe and Ming the Merciless – Emperor of Mongo, from May. The line will be further expanded with figures of fan favourites Prince Vultan and Prince Barin, plus other characters to be announced.
In addition to the replica figures BIG Chief will also release a range of Character Mini Busts, which will offer striking portraits of key characters and the fantastical environments of Mongo.
BIG Chief managing director Mark Andrews said, "We are thrilled to have agreed rights with King Features for such a beloved cult classic. The adventures of Flash Gordon were the inspiration and template for so many sci-fi TV shows and movies. We are thrilled to be working alongside King Features on Flash Gordon in time for it's 40th Anniversary in 2020."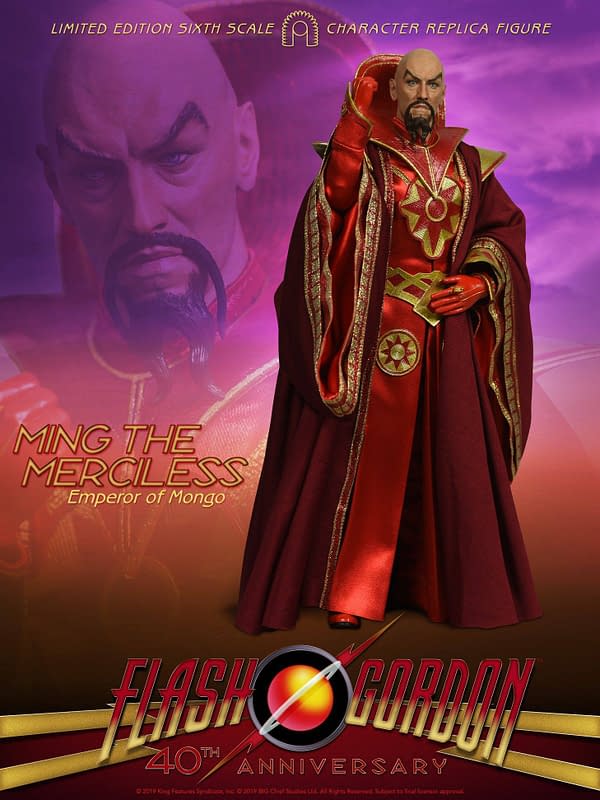 Flash Gordon is a 1980 science fiction film based on the King Features comic strip of the same name created by Alex Raymond. Directed by Mike Hodges and produced by Dino De Laurentiis, the film starred Sam J. Jones, Melody Anderson, Topol, Max von Sydow, Timothy Dalton, Brian Blessed and Ornella Muti.
With a camp style similar to the 1960s TV series Batman, in an attempt to appeal to fans of the original comics and serial films. The film is notable for its soundtrack composed, performed and produced by the rock band Queen. The film has since gained a significant cult following.