Funko Reveals New Marvel Comics PX Exclusive Pop Vinyls
Funko has unveiled two new upcoming Marvel PX Exclusives Funko Pop. Both figures will have a corresponding comic book variant releases as well. The first one up is the Infamous Iron Man or better known as Dr. Doom. After the "death" of Iron Man from the events of Civil War II, Dr. Doom took up the mantle. Funko brings this design to life with another PX Exclusive Pop. He is wearing his remodeled Iron Man suit and donning his green Doom hood and cape. The Funko will be Glow in the Dark and will be limited to only 30,000 pieces. The next Pop to come out of the shadows is Carnage from the recent Marvel Comics event Absolute Carnage. Their Deluxe Funko brings the Absolute Carnage #1 cover to life as Carnage stands over graves and skulls. The grave each signify previous symbiote wielders Eddie Brock, Peter Parker, Steve Rogers, and Logan. This Pop is beautifully designed and will make any collection something deadly.
Both of these PX Exclusive Funko Pops is set to release in September 2020. They will both have a corresponding comic book variant cover based on their Pop design. The Infamous Iron Man will get an Avengers #35 variant and he is priced at $13.99. You will be able to find him located here or you can get him and his comic at your local comic book store. The Absolute Carnage Deluxe Pop will be getting a Venom #27 variant and he is set to also release in September 2020. He will be priced at $29.99 and you can find him located here and his comic book bundle is set for $39.99 and that is here. You will also be able to lock him down at your local comic book store.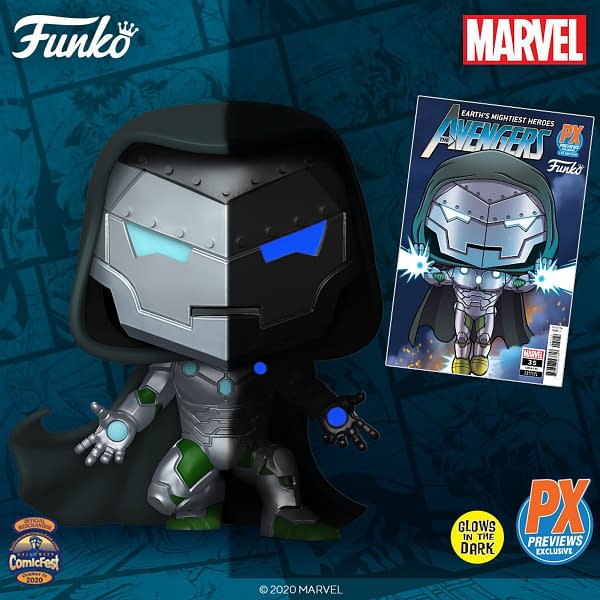 "When Victor Von Doom rescues S.H.I.E.L.D. Director Maria Hill and visits Tony Stark's lab, he assumes the mantle of Iron Man! Based on the hit Marvel Comic Infamous Iron Man by Brian Michael Bendis and artist Alex Maleev, Doom as Iron Man joins your Funko collection! Standing at 3 3/4-inches tall and sporting his signature suit, this Infamous Iron Man Pop! figure features glow in the dark eyes and reactor details to make him really stand out in your collection! This special Marvel Infamous Iron Man Pop! Vinyl Figure – Halloween ComicFest 2020 Exclusive is a limited edition of 30,000 pieces.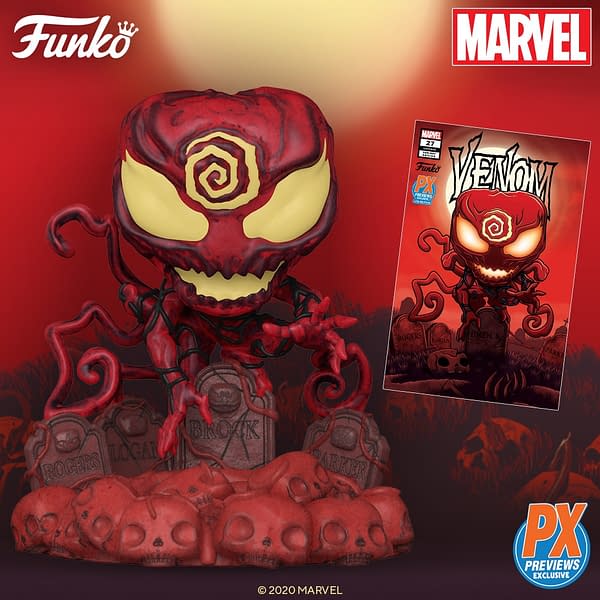 arnage returns with a vengeance in this exclusive figure from Funko! Inspired by the cover art of Absolute Carnage #1 by Donny Cates and Ryan Stegman, this figure keeps all the creep, but with signature Funko flair! The deluxe Pop! figure measures about 3 3/4-inches tall, and comes in a collector-friendly window box, perfect for display! Carnage stands atop a skull base with Steve Rogers, Logan, Eddie Brock, and Peter Parker tombstone.