Funko Round-Up: Alita, Game of Thrones, Cuphead, Star Wars, and More!
Funko announces tons of new products and licenses every day, let alone every week. It can be a lot to keep up with. So we are here to help. Welcome to the Funko Round-Up! In this edition: Alita: Battle Angel gets four kinda similar-looking Pops, Mortal Engines gets a wave of Pops, Mickey Mouse as a gamer, and tons of Cuphead and Game of Thrones are on the way! Let's dig in!
From visionary filmmakers James Cameron (AVATAR) and
Robert Rodriguez (SIN CITY), comes ALITA: BATTLE ANGEL,
an epic adventure of hope and empowerment.
When Alita (Rosa Salazar) awakens with no memory
of who she is in a future world she does not recognize, she is taken
in by Ido (Christoph Waltz), a compassionate doctor
who realizes that somewhere in this abandoned
cyborg shell is the heart and soul of a young woman
with an extraordinary past. As Alita learns to navigate
her new life and the treacherous streets of Iron City, Ido tries to
shield her from her mysterious history while her street-smart
new friend Hugo (Keean Johnson) offers instead to help trigger
her memories. But it is only when the deadly and corrupt
forces that run the city come after Alita
that she discovers a clue to her past – she has unique fighting
abilities that those in power will stop at nothing to control.
If she can stay out of their grasp, she could be the key to
saving her friends, her family and the world she's grown to love.
These hit stores in October!
Also hitting stores in October are a wave of Pops in support of the film Mortal Engines. These may be sleeper hits, as the film could be a huge hit. Keep your eyes on these.
Two new Star Wars Vynl two-packs are also on the way. Luke and Leia are actually available now, with Han Solo and Greedo joining them in November.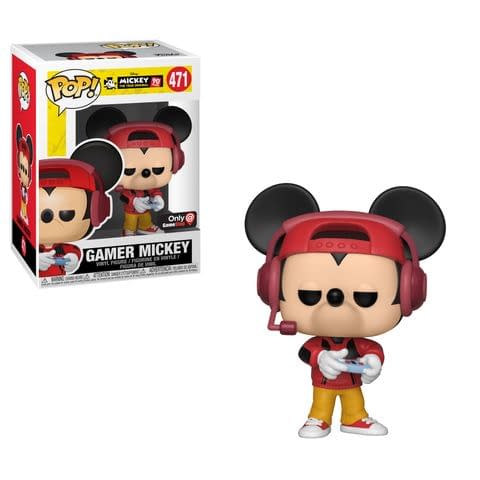 Also available now exclusively in Gamestop stores is a gamer version of the one and only Mickey Mouse. This is part of their Mickey 90th anniversary offerings, and it is awesome. I can't wait to find one.
A bunch of new Cuphead stuff is coming this fall, including plush blind box keychains, plush dolls, and a Cuphead and Mugman Vynl two-pack.
More Cuphead Pops are also coming, because Funko is in love with this game. This will include a Gamestop exclusive Mr. Chimes and a Hot Topic exclusive Evil Cuphead Pop that looks awesome.
Finally, we have more Game of Thrones stuff also on the way. Three new Pop keychains of Ghost, Tyrion, and Ghost, and two new Rock Candy figures of Sansa and Arya Stark.
New Pops include an updated Bran Stark, Gendry, Yara Greyjoy, and a wicked cool Lord Varys. Exclusives will include a metallic Children of the Forest Pop at the HBO Shop in stores and online, and the creator himself George R.R. Martin who can be found at Barnes and Noble.
Most of this can be preordered here!